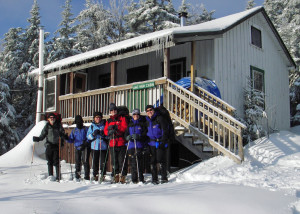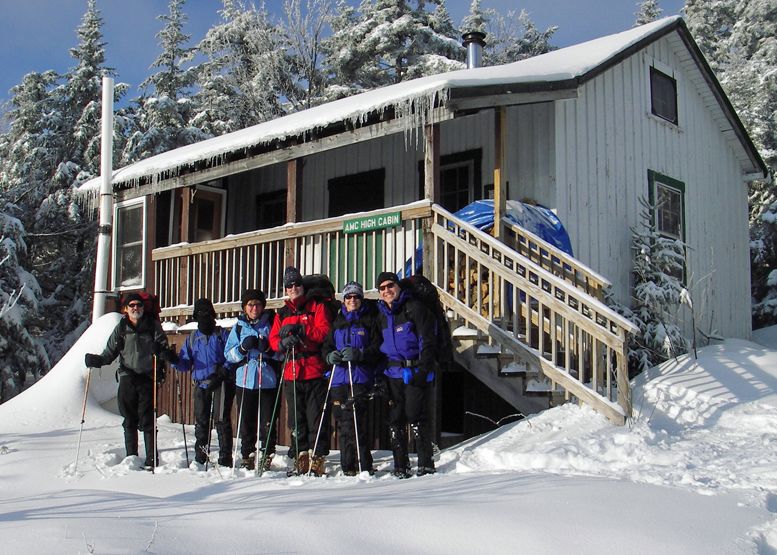 It took a lot of planning and commitment, but my sweetheart Marilyn and I, and five of our friends, Danielle, Bruce, Johane, Bill and David, all enjoyed the most wonderful start to the New Year 2007 imaginable. We snowshoed into a remote winter cabin in a blizzard.
The planning began several months before when I reserved the AMC Cardigan High Cabin Mountain in Alexandria, New Hampshire. Because New Year's Day was a midweek, non-holiday night, the entire cabin cost $56. Including tax. (On weekends, it's just over $100 for AMC members who get a discount.) The High Cabin sits at an elevation of 2,628 feet in a tiny clearing about a half mile from the summit of Cardigan (3,155 feet). Spectacular setting, especially at sunrise in winter. You get there by hiking (this year on snowshoes!) a little more than two miles (according to the map) and 1200 vertical feet from the AMC Cardigan Lodge, carrying everything you need on your back. The cabin has 12 bunks, a woodstove, a dry sink, a two-burner propane stove and a state-of-the art composting toilet. A seasonal spring flows nearby or you can melt snow and ice for water.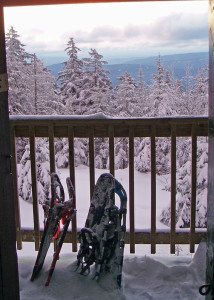 Everyone we invited wanted to come, but some were traveling, others had work obligations. Several people planned to join us for New Year's Day, hike in with us, eat lunch and then hike out. They all dropped out as the day got closer. Their loss.
Eventually we ended up with seven overnighters. Seven or eight is the ideal number for this cabin in winter—enough to make the cabin feel "full," yet still let everyone have a seat close to the woodstove. And nobody had to risk altitude sickness sleeping in the top bunks.
Starting around Thanksgiving, we began planning. The goal was welding the group into a team focused on having fun, eating well and being safe and comfortable. Everyone got a detailed gear and food list; everyone had responsibilities. In my experience, careful planning is the only way an adventure like this can work—if you leave anything to chance, something critical will be forgotten. That's bad in the summer; in winter it can mean real trouble.
Our original plan was to leave Cardigan Lodge (a wonderful base for adventures) shortly after 9 a.m. which, would put us in the High Cabin before noon, leaving time for a trip to the summit. Then, life happened . . . Two members of the group arrived late and without having packed their packs. Another had a pack with a broken hip belt buckle (we, literally, had to tie her pack on her, not the most comfortable way to go). It was after 10 before we actually hit the trail. There are always problems like this with any group, which is why you build in extra time.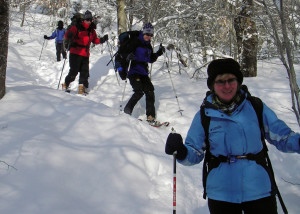 Backpacking on snowshoes is a great equalizer. The stronger hikers carry more weight, and take turns breaking trail; theoretically, everyone arrives at the destination about equally tired.
The weather forecast called for snow in the afternoon but it was snowing when we started walking and snowing hard when we reached "Grand Junction" a mile from the lodge, where the trail really starts climbing.
By the time we reached the cabin, we had near-blizzard conditions. We had planned to sortie to the summit that afternoon, but our late start and the rough weather made that inadvisable. So we spent the afternoon lazing close to the woodstove, grazing on abundant food, sharing stories, playing cribbage, venturing back out into the storm only to get water. We all pitched in on dinner, ate at 6:30 by lantern light and were asleep by 8. The next morning, we enjoyed a spectacular sunrise, ate a hearty breakfast, packed up, cleaned up the cabin, and hiked out (downhill all the way!) through a foot of fresh powder snow.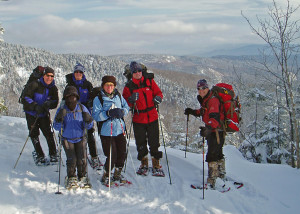 I feel genuinely sorry for anyone who has never had an experience like this. None of us are heroes: the youngest was 45, the oldest 58; one of us needs a hip replacement, one has a bad back, another has had heart surgery. But we picked a manageable challenge, planned it out, and we did it. Walking out, the world looked different, better, fresher, more exciting than it had when we started hiking in. What a great way to start a new year!
NOTE: since this story was written, the AMC has stopped providing firewood at the High Cabin. You can scrounge firewood or pack it up from the lodge, but in either case it would be hard to get enough wood to heat the drafty cabin. Come prepared for cold. If you want more comfort, check out all the options for heated winter cabins, tents and yurts.