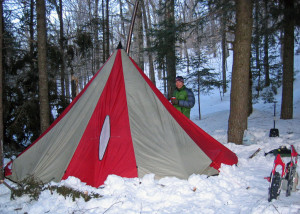 My buddy David  and I were planning a winter getaway. He only had one night, but we wanted to do more than just camp by the roadside. So we packed our gear, put on our backpacks and hiked into the winter wilderness of New Hampshire's White Mountain National Forest, spent the night, and hiked back out the next day.
It turned out to be a pretty typical winter camping expedition: lots of fun, and enough challenge to make it memorable.
Truth be told, however, despite my long experience with winter camping (David is a very experienced 3-season camper but had never done a trip on snow), and despite intensive prior planning, we ( I) made a couple of boneheaded mistakes that made this getaway MUCH more challenging than it should have been. Fortunately, we were never in serious discomfort or any danger, but it was harder than it needed to be.
Our first mistake was getting a late start. We always meet somewhere for a leisurely breakfast, then hike in and set up camp. That doesn't work as well in the winter when days are short and travel is tougher. If you are headed out winter camping, rule number 1: Get an early start!
Second mistake (all my fault) was choosing a spot we particularly enjoy camping in the spring and fall without really considering the logistics. Great campsite, but it's almost six miles from the road.
A packed snowmobile trail (easy to walk on) covers much of that distance, so we had only two miles to do on snowshoes. It sounded easy. What I'd forgotten is that winter packs are MUCH heavier than summer packs and snowshoes make hiking much harder.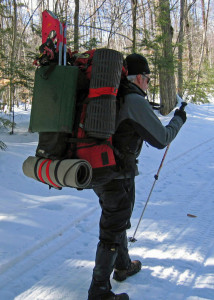 Just the two miles of snowshoeing on unbroken trail would have been challenging enough. In fact, after the snowmobile trail hike (almost all uphill with very heavy packs), the snowshoe portion bordered on brutal. In places we had to crawl under or fight our way around fallen trees, and had to climb up very steep stream banks in soft snow. Tough going.
By the time we arrived at the campsite we were both far more tired than we should have been, and had less time than we would have liked to set up camp before dark. If we'd been "cold camping" with just a free-standing tent and sleeping bags, it would have been simpler: Just pack down the snow and pop up the tent, roll out your sleeping pads and bags and fire up your gas stove. Done.
But, frankly, cold camping is, well, cold, especially on a subzero night like this one. I like the comfort of winter camping with my Kifaru tipi and woodstove combination—which is heavier, harder to set up but cozier once it's done.
By the time the tipi was up, woodstove assembled, firewood gathered, fire started, it was dark, cold, and we were really, really tired. Dinner (hearty sausage stew) tasted wonderful. The sky was perfectly clear, the rising full moon brilliant. We'd planned on watching the lunar eclipse that night but were tucked in our sleeping bags and sound asleep long before it started. With good sleeping bags, we slept warm and comfy all night.
The next morning was crackling cold and windy. We fired up the woodstove, made tea, and ate breakfast before we crawled out of the sleeping bags. Trust me, the wood stove makes it much easier to crawl out of your sleeping bag. But by the time we broke camp, packed up and hit the trail out, we were thoroughly chilled again.
Of course a tough trail is great for getting the blood flowing and we were warm again after the first half mile. Though it was mostly downhill, it was still a long, hard walk out. But we made it, and we must have had fun because since then, we've done many, many winter camp outs in different settings in all kinds of weather.
Winter Camping: Backpack Comfort Camping With A Heated Tipi
My tipi and woodstove combo (which was used when I got it) was made by Mountainsmith nearly 20 years ago. It's heavy by modern standards and has since been discontinued. But an improved version of the same design is now marketed by Kifaru and similar tipis and wood stoves are made by Titanium Goat.
The whole rig: tipi, center pole, folding woodstove, and stovepipe weighs less than 20 lbs. (some of the newer ones are under 10 lbs–with wood stove and stovepipe) and can sleep four comfortably  with all gear stored inside (or eight in a pinch). You can do all your cooking and water heating on the woodstove, which saves carrying a separate stove and fuel. It's heavy for two people, but the extra space and being able to sit around the woodstove on a sub-zero night and get dressed in the warm tent in the morning is worth it.
The biggest drawback to the tipi is that it isn't free-standing. In four feet of snow you have to fashion a support for the tent pole, and you can't just drive tent stakes into the ground. To get the tipi up for this trip, we had to pack down the four feet (!) of snow as much as possible, tie off to convenient trees and cut branches from a downed spruce to fashion extra-long tent pegs. We also had to gather enough firewood for a cold evening  and morning (the stove goes out overnight and you rely on your sleeping bag to keep you warm.
Once you have the right equipment, the rights skills, and enough common sense to plan your adventure well, winter camping becomes just another wonderful way to enjoy the snow season.