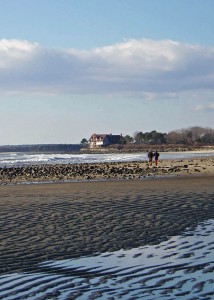 The Best New Year's Resolution: Get Outdoors More
Did you  make a good start on your New Year?
Did you jump out of bed on January 1, eat a hearty breakfast knowing you needed it to fuel your day, and head out the door to enjoy the fresh snow or new ice?
Or did you linger and malinger, grouse and grumble at the short, cold day, turn on the TV and settle on the couch? Shame on you. No matter how good or bad the weather, it was a wonderful day to be outdoors!
It's your choice, you know. And it's not too late to make a New Year's Resolution to make different choices for the rest of this winter, the rest of the year, the rest of your life. There's a whole world of fun waiting for you outside your door.
It usually takes two or even three bad decisions in a row to get you into real trouble in the great outdoors. But it only takes one bad decision to get you into real trouble. That's the decision to sit when you could move to stay indoors when you could be outside having fun. That decision gets most people  into the most trouble in the long run. Too many people choose to go through life watching instead of participating, acted upon instead of acting. That decision affects every aspect of your life, including your physical and mental health.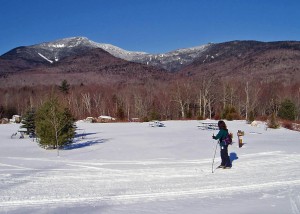 I can hear some of you now: "My life is too busy with [work, family, friends—you fill in the blank]. I don't have time, I'm too tired to go out and play." Let me ask you a question: How much TV did you watch in the last few days? How much time did you spend on the computer? Be honest now.
Put on your walking shoes and go for a brisk walk for the same amount of time you spent sitting and watching TV or roaming the web. Exercise begets energy. You'll feel an immediate difference in your attitude if not your physical health. The human body responds very quickly to natural light, fresh air and exercise.
Not everyone has the physical ability to hike up a mountain on snowshoes, or travel miles on cross country skis. Some people can't walk at all. That's not the point. The point is that most people could do more if they simply decided to do it.
The two questions you need to ask yourself  are:  "What can I do; and what's keeping me from doing it?" Focus on that as a starting point and build from there.
If you need to re-discover just how much pure fun winter can be, go snowtubing at a ski hill. For a few bucks, they'll let you ride up the hill on a carpet lift or handle tow. Then you can slide down, shrieking all the way. It's like being six years old again.
You don't need to be in shape or have any specialized clothing or gear. It's a start.
No ski area nearby? Go to a local hill, walk up it and slide down. Get a pair of creepers and take a long walk on icy sidewalks. Take a walk on the beach—the ocean is beautiful in the winter.
Go skating. Try snowshoeing. If you've never been on cross-country skis, try it. If you already ski on "classic" gear, take a lesson and learn to skate ski. Put studded tires on your mountain bike and pedal on ice or a packed snowmobile trail. Try winter camping. Climb a frozen waterfall. Visit the top of Katahdin, Mount Washington, or the little hill you can see from your window. Walk across a snow-covered field in the moonlight
Make a New Year's Resolution: Do something outdoors! It'll make your life better!
New Year's Resolution: "I Resolve to Lose Weight!"
Whenever the subject of New Year's Resolutions comes up, losing weight always seems to make the top of the list. All you have to do is look around in the grocery store or anywhere else people gather to see why . . .
Correspondent Marilyn Donnelly is a very successful and sought-after nutrition counselor by profession. When people want to lose weight, she's there to help. She tells me that the people who are most successful at losing weight and keeping it off all have two things in common: they pay attention to everything they eat, and they exercise regularly.
Any exercise is good exercise. You can go to a climate-controlled gym, simulate cross-country skiing on a Nordic Track and get a good workout. But you'll get a better workout (and, I think, have more fun) if you get out on the snow and actually cross-country ski.
The better workout comes partially from using lots of collateral muscles (including the ones you smile with) in real skiing over uneven terrain. These muscles never get used on the stable, stationary gym equipment.
Don't believe me? Do a web search on "calories burned during activities" and look at the results. All of the outdoor activities significantly beat their stationary counterparts.
Plus you get the fresh air, sunlight, infinitely changing views, fun factor. Outdoor exercise is never boring.
You don't often see overweight people miles from the road on  cross country skis, or snowshoeing up a hill with a pack on, and never climbing vertical ice.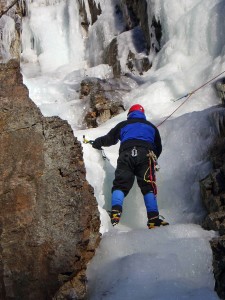 Think about that not from the perspective of where you are in your life, but where you want to be. Why not resolve to get outdoors and do something this winter. You've got nothing to lose, except a few pounds you didn't want anyway.
New Year's Resolution: Don't Worry, Bee Happy
It's called "SAD," Seasonal Affective Disorder, and it affects lots of people at this time of year. It's mildest, most treatable form is the "winter blahs."
If you know someone who suffers from the winter blahs, you can help them (and yourself) by getting them outdoors in daylight hours.
Invite them to go for a walk with you. Keep your faces in the sun as much as you can. It's almost guaranteed to improve their mood and sure won't hurt yours.
Most people have enough warm clothes to be comfortable on a walk in any weather. If you need hiking poles (old ski poles work just fine) for balance and creepers for traction on icy surfaces, that's a cheap enough price to pay.