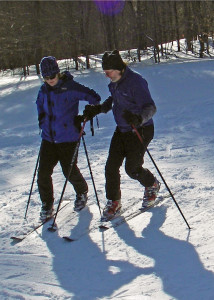 Editor's Note: Nine years after this story was first written, the AMC NH Winter Workshop is still going strong. Rule Number 1 for the weekend is "Have Fun!" and nobody seems to have trouble following the rules.
AMC NH Winter Workshop: Learning Winter Skills In The Lakes Region
Here's a hint. If you want a quiet, relaxing, laid-back winter weekend, you most definitely DO NOT want to sign up for one of the  AMC NH Winter Workshops presented by the AMC New Hampshire Chapter at Cardigan Lodge in Alexandria, NH.
These workshops keep you busy almost non-stop from Friday evening though late Sunday afternoon. You're outdoors most of the day. But, even indoors, you are learning about playing safely outdoors in winter. You meet lots of new friends, and have more fun than you can imagine.
The recent session offered classes on beginning, intermediate and advanced winter wilderness travel on snowshoes, three levels of backcountry skiing workshops, and a seminar on group leadership. These workshops are the perfect way to learn, test yourself, and expand your winter horizons in a guarded, guided setting.
My wife, EasternSlopes.com correspondent Marilyn Donnelly enjoys snowshoeing. So she signed up for the intermediate winter travel workshop. She felt she had too much experience to be considered a beginner, but was afraid that she couldn't keep up physically with the more advanced group.
I signed up for advanced backcountry skiing, hoping to use the Telemark skills I've been practicing for several winters on lift-serviced slopes. I was afraid I'd be left behind, too.
The first evening was a chance for everyone to get to know each other, talk more about what our groups would be focusing on. My group talked skiing, Marilyn's focused on the contents of a winter backcountry pack needed for safety.
AMC NH Winter Workshop: Build Your Skills Day
The next morning after an abundant breakfast (breakfast, dinner and lodging are included), I took off with my group for some Telemark instruction while Marilyn disappeared into a class on backcountry navigation.
That day, my group under the master tutelage of Larry Veal and Thor Smith repeatedly, over and over, again and again, climbed up and skied down the historic Duke's Pasture Ski Slopes working on our Telemark technique. The intermediate backcountry skiers used the same slope and worked on controlling their Nordic skis. There's an old car at the top which used to power a rope tow (listed among the lost ski areas at www.nelsap.org). I sincerely wished it was working. By the end of the day, I was ready to collapse and never do anything again.
Marilyn had started out with an intermediate group on a long snowshoe hike, but quickly realized she was slowing down her group (she'll go forever at her own pace, but can't be rushed) so she decided to turn back. One of the instructors accompanied her back to the major trail junction so she couldn't get lost. Back at the Lodge, she bumped into the "beginner" group just heading out, joined them and found their pace much more to her liking.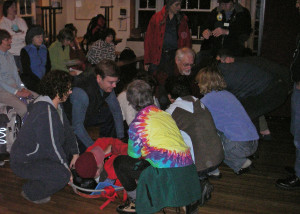 Recognizing your own limits is a good thing in the winter wilds and Marilyn felt she'd made a good decision.
After a sumptuous dinner (food always tastes better after exercise!), the instructors staged a wilderness "accident," demonstrated proper response, then broke everyone up into groups so everyone could practice assessing and responding properly to an emergency. Great training!
The next morning, we got up, ate well again, and headed out for yet another day of having fun in the outdoors—this time even better prepared than we had been the day before. What could be more fun than that?
AMC NH Winter Workshop: The Payoff Day!
Sunday was the payoff. We awoke to find seven inches of fresh, light powder snow and more falling every minute. Heaven!
Marilyn now happily in the "beginner" group, started he day in an intensive map-and-compass class, then took to the woods for a group off-trail bushwhacking expedition. She had a ball.
My group of three skiers and two instructors (one skier had demoted himself to intermediate for the second day), put skins on our skis and headed up the Alexandria Ski Trail toward the summit of Cardigan. We skinned up the side of the trail we were going to ski down—it's always a good idea to check for fallen trees and branches before you plunge headlong down a steep trail.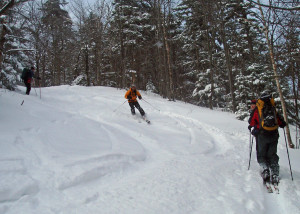 Skinning up Mount Cardigan was hard work. Climbing skins (the best are made by Black Diamond, www.blackdiamondequipment.com ) let you walk up a hill on skis without sliding backwards. But the trail was steep and long, the snow deep, and even relatively lightweight Telemark skis, boots, and skins get heavy after awhile. Still, we made it, and ate lunch on an overlook below the exposed summit, watching the wind tear blue holes in the clouds above.
It took a couple of hours to skin up and only a few minutes to fly back down in the deep powder. But those few minutes are among the most memorable in a lifetime on skis for me. I'm now a backcountry addict.
Running out of time, we made a quick loop on the flatter Kimball Ski Trail, and arrived back at the Lodge just in time to pack up and help clean up (the staff is all volunteers and all participants pitch in and help). Nice way to end a great weekend of adventure, fun and camaraderie.
AMC Winter Workshop: A Fun Learning Experience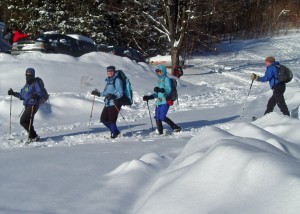 The AMC New Hampshire Chapter has been taking people to the hills for a very long time. And they do it well. If you sign up for any of their workshops, you get a great gear list to start with and step-by-step instructions in the why and how of winter travel on skis or snowshoes.
Unless you have very experienced friends willing to teach you step-by-step, this is the safest, least expensive, and  best way I've ever seen to learn or expand on your winter skills.
The first rule of the AMC NH Winter Workshop was: "Have Fun!" The second rule: "Remember Rule 1!" Everyone did.