Pack Or Pulk?
One of the many reasons more people don't go winter camping is the sheer weight and volume of gear you need to keep yourself safe and comfortable in the cold and snow.
Everything balloons in winter, weighs more, takes up more space.
You need a larger tent  in winter for more living space and to keep more of your gear inside, and a sturdier tent to handle snowload. A typical winter tent is a couple of pounds heavier than its summer counterparts
You also need a thicker, warmer (and heavier, bulkier) sleeping bag and pad to insulate you from the cold. Ditto with clothes: they get bulkier and heavier in winter.
Winter also means carrying more food, a heavier stove and more fuel, and a larger pot to melt snow and heat water. You also need a shovel to create a level spot for your tent, and a light for the long dark evenings.
Then there are skis or snowshoes and poles, creepers or crampons for hard crust and ice, an ice axe if that hard snow or ice is tilted . . .
It all adds up.
Once you've assembled all this stuff, you need to haul it to your campsite.
Snowmobiles are cheating, so that leaves just three viable choices: Option one is a backpack big enough to load all your gear in or onto. Option two is a pulk, which is a sled with a rigid pulling harness that attaches to you via a waist belt. The rigid harness keeps the sled from banging into you when you're going downhill. The theory behind a pulk is that you don't have to carry the weight, it just slides along behind you.
The third option is both a pack and a pulk.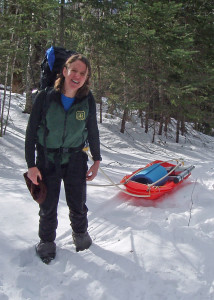 Any of these options CAN work, depending on your own abilities and the terrain you are traveling on. (And all of them ARE work. . . . )
In winter, big packs are better; it's easier to fit in all that bulky winter gear. My opinion: winter backpacks start at 6,000-plus  cubic inches (for men, women's packs aren't made that big—more proof that women are smarter than men). But you are always limited by the amount of weight you can carry.
In theory, the pulk just sliding along behind you sounds wonderful. In practice, pulks work very well on smooth flats and slight downhills, especially if the load is light, not so well up or down steeper hills and side-hills.
Pulk pulling can get pretty complicated threading your way through tight trees, around blowdowns, and crossing brooks and steep-sided gullies. On side hills, where the pulk wants to slide downhill of the puller, pulk pulling can be a real pain. Here in the northeast you can encounter all of those challenges within a matter of feet on any given trail.
Still, if you are going out for an extended trip, or packing extra goodies on a short trail like four of us did recently on our Black Mountain Cabin adventure, the pack-and-pulk combination can be sterling.
We're still experimenting, trying to decide whether it's better to put heavier stuff in the pulk or fill the pulk with light-but bulky stuff like sleeping bags (which take up an awful lot of room in the pack). There may not be any one right answer: it depends on the terrain, the pulk and the puller.
Still, there's no real "wrong" way to do it, and experimenting with a pulk is one more excuse to get out and have a good time in the winter.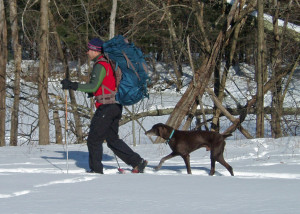 Pack or Pulk: Pick A BIG Pack
A big backpack is a big investment that you live with for a long time. For a closer look at MONSTER packs for winter, look at our stories on the Osprey Argon 110, the Kelty Red Cloud 110, and a Monster Pack comparison.
Pack or Pulk: Pulk Picks
You have two choices in pulks: make one yourself, or buy a ready-made pulk
. I've tried both and, so far, the ready-made ones outperform the DIY. But the price difference is enormous.
For DIY designs, go to www.skipulk.com, or just Google "pulk" (which will also get you reviews of ready-made designs. Incidentally, most ready-made pulks have child-seat adapters to take little ones cross-country skiing (there's a review of several at www.xcskiworld.com).
On our Black Mountain trek we used a homemade PVC pipe harness for a Mad River Rocket. The pulk directions from their website are not perfect, and the rig we concocted still needs work, but I had the sled, the harness was cheap, and it worked pretty well.
I've been testing a Nordic Cab pulk from Norway. Essentially a box on fat skis (or wheels in the summer) with a really nice cargo bag included, it pulls beautifully on both groomed and ungroomed trails.
Pack Or Pulk: The Takeaway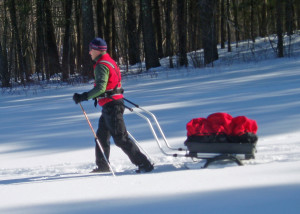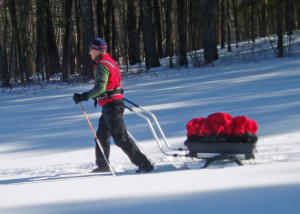 Winter camping gear has gotten smaller and lighter, but it still isn't small or light. For comfort in winter, you are going to need some serious hauling capacity. A big pack can go almost anywhere, but every pound is always on your back.
A pulk gives you more hauling capacity on moderate terrain but can be more trouble than it's worth when the going gets steep or rough. It will also slow you down if your goal is traveling fast. Still, there are times when a loaded pulk slides along behind you so effortlessly you hardly know it's there, and you wonder why you would ever us a backpack . . .
There's no one perfect answer.