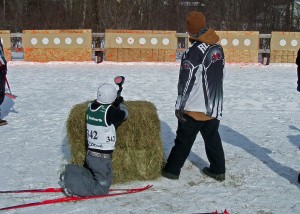 Paintball  Biathlon Rocks!
Over 160 kids from age 7-12 assembled on Sunday, January 25, 2009 to  "compete" in what was billed as  the world's largest biathlon event, the Fourth Annual Tippmann Paintball Biathlon at the Nordic Center of the Mountain Top Inn  in Chittenden, Vermont .
I put  "compete" in quotes deliberately. Many of these kids are serious athletes. Some with realistic Olympic dreams for some future day. So yes, there's genuine competition. But other kids were clearly just there just to do their best and to have fun.
Every single competitor, whether they finished first or last, crossed the finish line a clear winner. That made it exciting for everyone.
Biathlon, is one of the more fiendishly difficult sporting competitions ever devised. It sounds so simple: you cross country ski as fast as you can on a set course, arrive at a shooting station and shoot at five consecutive targets. In paintball biathlon, hits on the shooting range subtract time from your skiing. You don't want to miss.
But skiing gets your heart pounding, which doesn't help you shoot accurately. The trick is to calm your heart and focus your mind while you shoot.
At the starting line, this looked like any other cross-country ski race. The athletes on this cold winter day were divided into divisions from the littlest tots who got their own "lollipop race" (with no shooting), to J6 (7- and 8-year olds, girls and boys in separate divisions) through J4 (12-year olds). The older kids and adults had raced the night before. The racers in each division lined up and launched at 20-second intervals and raced off on a loop that would bring them eventually to the shooting range, where the unique character of this race became clear.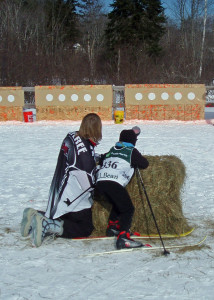 The kids would fly at full speed (WHOOSH!) up to a shooting station where a volunteer range officer was waiting to help them settle in behind hay-bale rests, hand them a paintball gun, and remind them to push off the safety. The athletes then fired one shot each (POP!) at five paper-plate-sized targets. The paintballs hit with a distinct SPLAT! And the results were instantaneously visible—the big orange blob either was touching the target, or it wasn't. Between shooters, heavily armored range officers squeegeed the targets clean for the next round.
Most kids hit at least one target (GIGGLE!) and were off to ski to the finish line. The older divisions made two loops with two shooting episodes.
Clearly some of these kids were experienced shooters. Equally clearly, others had never fired a gun of any sort before that day's practice session. They were the ones who giggled the loudest at a hit.
One little girl skied up like a pro, popped five quick shots into the precise center of each target like she did this every day, then skied off toward the finish line, arms in the air shouting jubilantly: "I beat my Dad!"  Her Dad was watching, and his smile was even bigger than hers.
Can you imagine a couple of hundred kids in one place, none of them sullen, none of them whining, none of them using a video game or iPod to shut out the world or a cell phone to text someone who wasn't really there . . .
Just kids, being kids, having a wonderful time in the outdoors, WHOOSH!, POP! SPLAT! GIGGLE! I wish we all could hear more of that. The world would be a better place.
Mountain Top Inn: FUN!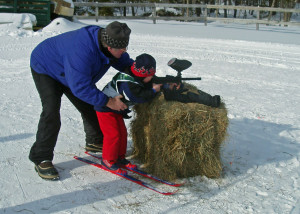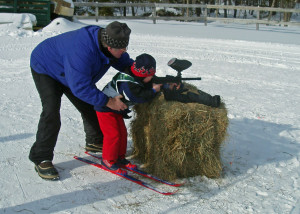 The competition was still going strong among the older kids when Marilyn and I slipped away from the crowd, put on our own cross-country skis and went exploring on Mountain Top Inn's 30-kilometer network of groomed cross country trails. They have another 30 km of ungroomed trails, but it was too late in the day to explore them.
It was cold and getting colder fast as we did our own, non-competitive version of whoosh-and-giggle on the fast snow on wide trails. With noses, toeses and fingers tingling, we completed a long up-and-down loop. The exercise felt great on a cold winter day. It was a little like being a kid again.
As we checked into the inn, we watched a couple gracefully figure skating on the cleared pond across the street from the 30-room main inn (they also have 18 stand-alone cabins that sleep from two to 18 people). Another way to enjoy winter
Outside our window, a group of 20-somethings was laughing as they enjoyed the world-class sledding hill that launches right at the inn's back door. We a-l-m-o-s-t went and joined them.
Cross-country skiing, skating and sledding access are all part of a room package at the Mountain Top Inn, or you can purchase a trail pass if you are just visiting for the day.
A few minutes  later, we were soaking in a hot tub at the inn watching the last of the sun's rays kiss the top of Killington Peak goodnight.  Then it was off to a spectacular dinner in dining room, a good night's sleep in a comfortable bed, and more snow to play on the next morning.
Winter just doesn't get much better than that.
 Paintball Biathlon: Healthy Competition!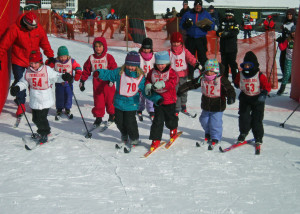 For a video look at the paintball biathlon, go to www.usbiathlon.org.
Even people who disapprove of guns and mock-combat paintball games would have hard time finding anything to complain about with the paintball biathlon. Personally I think that Tippmann, the manufacturer who supplied the paintball guns deserves a lot of credit for helping introduce so many kids to biathlon as a healthy, wholesome, fun sport.
The roots of biathlon lie not in winter warfare, but in winter survival: using skis and a rifle to put meat on the table. But, in today's world, it's one more way to get people outdoors, exercising and having fun. Biathlon is about life, not death, healthy competition, not combat.