Sea Kayaking For The First Time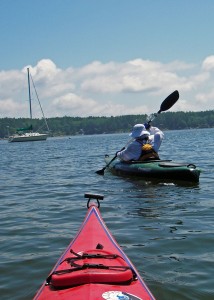 I grew up paddling canoes, but the very first time I ever plunked my boney butt in a kayak and started paddling was on the ocean. I was on a "packaged" sea kayaking exploration of the Maine Island Trail in Penobscot Bay with H2Outfitters. For three days and four nights we paddled from island to island, camping at night with no one else around, exploring during the day, eating splendid meals cooked out on the beach, seeing seabirds, seals, porpoises, eagles, and jellyfish up close and personal.
No wonder I immediately decided that sea kayaking was a pastime I enjoyed . . .  Since then I've paddle on the ocean whenever I've gotten the opportunity.
Then I got serious and horsetraded some stuff I no longer used for a couple of used sea kayaks. Neither of these boats are made anymore but they were both seaworthy, beautiful, and great performers. And, best of all, they let me paddle whenever I feel like it, on the ocean in Maine, around Cape Cod, and even on some of the lakes and bigger rivers in New England.
Which created a problem . . .
My sweetheart Marilyn for all her great sense of adventure, doesn't swim and has not been comfortable around water. She'd tried canoeing, definitely didn't like it, and was content for awhile to stay on shore and watch me paddle away . . . until it began to gnaw at her that she hadn't actually tried kayaking and therefore didn't know if she liked it or not. She doesn't like missing out on anything fun, and likes making her own decisions about what's fun for her and what isn't.
Her opportunity came this past weekend when we visited our friends David and Susan on "Fantasy Island" off the mouth of the New Meadows River in Harpswell, Maine. This is magnificent paddling country, the weather was perfect, and we had four kayaks available: my two sea kayaks and David's  two Wilderness Systems Pungos, a 120 and 100 (12-foot and 10-foot, respectively). The 10-foot Pungo 100 is a stable, kinda-slow little peapod, mainly designed for quiet ponds, but the 12-foot 120 is a really nice all-around boat. It's much wider and therefore feels more stable than many kayaks , but still moves along quickly and turns easily.
David and I paddled the two sea kayaks out to the island through some blustery winds, strong currents and pretty rough chop. We had a blast.
Early the next morning was dead calm and David and I paddled his two smaller boats to some nearby rocks to gather mussels for lunch. I came back raving about the stability of the 12-foot Pungo and how much fun it was to paddle on calm seas. Marilyn decided she had to try.
We all went out that afternoon. It took Marilyn all of five minutes in the boat before she decided she loved it. She caught on to the  basics quickly and we paddled several miles, exploring some hidden coves, watched the lobster boats, seabirds and herons going about their business.
That afternoon she tried one of the sea kayaks, which doesn't feel as stable (initial feelings can be deceiving) and she liked that, too. In fact, for the rest of the trip she chose to paddle "her" kayak  while the rest of us tried to keep up with her.
So, Marilyn and I have added kayaking to the list of Active Outdoor pastimes we love to do together. What about you?
Sea Kayaking For The First Time:  Resources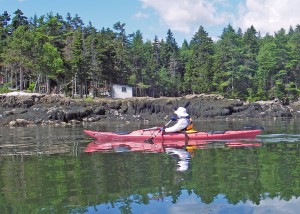 If you don't know anyone who will take you out on your first (or 50th) sea kayaking expedition, there are plenty of places to get onto the water safely with good equipment.
A year after my first seakayaking adventure with H2O, I went out  on a day paddle with Seaspray Kayaking, which runs tours from the Sebasco Harbor Resort and daytrips and longer treks from two other locations along the mid-Maine coast.
Since then I've paddled on Western Bay near Acadia National Park with a group from National Park Sea Kayak Tours, on Town Cove in Orleans, Mass. with the Outdoor Center at the Goose Hummock Shop, and on the Kennebunk River in Maine with Coastal Maine Kayak .
Once you've gotten some experience you can start to take off on your own.  I paddled again among the islands of Penobscot Bay while windjammer cruising aboard the schooner Isaac H. Evans in a sea kayak I'd rented from EMS. I've also paddled a rented kayak from Action Sports around the Thimble Islands off Stoney Creek, Connecticut. If you don't want to do it alone, Connecticut Coastal Kayaking offers guided trips around the Thimbles and other areas along the Connecticut coast
Almost every place that sells kayaks has rentals and demo boats you can try. Paddling on saltwater is pure fun—give it a try this summer.