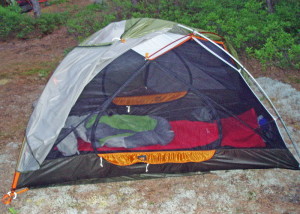 Go Light Backpacking: Leaving Common Sense Behind
Normally, I'm not a fanatic for lightweight backpacking. I don't mind carrying a few extra pounds to achieve more comfort. But, to the horror of my sweetheart Marilyn, I just went  on an overnight backpacking trip with a broken collarbone that was still tender from a mountain biking accident four weeks previously. I didn't even bother to try to get my doctor's OK.
The original plan was for my hiking buddy, EasternSlopes.com Senior Editor David Shedd, to carry most of  the weight. Then, two nights before we were supposed to go, David broke two toes playing with his dogs in the living room. A word to the wise: Go outside to play with your dogs!
We could have canceled, of course. But we aren't that smart. So we began paring down our gear to see how light we could go in comfort–always a series of calculated tradeoffs. Our gear has generally been selected for comfort, function, and durability at reasonable cost, not for lightest weight
I can't put any weight on my left shoulder yet, so I tried on every backpack I own and the most comfortable was my trusty Gregory Z-65, which weighs 4 lbs 3 oz. and is just large enough to hold everything I need for a light overnight/weekend. David, who is a pack mule even with broken toes, borrowed my Osprey Argon 110, which, despite it's huge capacity is lighter (6 lbs. 5 oz.) and more comfortable than any pack he owns..
For tents (more necessary for insect protection than shelter from the weather), I picked an REI Quarterdome T1 solo tent (2 lbs. 12 oz.), while David used the roomier Quarterdome T-2 (3-12). We could have shared the T2, but we both like privacy.
My sleeping bag was an older Coleman Klickitat 40-degree synthetic with the same  pad I've used for years. Together they weigh less than 3 lbs., total. David's Mountain Hardwear Phantom 32 Down sleeping bag and pad are even lighter. Two Crazy Creek Hexalite chairs (15 oz. each) added tons of comfort.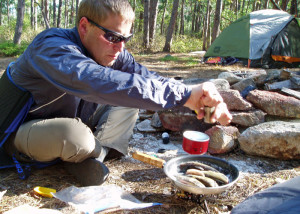 For cooking, we took a Coleman Exponent  (25.4 oz with fuel), an MSR Titan (titanium) 2-pot set and a small aluminum frypan from a discount store. Because our campsite is dry we carried a 6-liter MSR Dromedary (8.7 oz) to fill from the nearest spring in addition to Nalgene bottles. For illumination, we each had a PrincetonTec Fuel headlamp (2.8 oz).
There are always incidentals: personal hygiene kit, bug repellent, a rain jacket and pants. Those probably added up to 3 lbs. Food weighed about 7 lbs. for snacks, dinner (steaks and whole-wheat cous-cous) and breakfast (eggbeaters, bacon bits, and cheese) —no freeze-dried for us! Our biggest splurge was some good wine (in a Platypus wine bag) and my neoprene cribbage board  (I won, for a change)
I don't think David could have done this trip without good boots. He uses Cresta hikers from LL Bean which have a wide toe box and fairly stiff soles to provide his broken toes the support they needed.  With my light pack, I got away with lightweight boots from Merrell. We both also used trekking poles (mine from REI, his from LL Bean) to avoid stumbles.
Even with some of the food, my pack weighed just about 20 lbs., and I carried it comfortably with the waist belt and one shoulder strap. David's was about 30 with water and wine. We could have gone even lighter, but what we chose was comfortable and bearable, even with only three good shoulders and 18 unbroken toes between the two of us.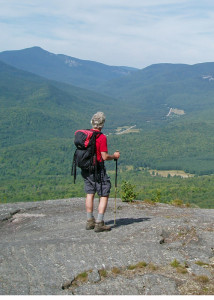 Go Light Backpacking: Walking Wounded
Anyone who had seen us wince as we shouldered our packs and started walking might have wondered at our sanity. But I'll tell you, the experience was well worth the brief moments of discomfort. Putting 25 pounds on your back and walking away from civilization for a day and a night is pure joy.
We got to spend the day away from our respective offices, enjoyed an afternoon siesta on sun-warmed moss, awoke feeling completely relaxed. We ate well, spent  our evening watching the sunset, the moon rise, and the mesmerizing flare of a small campfire.
When I occasionally woke in the night, instead of the glow of an alarm clock, I could see thousands of stars twinkling through the  mesh of the tent (it was so warm and dry neither of us put the rainfly on our tents.
We awoke in the morning to the sounds of ravens croaking in the trees above our heads. Frankly, it was pure bliss.
It was also a healing experience.
I've been going to physical therapy for my shoulder. It has helped me recover. But I honestly think I made more progress on this easy overnight than I had in several PT sessions. Partly it's because I had reached the point of healing where simply using my shoulder naturally began to make a big difference. David noted that his toes hurt less on the walk out than they had on the walk in.
Life is beset with various aches and pains. Some can't be overcome easily, but the ones that can be ignored shouldn't keep you from getting outdoors and having fun.