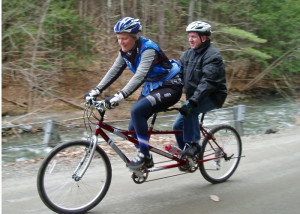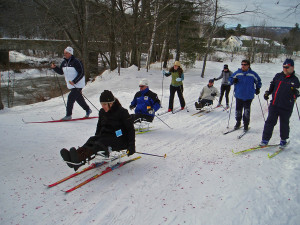 Ever since I tumbled off my mountain bike in late July and  fractured my left clavicle, I've been leery of the word "Fall." Therefore, I'll tell you that Autumn is  finally here and it's by far the best season in the northeast for pedaling, paddling and hiking. And, I'm happy to report that, just as Autumn is arriving, I'm finally able to lace up my own hiking boots, get back on my bikes and out in my boats and have some fun. I'm don't feel like  a prisoner anymore.
Life is good!
Being injured has given me a fresh perspective on how healing the outdoors can be for both body and soul, even in small doses. Differently Abled Outdoor Adventures are for everyone. Not everyone has the physical ability, drive and determination it takes be a hero outdoors. But almost everyone can do something. And most can do more than they are doing.
I understand better now how hard that can be. In the days immediately following my accident, simply walking out to the end of the driveway to get the mail took an effort of will. I hurt all over and it would have been easier just to sit on the couch and stare out the window.
I've written often about people who are physically challenged or differently abled yet who get out and enjoy. That's why I was surprised to be taken to task recently by a loyal reader who felt very, very strongly that the tag line I use in my newspaper column: "Life isn't a spectator sport. Get out and enjoy!" is, in her opinion, unfair to some people with disabilities. Circumstances didn't really let us finish that conversation, but I've been thinking about it ever since and I have to say I respectfully disagree.
Since I started EasternSlopes.com, I've shared days outdoors with people who are wheelchair-bound and still pedaling handcycles, skiing faster, than I can, and rolling themselves down "accessible" trails in New Hampshire, Vermont and Connecticut. I've seen people with various mental and physical challenges paddling kayaks, and "team hiking" to remote huts in the White Mountains.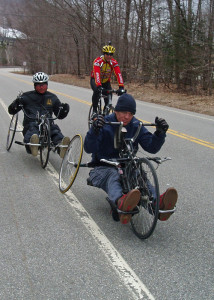 I've accompanied people who are blind riding tandem bicycles, cross-country and downhill skiing, and watched them guiding themselves with a rope handrail and Braille signs down a multi-sensory hiking/nature trail.
It's hard for me to believe that anyone is so physically challenged that they can't enjoy doing something outdoors. It might require specialized equipment and appropriate assistance. But if there's a real desire, there's almost always a way to accomplish it. There's a big difference between "can't" and "choose not to."
If you face a physical limitation, and you still want to get outdoors but don't know how, go to the Disabled Sports USA website. I honestly believe that one of the organizations there will be able to find a way to make something good happen for you. You may even end up doing more than you ever thought you could. Everyone should have the chance to make life better by getting outdoors and having fun. You may not get  to the summit of a 4,000 footer (I can't do that right now, either), but there's something fun to do somewhere with fresh air and whatever exercise you are capable of doing.
And that goes double for the able-bodied who think they are too busy or too tired . . . Except you shouldn't need my help. You see, despite my well-intentioned reader's strong objections, I still believe that life isn't a spectator sport. Everyone can and should get out and enjoy!
SAFETY MESSAGE RECEIVED
I came back from a fairly challenging Physical Therapy session today to find a wonderful email from a reader in Connecticut. Seems reading about my mountain biking accident caused her to re-think her own safety practices. Arlene wrote:
"When you first injured yourself and wrote about it, I was interested in every word.  If YOU could injure yourself, for heaven's sake, what on earth was I doing, a 75-year-old gal with a young German Shepherd running along side me?  I had a helmet, but thought that was only for when one rode on asphalt pavement, to keep the head from coming in contact with the road or a guard rail.
Anyway, your article made me think about where I would go if Gretel suddenly ran in front of me, or if I hit a pothole or a rock. Over the handlebars, that's where! And from that day on, I've never gotten on my bike without the helmet. I ride in the nearby state parks morning and evening; my husband walks while I ride. I thank you for the fact that that I am now riding more safely. My children really don't need me in the way that they did forty years ago, but my dog and husband do!"
I sincerely hope that more people get the message Be aware of potential hazards when you are in the outdoors and take appropriate, simple, sensible precautions to avoid getting hurt.