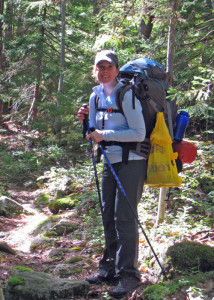 Backpacking In Autumn is the best: Warm days, nights cool enough to make a campfire and a warm sleeping bag welcome, few bugs around to bug you . . . And with kids in school and many adults out of vacation days, campsites that are popular on weekends can seem like ghost towns on weekdays.
Walking with a backpack beneath a canopy of bright leaves on a carpet of color can be a magical experience. Sure, the weather is trending cooler but most folks don't need to carry the weight and bulk of winter clothes and sleeping bag–yet. Fall camping is as good as it gets.
My sweetheart Marilyn and I recently reconnected with our friend Rich, who suggested a camping adventure. I think it's every outdoor guy's dream to find a woman who will share his passions, and Rich is no exception. His girlfriend, Suzanne, did a lot of car camping as a kid,. She and Rich had done some camping together ("car camping in a state park which felt like an apartment building without walls–loud families and barking dogs surrounding 'our' 500 square feet of dirt with a fire pit.") But she'd never actually put on a pack and deliberately walked away from the so-called "comforts" of civilization.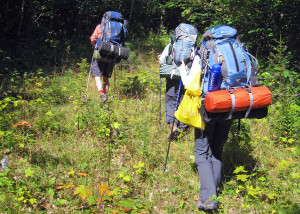 We researched options, including private campgrounds, state parks, and roadside campsites on the White Mountains National Forest. But they all had the same problem—people.
So I suggested a backpack trek to one of my secret getaway spots. Rich and  Marilyn jumped at the idea; Suzanne was not so eager. She appeared to have two major concerns: being cold or uncomfortable sleeping on the ground and, uh, bathroom facilities . . . Outhouses were definitely out.
We solved the first problem with zero degree Down sleeping bag
—overkill, perhaps, for a 35-degree night, but it took away any worries about being cold. Beneath it, we put a thick Therm-a-rest mattress
. I certainly have lighter backpacking mattresses, but none cushier. Rich was willing to carry the extra weight in one of our MONSTER backpacks for her comfort.
For the bathroom issue, we made her a hygiene kit with toilet paper, baby wipes, hand sanitizer and a plastic trowel. That, plus Marilyn's assurances that she'd been nervous at first, too, and now found it "no big deal" helped Suzanne mentally leap that hurdle.
Since this wasn't a long expedition, we could afford a leisurely morning of packing and lunch at one of our favorite diners. We hit the trail a little after noon and were at the campsite with several hours of daylight left to set up tents, gather firewood (this site has a long-established firepit), and hike to the spring for water and to a nearby overlook to sip wine and admire the view.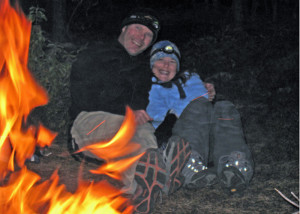 The evening we enjoyed classic campfire cooking and conversation before retiring to the welcome embrace of our sleeping bags. Suzanne must have liked hers—I didn't hear any complaints about being cold, and she and Rich weren't in any hurry to wake up at sunrise to watch what I call "The Fog Show" rolling through the valley from the overlook while sipping morning tea.
Eventually, they got up in time to see the last of the fog show, eat breakfast, pack up camp and head for home. Suzanne enjoyed the adventure: "I discovered that I would gladly trade not having bathrooms or running water for the solitude and beauty of the woods. Going for just one night was a great introduction to 'real camping.'".
It was, I think, about as perfect an introduction to backpacking as anyone could hope for. So, are you going backpacking this fall?
If there's any  drawback to fall camping, it's the shorter days. With miles to travel, you simply can't lounge the day away. If you are headed out, check when the sun is going to set and make your plans accordingly. Besides, shorter days mean longer evenings for relaxing, watching the campfire or the stars