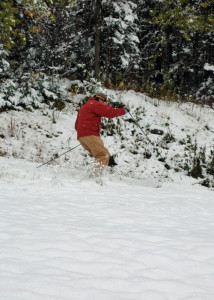 Ummmm,  not . . .
For a couple of hours we thought Steve Pierce of Carrabassett Valley, Maine, was the lucky skier who got to make the the first tracks of the 2009/10 season on Tuesday, October 13 at Saddleback in Rangeley Maine.
Now we've discovered that three hard-cores including Sam Lozier, Greg Petrics and Allen Taylor beat him by almost two weeks, making turns on a dusting of snow on the slopes of Stowe on October 1. Sam may have even beaten the midnight deadline and made a couple of turns on whitish grass on September 30!
Whether or not they were actually on snow (especially on the night run)  is up for debate. You can check out pictures of their exploits and decide for yourself. But they were for sure on skis (and one set of snowblades). We just wonder if the fun was worth the cost of the major tune their planks subsequently required.
OK, so we stand corrected. And If anyone skied or boarded on natural or manmade snow (not ice-rink shavings) anywhere east of the Mississippi  (or Hudson's Bay) earlier than  October 1, we'd love to hear about it! Post a comment or send an email to timjones@easternslopes.com. If I hear from someone, I'll update this story yet again and give credit where it's due.
Thanks to Stoked for alerting us that we were two weeks behind the times . . .