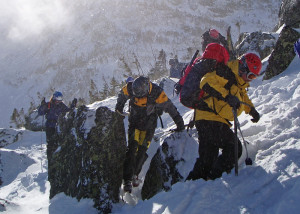 Keep Warm With Insulation and Outer Shells: Insulation Layers
When you are dressing in layers, the right kind and amount of insulation, properly protected with the right outer shell layer can keep you warm, dry and comfortable in almost any conditions. I say "almost" because there are times—fewer than you might think, but still times—when even the most well dressed and well prepared outdoors enthusiast needs to just hunker down in safe shelter and wait out the weather. Still, you don't want to stay walled up indoors, so learning to dress properly is key.
Let's start with insulations. Anything that restricts the movement of warm air away from your body (convective heat loss) is insulation. Cotton balls and shredded newspaper works as well as anything . . .The thicker and more uniform the insulation, the warmer you stay. But insulation also has to be durable and work with the human body—no itchy fiberglass batting, please . . .
For many years, insulation was wool from sheep and goats, or down from waterfowl. Wool is heavier but keeps you warm even if it gets wet; Down is much lighter for equivalent warmth, very compressible but useless if it gets wet. See the conundrum? The new "dry down" options are changing that game–at a price.
Then came polyester in two forms: fleece and fiber batting. Fleece is lighter than wool, acts like wool in many ways, but absorbs even less water and dries even quicker. Soaked fleece can be wrung out, snapped a few times and worn to keep you warm. You can get fleece is a variety of thicknesses from thin layers you can wear next to your skin all the way to thick, fuzzy pile that looks like sheep's wool. Again, generally, the thicker the warmer. Some fleece jackets now have a Windbloc membrane which makes them warmer still.
The original polyester batting was Polarguard and the latest versions are still used in quality clothing. Now there are dozens of similar products including Primaloft. The best polyester battings act like Down though they are heavier, not as compressible. But polyester batting dries quicker than down and retains some ability to insulate if it gets wet.
It's no wonder that, for awhile, it looked like wool and Down were obsolete. But they've made a real comeback in recent years.  Wool in particular works very well as a lightweight layer and puffy Down jackets still offer more warmth of less weight than anything else on the market and the new dry down options are simply remarkable .
The trick with whatever insulation you choose is to match your layers to prevailing conditions. Some days, a thin fleece might be all you need, particularly if you are moving. Other days you might need two or three insulation layers. Standard operating procedures these days is to under-dress while you are moving, even on very cold days. Then carry a puffy jacket in a dry bag (I like the Ultra-Sil from Sea to Summit) inside your pack your pack and throw it on instantly when you stop moving, before you chill.
The key is flexibility to match insulating layers to the prevailing conditions. Putting on just enough to keep you comfortable at your activity level.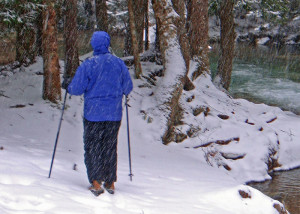 Keep Warm With Insulation and Outer Shells: Over It All
No matter how good your insulation layers are, they won't do much good if they are soaked from rain, snow or sweat, or if the wind can cut right though them to suck out all the warm air trapped in the spaces between and among layers. The way to keep your insulation dry and shielded is with a good waterproof, breathable top layer of tightly woven nylon backed with a vapor-permeable membrane like Gore-Tex or one of the numerous similar products now on the market.
These waterproof/breathable membranes work by having millions of tiny holes that are larger than an individual water molecule, but smaller than even the tiniest droplet of water held together by surface tension. The heat from your body evaporates water on the inside, which passes through the pores to the cooler/drier air outside, while outside water in the form of droplets can't get in. Anyone who remembers sweating inside coated nylon blesses the day that waterproof/breathable fabrics became a viable concept.
Everybody has their own favorite shell garment—a lot depends on fit. Generally, I look for shells with the fewest possible seams in the shoulder area (which tend to leak first, especially if you are carrying a backpack), taped seams and a large hood. It's a bonus if the hood tucks neatly out of the way when you don't need it. I also like waterproof zippers, pit zips to vent warm air, and a cut that's generous enough to allow plenty of layers beneath.