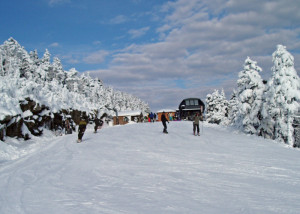 EasternSlopes.com Correspondent Brett Lund filed the following report from Killington Opening Day just moments after making his first Tele turns of the season there on Saturday November 7, 2009:
"Fall in New England is a wonderful transitional season. The vibrant reds and oranges of early autumn giving way to brown and yellow, the crisp morning air, the first hard frost.  These are the signals to those of us who love winter and all of its glory that our long wait is almost over. Instinctively, we begin to pull winter clothes out of the mothballs, and dust off the skis in preparation for another year of sliding and gliding down our favorite slopes. While most ski areas set their goal of an opening by Thanksgiving weekend, some are fortunate to be able to take advantage of the nighttime lows to blow snow at a feverish pace. Killington certainly made the most of its cold nights over the past week, and was able to open Saturday November 7, 2009.
While I have always  hesitated to ski prior to Christmas, I have been particularly itchy to hit the slopes this year. Because of this, it took little to convince me to make the 2 hour drive to Killington in hopes of catching some VERY early season turns.
Despite arriving late, I was pleasantly surprised to find very enjoyable conditions remaining for afternoon skiing. The coverage was even, and the filtered sun and warm temperatures kept the snow very edgeable, even as the sunlight faded into afternoon shadow. I spoke with some who got to the hill early and they confirmed that the morning snow was very nice, and only got better as the sun baked and softened the trails.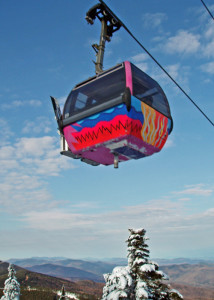 Thanks to Killington opening multiple runs, crowds were reasonable despite the limited real estate. There was a little for everyone's taste, including spring-like moguls and a small terrain park. While by late afternoon the expected scratchy patches were in the typical high traffic areas, there was still plenty of carvable snow available to those who wanted it. I was amazed at the number of people who already appeared in mid-season bump form (myself not included!).
The coverage on the open trails was wall to wall, and it was easy to forget that this was still November. Only while on the lift was it obvious that we still have some time before we are completely blanketed in white. While we all look ahead to  powder days, we should all be thankful for any day we can buckle up and rip down the slopes.  Killington's done a great job of getting snow blown and terrain open…thanks to them for my best November skiing ever!