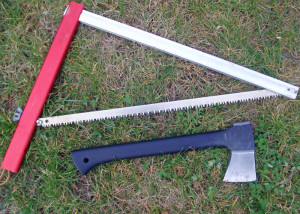 Most roadside campgrounds generate a thriving cottage industry with locals selling little bundles of camp firewood. That's good for the local economy. You also have to be careful about transporting firewood these days, when invasive insect pest species like the highly damagingAsian longhorn beetle can get a free ride
But for campsites more than a mile from the road, hauling in camp firewood makes absolutely no sense, especially  when you are camped in a forest where there are dead and downed branches and trees all around. Don't ever cut living trees for camp firewood. First, it's illegal unless you are on private land and have permission. Second, green wood doesn't burn well or give off much heat if it does burn.
Turning dead trees and limbs into camp firewood takes some manual labor and tools. With the right saws and axes, we can cut, split, and stack a fairly serious pile of wood in short order and have a ball doing it. Over the years, we've tested about every variety of woodcutting implement and have settled on what we think is the best.
To cut wood up to the diameter of your fist (which is plenty large enough for camp firewood use) we use a folding Sven Saw
, the original model with the 21" blade folds to 24″ x 1 3/4″ x 5/8″ with the frame acting as a sheath for the blade, and weighs less than a pound. If you need to save a few ounces you can try the 15" model. A sharp Sven saw feels good in the hand and cuts wood amazingly well. Just make sure to get the blade resharpened professionally, or replace it every couple of years.
To split our campfire wood and pound in our support stakes for fire building (to learn how to build a campfire go here), we've settled on the Gerber Sport Axe
. At 22 oz. with sheath, this little axe features a razor-sharp Fiskars steel head and a virtually-unbreakable 14" nylon handle. It's simply perfect—infinitely stronger, lighter, sharper, better than any hardware-store hatchet and it splits wood amazingly well (use your saw for cutting–it's more efficient). They also make smaller and larger versions if your needs are different, and one version comes with a pretty good little saw hidden in the hollow handle.