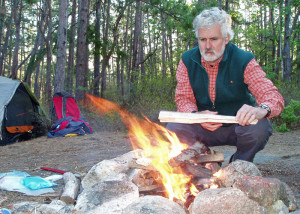 Why To Build A Camp Fire: "Dreaming The Fire."
November is the month of campfires. There's a phrase in Swahili that translates as "dreaming the fire." Isn't that the most wonderful description for the endlessly-fascinating pastime of watching flames dance and embers glow . . . ?
You have to be careful where and when you build a campfire—there are both moral and definite legal consequences for doing it wrong. But when you can have a camp fire, it's one of the best moments in life.
For  nearly two decades now, EasternSlopes.com publisher David Shedd, his father, Warner and I have spent as much as a week during deer season in early November in one of two campsites we have in New Hampshire.
Both of these sites are over a mile from the nearest road, neither has any trail leading to it. They are just spots in the woods we've discovered over the years. Among their other charms, each has a fire pit where we can safely build a campfire in all but the driest conditions. November is the cloudiest month of the year and dry conditions are rare.
One of these campsites is on private land where the owner has given us permission to camp. We've been going there so long, I think we've been written into the deed—or at least have squatter's rights. The other campsite is in a very quiet corner of the White Mountain National Forest.
The fire pit on private land we constructed by first removing about three inches of duff to expose bare mineral soil, then surrounding it with a ring of stones. This one has a permanent spring flowing less than 10 feet away.
The fire pit on the National Forest is a ring of stones on an outcropping of bare ledge. It long pre-dates our use. I've always wondered if Native American hunters used this site before Columbus, or perhaps the first fire here was built by a European trapper, timber cruiser or long-ago hunter. Discovering this fire ring and a tiny spring nearby helped us choose this as our camp site.
In early November, David and I were in camp for the start of muzzleloader season. It had been raining or misting for the past 24 hours, so everything was pretty wet. But the sky was clearing, the wind had calmed, the moon was rising, and the temperature was dropping. It was a perfect night for a campfire, and David and I were more than ready to kick back and enjoy an evening of conversation and "dreaming the fire" for as long we could stay awake.
How To Build A Campfire
They key to building any camp fire is to start with dry materials (if you can) and build a "chimney" which draws air through the fire
If the coals have built up deep enough over the years in your fire pit, or the mineral soil beneath is soft enough, you can pound in four, 2-foot-tall, thumb-size vertical stakes as vertical supports to help stabilize a "chimney" built of dry wood starting with twigs at the base, gradually increasing in size as it rises. We fill the center of the chimney with curls of birch bark (preferably white) from the endless supply of standing dead birch trees we see in our wanderings. On top of that goes a twisted bundle of the feathery dry twigs you find at the bases of spruce and hemlock trees. Hint: Carry a plastic bag with you while you are wandering on dry days and snatch a supply of fire starting material when you see it. Save your firestarters for emergencies.
If you can't puns in the vertical supports, you still build a chimney. You just start smaller and take your time adding more wood as the fire grows.
With this setup, one match touched to a birchbark curl is all it takes to light a fire. The "chimney" construction helps to direct airflow upward to create a draft, the vertical supports help stabilize the chimney as you add fresh wood. Eventually, of course, the supports burn through, but by then you have enough heat and coals to sustain the fire.
Once the fire is going, it creates enough heat to dry and ignite wood that wasn't perfectly dry to begin with.