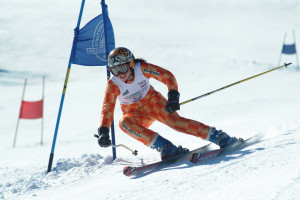 Registration is currently open for the first-ever Stratton Race Camps, aimed at high school ski racers. For those young competitors looking to jump start the season, the camp offers a concentrated weekend of professional coaching, video analysis, tech talks and more,  for little more than the price of a weekend lift ticket.
Stratton has a long history as a racing mountain with great terrain for training. Although this is the first year the resort is offering the early season race camp, there is no doubt the camp will be a great opportunity for those skiers who want a competitive edge before the season begins in earnest.
"After a dry land preparation period, the next step for a young racer is skills, drills and gate race simulation," said Craig Panarisi, Director of the Stratton Snow Sports School. "This program offers that plus video and ski race tuning. Remember, early season preparation puts you one step ahead of the other competitors."
The camp, which includes breakfast, lunch and Saturday night dinner, is $250 for one weekend, $460 for two weekends and $600 for all three weekend sessions. Discounted rates apply for groups of 10 or more, and they'll offer discounts on lodging. With 95 percent snowmaking coverage and 'gold medal' grooming, skiers who may not have the luxury of snow on their own slopes will have it during these clinics.
More details available at the Stratton website or 1‐800 STRATTON. Camps open to male and female skiers ages 14‐18. Skiers should be able to ski most black diamond trails in parallel and must wear a helmet and adequate protective gear at all times.
2009  RACE CAMP SCHEDULE
Camp 1 – December 5‐6 – Prep for Giant Slalom
Camp 2 – December 12‐13 – Giant Slalom and Prep for Slalom
Camp 3 – December 19‐20 – Slalom