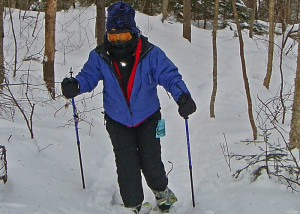 Keep Head, Hands and Feet Warm: Myths Galore
I've been getting some feedback from readers on dressing properly in insulation and outer shells and long underwear for outdoor fun. Most of it has been positive, though a few folks seem to think that I'm strange (at best) for not seeing clearly that Down insulation is better than synthetic fiberfills like Primaloft. I keep telling everyone that Down is indeed better—until it gets damp . . .  If I could find a way to insure that it never rained or that exhaled water vapor never condensed inside a tent, I'd be all over Down as an insulator. Until then, I'll put up with the slight extra weight and bulk for the safety of fiberfill.
Still, I was a little surprised to get an email from a reader named Cindy in Orlando, Florida. She'd googled "keeping warm" and had found my stories. Cindy asked what seems on the surface to be a simple question: "Is it true the 50% of heat escapes from your head or is that a myth."
If you go on the internet and look for information on percentage of heat lost through the head, you will find a lot of self-proclaimed experts, including a writer for the New York Times, saying that it's a myth that you lose more heat through your head. They say that you don't lose any more heat from your head than any other part of your body, that radiational and convective heat loss depends on surface area, not location on the body. According to these myth busters, this "myth" arose from a flawed military study which wrapped soldiers in various types of insulation but left their heads uncovered and then measured heat loss. Therefore, more heat escaping through your head is a "myth" by their lights.
Now hold on a New York minute!
According to another self-proclaimed expert (that would be me), the real answer is: it depends.
If it's cold, and the rest of your body is well insulated, you will lose a very large percentage of your heat through an uncovered head and exposed face. I've heard figures up to 90% and from personal experience, I would believe that to be accurate.Let's face it, it's a lot more common for most of us to walk around in cold weather with an uncovered head and exposed face than it is to walk around completely naked in those conditions. Therefore you are likely to lose most of your body heat through your head. Duh . . .
But there's another dimension to this problem: Physiologically, your body can restrict blood flow to the extremities, to preserve warmth in your core and in your brain. There's no mechanism to  restrict blood flow to your head or your core—if you get too chilled there, you die. That's why your feet and hands get cold quickest. The blood which could have kept them warm is busy elsewhere.
Even for those of us who still have it, human hair isn't all that good an insulator. It needs help. So covering your head with a warm hat or ski helmet, and protecting your face with a mask or a scarf really does help prevent heat loss, leaving more nice warm blood to keep your hands and feet warm. In really cold weather, I try to cover my head with layers of insulation just like the rest of my body, and leave not one inch of exposed skin on my face
There's an old saying: "If your feet are cold, put on a hat." That's no myth.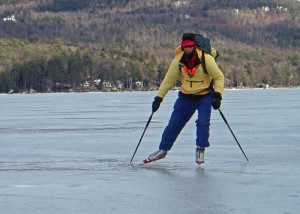 Keep Head, Hands and Feet Warm: Dressing in Layers, Again
Head,  hands and feet are no different than any other part of your body. The way to keep them comfortable is to add or subtract layers as external conditions dictate.
On your head, start with a very thin, lightweight breathable beanie. That's plenty if you are moving, even on a cold day. Over that add a nice thick fleece or thickly woven wool hat with earflaps or a balaclava if you prefer. Wear a second hat over that if it's really cold, then top it off with the hood from your parka to seal out the wind.
On your face, nothing beats a fleece-lined neoprene mask (I have nicknamed mine "Hannibal Lecter") topped with a thick fleece neck warmer. Goggles cover and protect your eyes better than glasses.
On your hands, start with lightweight polyester or wool liner gloves—just like your baselayer underwear. These keep your hands somewhat protected but still allow some manual dexterity for chores like cinching your snowshoes or ski bindings. Over these, I'll often wear a second pair of lightweight fleece gloves.
Then comes the serious insulation: mittens, which are much warmer than gloves. Thick fleece, boiled wool, fiberfill, Down—they all work.
Finally, on the very outside goes an oversized pair of waterproof/breathable shell mittens. Hint: choose at least shell mittens with  long cuffs that can  extend either inside or over the sleeves of your jacket—wrists radiate a lot of heat from blood vessels close to the surface. Your hands are about as useful as seal flippers at that point, but they are as warm as they can get.
There's nothing wrong with using the disposable heat packs you can buy everywhere for a buck or two these days (except at ski resorts where they cost twice that  . . .) But don't rely on them. Carry enough layers to keep your hands protected.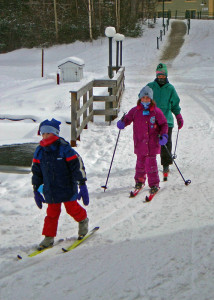 Keep Head, Hands and Feet Warm: Heat For The Feet
Feet are tough. They are a long way from the body's core and they have to function or you can't move. Big, heavy, warm boots are wonderful if you are ice fishing, sitting on a deer stand or riding a snowmobile. Not so good for skiing or snowshoeing or anything else active . . .
So . . . choose your boots (for everything but Alpine, Telemark or Randonee skiing, which have to fit precisely for control) a tiny bit large (no more than a half size), or  just replace your thick insoles with thinner ones which creates more space inside the boot so you can use thicker socks, or two pairs of socks. Don't crank down on laces unless you need support. Try, instead to keep blood flowing to your feet. Keep moving. When you stop, bundle up to preserve your body heat. And put on your hat—it'll keep your feet warmer.