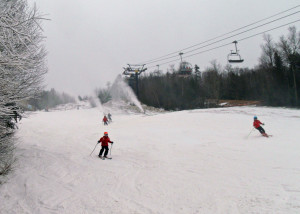 Editor's Note: It's been a rough start to the Northeastern ski/ride season. No area has been able to deliver the "product" we all dream of. But some areas have managed to get their lifts turning to give US the choice of whether to ski/ride on less-than-ideal conditions or stay home and grumble about the lousy weather. Here's correspondent Brett Lund's snapshot of a moment in time at Bretton Woods.
Living in New England reminds us all that while Mother Nature can be generous,  she can also be fickle. She is so cruel that way! I for one am glad she is back in a giving mood this evening. As I type this report large wet flakes are covering the grass here in central New Hampshire, and I'm keeping my fingers crossed that we won't see the ground again until April. The significant snow that fell Thanksgiving weekend north of the notches was all but washed away by the rain and spring-like temperatures this past week. Bretton Woods suffered the same disappointment, but managed to salvage their primary run under the express quad. I took a ride up there today to see what was left and make a few turns.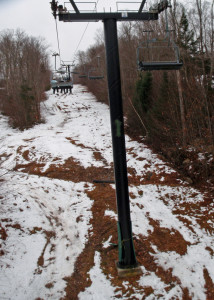 As I rounded the corner coming from Twin Mountain I could see that they had the snow guns running, a good sign considering my car thermometer was reading 33 F. Pulling into the parking lot it was obvious that I was not the only skier who was chomping at the bit to get back on the slopes. Many people (certainly quite a few season pass holders) had made the same decision. The resort had two lifts operating, the Learning Center Quad serving the novice terrain and the Bethlehem Express Quad which served Bigger Ben and Bretton's Wood. The snow crew had guns running wherever they could, and were working hard to reclaim the lost snow surface.
The snow was variable, from soft and creamy near the edges of the trails, to loose granular and firm near the center. Thankfully these runs have plenty of room to roam, considering the number of skiers and riders. Much like all of my experiences at Bretton Woods I found the crowds to be very considerate, making room for children and families, and no one crowding or buzzing one another. I rode the lifts with a couple of Plymouth State University ski team members who were desperate to get in some practice turns of any kind.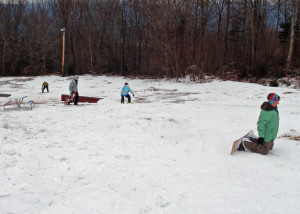 I also noticed quite a few folks taking advantage of the "Zip Line" when their early-season legs became less-than-cooperative. I have to admit that it looks pretty fun. Bretton Woods always excels in hospitality and creature comforts, and many families were happy to just relax inside or on the deck by afternoon. I took laps until my legs got loose, then called it a day in order to save energy for next week, and the much anticipated return of Ullr! Think snow!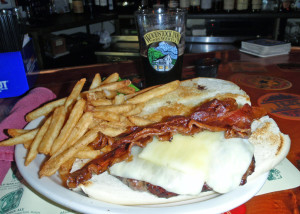 On the way back from Bretton Woods I made sure t to swing by the Woodstock Inn and Brewery. It's as if my car is on auto pilot whenever passing through the notch. Give it a try, especially if you like good brews. I recommend the Pigs Ear Brown or the Oatmeal Stout  after a day on the snow, and their food is excellent as well.