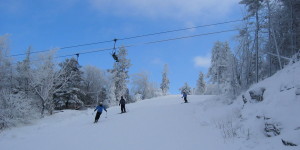 The first day of skiing is never very smooth, but its always an adventure. When I found out that Mount Sunapee was opening on the 8th of December, I immediately made plans to go.
When the morning came I was bursting with anticipation, and after making several trips to the car only to remember something else I had forgotten (gloves, poles, directions) I was finally off. I always love the drive to Sunapee on 103, past gorgeous lakes and charming villages.
The parking lot and the lodge were bustling, and I was really already savoring the wintry mood as I (groan) put my ski boots on for the first time this season. Despite the recent unseasonably mild weather the excellent snowmakers at Sunapee have managed to blow enough snow to open Upper and Lower Blast Off for top-to-bottom skiing! I saw them at work, a large official-looking team of men clad in neon green reflective coats.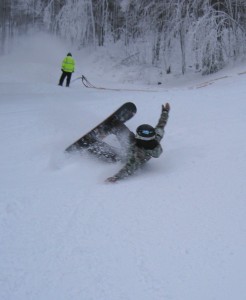 Every skier and snowboarder knows the feeling of sitting impatiently on the lift before the first run of the season. The Sunapee Express high-speed quad was operating, whisking me right to the summit. Blast Off is a very twisty run, with lots of rollovers and mellower sections. The surface was hard pack (pretty much a given for early December) with the occasional icy patch and some good corn snow. I started to join in the fun after a couple shaky turns…be careful your first time back out on the slopes!
There were snowboarders popping off the headwalls and carving up the mounds blown from the snow machines. Lots of groups of skiers and riders were meeting and chatting about the start of the season, and a crew of teenagers who had ditched school for opening day were talking excitedly about the possibility of a snow day on Wednesday (Sunapee is expecting 6-8 inches of snow!). The lift crews and the ski patrollers were all smiles.
Mount Sunapee has great early season skiing, so it's obvious why the mood was so good! The snowguns were going full blast (fortunately none of them were aimed at the guests), and several more trails are expected to be open by the weekend.
Sunday December 13th is the first of two Cares and Shares Day events at Sunapee. Each skier or rider who brings five or more item of non-perishable food items to the ticket window skis for only $30, with food donated to local families and charities. Get out and spread the Christmas spirit . . . with skiing!