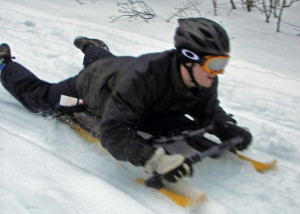 Ramping up the speed and maneuverability of modern sleds means ramping up the opportunity to have something go wrong. Like anything else, sledding safety requires the right gear and a dose of common sense.
First of all, dress properly. Sledding is so much fun, you might not notice how cold it is, so frostbite is a concern. Also, sledding alternates aerobic activity (climbing the hill) with an adrenaline rush (sliding down) so you want to be able to adjust your clothing—unzipping while you are climbing, buttoning up before your descent.
Good mittens or gloves are necessary not only for warmth but also to protect your hands from impacts–getting your fingers pinched between a sled and hard snow can really hurt.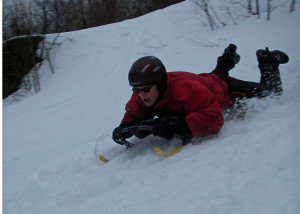 Modern sleds let you go places where sleds have never gone before. If you are sledding in the woods, on narrow trails or around any obstacles (such as other sledders!) or on hard snow, wear a ski helmet and goggles to protect your head and eyes. You get snow in the face on these sleds and the goggles will help you see where you are going—being able to steer isn't much use if you can't see where to go.
Finally, steerable sleds let you control your speed to some degree, but it's easier to maintain a safe speed than to slow down if you get going too fast.
Be safe, have fun.