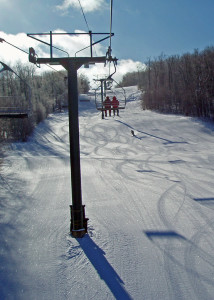 Pico Mountain in Rutland, Vermont is Killington's often-forgotten, overlooked older (MUCH older) but still-beautiful sister. Pico's website boasts of "Big Mountain Skiing, Small Mountain Charm". They got that exactly right. Pico's been around as a ski hill since 1937. I hope it's there forever.
Actually, if Pico were placed anywhere other than in Killington's shadow, it would probably be famous in its own right. It's a big mountain with 1,967 feet of vertical drop, 6 lifts including 2 high-speed quads, 214 skiable acres, a terrain park and 75% snowmaking coverage.
It was still below zero when we pulled into Pico's parking lot on a recent Monday morning. Pico is only open Thursday through Monday, and it rocks with lots of locals on weekends, But it was almost empty on this cold Monday. The trails were all freshly groomed and in perfect shape, the sun was shining and you could see Mount Washington in New Hampshire from Pico's summit. It was, in other words, a beautiful morning for skiing.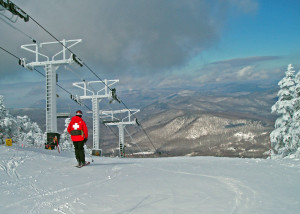 We hit the slopes flying on perfect soft, packed powder corduroy. I was on Tele gear, and was grateful that Marilyn slowed down to let me keep up with her.
Two trails on Pico, Ka and 49er, both off the summit, stand out in my mind as perfect New England ski trails. Both long, they twist and turn, roll and drop exactly the way trails should. Upper Ka is rated a black diamond, but 49er and Middle Ka are both perfect blue square intermediate trails.
I have to admit there are lots of trails on Pico I've not gotten to ski because conditions haven't been right. I hear Giant Killer is savage, and that the new glades trails are excellent on a powder morning. Good excuse to go back!
More Shy Sisters
Pico isn't the only mountain that gets overshadowed by something bigger nearby. Do yourself a favor and go exploring. These areas are always less expensive than their more famous neighbors.
In Massachusetts, Jiminy Peak is the big guy in the Berkshires, but Ski Butternut in Great Barrington, and Catamount in South Egremont, quietly offer great value, good snow and fun trails.
Everyone passes by Berkshire East in Charlemont, Mass. on their way to Mount Snow; it's well worth a stop to explore the lovely, old-fashioned trail network.
In Vermont, Magic Mountain in Londonderry, with its marvelous steeps, and friendly Bromley Mountain in Peru, are both  too close to glamorous Stratton for their own good.  Mount Ellen at Sugarbush in Warren, is a stand-alone, value-priced mountain that's overlooked just because it's joined at the hip to the larger, more famous Lincoln Peak. And too many people turn north off I-89's Exit 10 for Stowe without ever turning south and then west to Bolton Valley in Bolton.
In New Hampshire, beautiful, family-friendly, old fashioned Black Mountain in Jackson, N.H. hides in the shadows of nearby and more-famous Attitash, Wildcat and Cranmore. The same can be said for Ragged Mountain in Danbury, N.H.—everyone drives by it on their way to Waterville Valley or Sunapee.
Mount Abram in Locke Mills, Maine, is very near near to Sunday River–perhaps too close. It's  a perfect family mountain, very friendly with terrain to challenge anyone.
So if you are looking for great skiing and riding, look beyond the glitz and glamor of the bigger hills, you might find a shy sister that's worth dating, maybe even settling down with.