For some people in New England,  cabin fever is already setting in by mid-January. The other day,  I actually heard someone say "I can't wait for Spring!" Good Grief! This is New England! Winter stays here at least until the end of March–mid April if we're lucky!
There are lots of opportunities for winter grumblers to become winter lovers. You just have to get out and try new things. Who knows, you might actually find yourself sorry to see the snow melt away.
There weren't any Spring wishers in evidence up in Fairlee, Vermont lastweekend. Instead there were just a whole lot of smiling, happy people—some experienced outdoors types, others clearly not—out playing in the snow or on the ice. Sure, it was cold and the wind was blowing. So what? This is January in New England—it's supposed to be cold.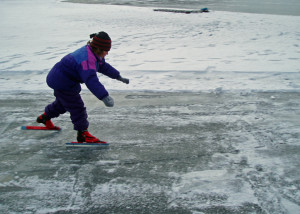 The Upper Valley Trails Alliance an impressively-active trails advocacy organization has joined forces the past several years with the Hulbert Outdoor Center and several local businesses including the Lake Morey Resort, Nordic Skater, TSL Snowshoes (which makes excellent aluminum-framed snowshoes right in Vermont) and others to create the wonderful Hulbert Center Winterfest. My sweetheart Marilyn have gone twice in the past three years and you can bet we'll go again.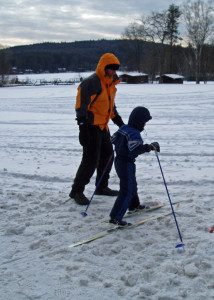 We drove up early on Saturday morning with Nordic Skating on our minds. It's something we both have enjoyed doing in the past, but don't get to do often enough. The Skate-a-thon is the perfect way to try Nordic Skating—skating on long-bladed skates which attach to warm, comfy cross-country ski boots. It's by far the best way to skate on a frozen pond, lake or river.  Lake Morey is the epicenter of Nordic skating in America with the longest plowed skating trail in the country. The admission fee ($25 for adults, $15 for kids) included free skate rentals, lunch, skating instruction, and warm drinks.
Neither Marilyn nor I are particularly good at Nordic skating. Not enough practice. When we started out this cold, windy day, she joked that she was moving like an 90-year-old lady.  I wasn't doing much better. But we soon got back into it and where the ice was smooth, we cruised along at a pretty good clip. Nordic skates are designed to glide easily over rough ice, but we aren't good enough yet to do that easily. Still we had a wonderful time on the ice, covered a couple of miles (my thighs felt it for sure . . .) and we can't wait to go back.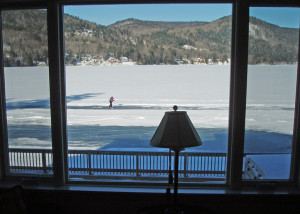 While out on the ice I talked to a family visiting from North Carolina. They'd never skated on natural ice before . . . and they were having a wonderful time
That night we stayed at the Lake Morey Resort, ate a very nice dinner in their dining room, slept the sleep of the well-exercised a. The Resort is, literally, right on the skating trail, and they have reasonably priced packages available for the rest of the winter. If you want to try Nordic skating this winter, this is the place to do it.
The next morning (after breakfast, of course!) we headed for the 7th annualWinterFest at the Hulbert Center. This is a very family-friendly, novice-friendly opportunity to try includes snowshoe hikes, cross country skiing, Nordic skating,  and sledding. You could also learn about safe winter travel skills, igloo  ice fishing,  dog sledding, ski joring and take a hay ride. Imagine, a whole day of winter fun for just  $5 per person or $15 per family and a chance to try sports that get you outdoors and having fun all winter long! Why would anyone want spring to come? Life isn't a spectator sport. Get out and enjoy!