"Windchill values today will be as low as 25 below."
That's not the kind of forecast that gives you warm fuzzies…in fact, it might even send a chill down your spine.  Cover every square inch of skin, use handwarmers, 6 layers of clothing…and take 2 runs, then go into the lodge and warm up.
Or, go to Black Mountain in Jackson, NH.
One of Tim's "Forgotten Favorite" ski mountains, Black has two things going for it that most areas don't.  First, it faces south…instead of the sun disappearing over the back side for most of the day, it warms you on the slopes and on the lifts.  Second, it sits in the shadow of Mt. Washington…and when I say shadow, I really mean "windshadow."  The prevailing winds that come off that rockpile go around Black Mountain.  On days when other ski areas are shutting their lifts down for safety reasons, it's calm at Black.  That's a valuable thing to know…even if your ski trip is at another mountain in the Mt. Washington Valley, you may be able to save a lost day!
But on this day, Black Mountain was the intended destination.  In 1935, an inventor named George Morton designed the first overhead cable lift in the country; and he just happened to live in Bartlett, right  around the corner…and the rest is history.  Black became perhaps the first ski area in New Hampshire, one of the first in the country, and has operated ever since.  And, how can you have a 75th anniversary without a party???
And, to steal a phrase, they partied like it's 1939.  The Swingtones, a local 14 piece band that specializes in Glenn Miller-era big band had the dance floor packed.  Well, except for when a group of skiers and boarders recreated a torchlight parade from Black Mountain's history…and it was worth shivering outside to watch the lights swinging and swaying down the mountain.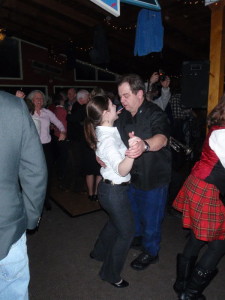 Back inside, the party continued, with stories of Black Mountain's history filling in gaps between food and dance.  And the nature of Black was brought home by realizing that one of the owners was carving and serving the ham on the buffet…and his kids were doing the serving and cleaning up.  Truly a family mountain, Black has been owned by two brothers, John & Andy Fichera, since 1996.  They grew up skiing on the mountain, and bought it to retain its original character.  John moved his family up from Massachusetts when they bought it, and basically lives and breathes the mountain; his 18 year old son is an active part of the mountain operations.  Andy's still down in MA, but obviously comes up with his family to help when he can!
And they've been successful in retaining the mountain's original charm.  Black is a classic old-style skiers mountain.  No wide open cruisers here; the trails are narrow and twisty, winding through gnarled trees to the base area.  Until you know the mountain well, you may be surprised when you come out into the open and find yourself in a totally different place than you expected!  We were worried about the conditions we'd find; this was Saturday, and on Monday we'd had one of those horrible January rainstorms, dumping nearly 4 inches and melting everything in sight.  Our fears were unfounded, though…virtually no boilerplate, and most of the runs a firm corduroy that took an edge easily.  Even Susan, a relative beginner, had no problems, and later in the day was flying down the trails, having a total ball!  This is the kind of mountain where anyone can have fun…enough steep areas, enough twisties to keep you focused, and no crowds.  On a sunny Saturday, we literally didn't wait in a lift line behind more than two groups at any time.  Like the slopes, the lifts are in the wind shadow, so we had comfortable, quiet trips up…perfect for enjoying our companions.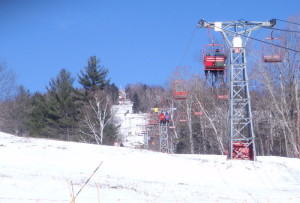 In an era of mega-mountains, of more trails, faster lifts, bigger terrain parks, the charm of areas like Black Mountain really hits you.  There's a totally different pace; people aren't pushing to get into the lines (WHAT lines?) to make sure they get that one extra run in.  Perhaps its because they aren't feeling as much wallet pinch…if you manage to buy the most expensive lift ticket possible, you're out a whole $39.  Juniors, from 6-17, set you back $25…that's weekend and holiday pricing.  But keep your eyes open for deals…if you've got a group going up, drop them an email and see what they can do for you.
Or take advantage of the deals they've worked out with area lodging.  We stayed at the Eagle Mountain Resort, a historic hotel that looks across at Black Mountain, and sits directly on the Jackson XC trails.  An old-style "grand hotel", it was built in 1916 and looks a bit like a pocket-sized Mt. Washington Hotel.  Packages here are very affordable…their "Ski & Stay" package, which gets you a room, full breakfast, access to the fitness/spa area, and a ticket at Black or other local downhill or nordic areas, runs $124/person.  There are family-friendly packages as well; you can spend a weekend skiing with your family here for less than one airfare to a Western resort!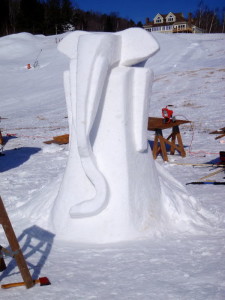 And then there's the rest of the story, which is the town itself.  Black Mountain and Jackson have an interwoven history, both supporting each other over the 75 years.  Drive the whole 2 minutes from Black to downtown Jackson, and find a host of shops, restaurants, and activities.  This year, Jackson decided to have their annual snow sculpting competition coincide with Black Mountain's 75th anniversary…and the long partnership between the two paid off for them.  That miserable rainstorm early in the week wiped out their snow for the competition, but Black came to the rescue.  Their snowmaking equipment saved the day, and with the sculpting and judging moved to the ski area's base lodge, the festive atmosphere grew.  I've never skied down a mountain before to be faced with a white Art Deco elephant, or a giant hand holding a half eaten apple.  Watching the sculptors at work was enlightening…the speed and precision of these people needs to be seen to be believed.
Unfortunately, you'll have to wait another 75 years to see this repeated…but wait, just think what their 100th anniversary party will be like!  In the meantime, take advantage of the warm slopes and warm family atmosphere at Black Mountain, and in Jackson as a whole.