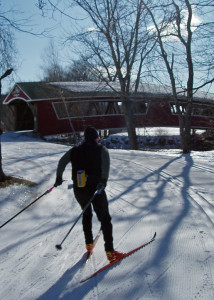 My sweetheart Marilyn and I were up in Jackson, NH, recently with our friends David and Susan  to celebrate the 75th birthday of the venerable  Black Mountain ski area(1-800-475-4669) one of our favorite alpine ski hills. Jackson NH  is certainly a wonderful destination for Active Outdoors types. In addition to Black Mountain (read our resort review here) for alpine skiers there's also Jackson XC for cross country buffs.
Jackson also has some wonderful places to stay and eat. On this trip, we'd all comfortably settled into the historic Eagle Mountain House (1-800-966-5799; ) which has cozy rooms, very comfortable beds, a hot tub, great breakfasts and warming libations and comfort food in the Highfields Tavern. This lovely old hotel is perfectly positioned close to Jackson Village with a view of the summit of Black Mountain. They've got sledding, skating, snowshoe and ski trails right on the property, and ski-and-stay package deals. What more could you ask for?
Other places we've stayed in Jackson  include the Snowflake Inn, the Wentworth Country Inn (which we've reviewed here), and the Inn at Jackson.
This particular weekend was cold, clear and very windy—does that sound familiar? We'd skied hard on Saturday (Black Mountain faces south so there was little wind and lots of sun). Saturday night we partied and danced to the Swingtones, a 14-piece big band playing great 40s-era music. On Sunday morning with the temperature hovering just above zero and the wind rattling the windows, Marilyn and Susan decided to cocoon in the warm hotel while David and I got active outdoors.
A torrential rain a few days before our visit had somewhat limited our options. While the groomed snowmaking trails at the mountain had been in great shape, natural snow cover was crusty everywhere and thin (or non-existent!) in spots. We had snowshoes with us and there are many beautiful trails to explore, but we'd both been doing a lot of snowshoeing recently for the great snowshoe test, and not much cross-country skiing. So we called Jackson XC to see what they had to offer. Jackson is so big, with so many varied trails that you can almost always find what you want–even if the weather hasn't been particularly cooperative.
Thom Perkins, the director of the non-profit foundation which runs Jackson XC, who was answering the phone that morning, told us that the "core"  trails in the valley near their touring center were generally in better shape than the ones farther out on their system. He strongly recommended we come down to the valley and ski the Ellis River Trail. When in doubt, trust the people with local knowledge. Thom knows every inch of the Jackson trail system and he certainly gave good information this day.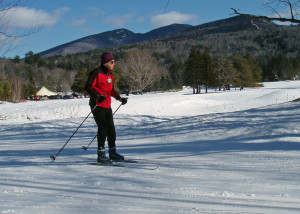 We started out from their touring center across the windy, mostly flat golf course, Snowcover twas thin in spots, but perfectly groomed and very skiable. We  crossed a covered bridge over the Ellis River and skied through a tunnel under busy Route 16, then skied more open golf course trail until we had to take off our skis and cross Green Hill Road to reach the Ellis River Trail. Good warmup for the real thing!
This was never meant to be a major excursion, just a chance to get out on skis on a beautiful cold, bright morning and burn off a few more calories before lunch.  If the womenfolk had come with us, we could have made a wonderful day of it with a picnic lunch at the Ellis River Cabin. But the point is to get out when and where you can. If you can only go for an hour or two, that's time well spent that no one can ever take away from you.
The whole experience changed when we left the open golf course behind and hit the wooded trail along the river. This is one of Jackson's most popular trails—for good reason. The entire trail is over 7 km in each direction, green circle (easier) all the way with only a few little rolling up-and-down sections. It still had plenty of snow and was beautifully groomed with a wide, flat path for skate skiing and double-tracks for classic technique.
David was on touring gear, lighter and faster than the Alpina Discovery backcountry gear I always have with me for whatever the conditons offer, so he flew out ahead and flew back while I puttered along at my slow-but-steady pace. We both got a good workout, he just saw more of the trail than I did! In retrospect, I should have taken my skate skis—maybe I could have kept up!
The Riverbank Loop diverts from the  Ellis River Trail and runs for a full kilometer along–you guessed it!– the riverbank. This narrower trail is double tracked for classic skiers only, and we explored its twisting undulations, hearing only the soft swish of our skis, the wind in the trees and the soft murmurs of the ice-bound river. Lovely!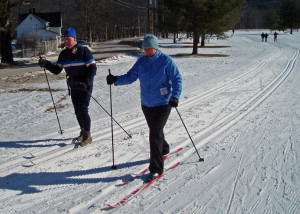 Even if you've never, ever been on cross-country skis before, this is a trail you could enjoy on any winter day. We never planned on doing the whole trail and the six or seven kilometers I traveled was just enough.
Of course Jackson XC offers a whole lot more than just  flat and easy green circles across golf courses and through the woods along rivers. They've got groomed black diamonds like the 12 kilometer Hall Trail and the East Pasture Trail (near the Black Mountain Cabin) and the Wildcat valley Trail that are going to be a challenge for anyone on backcountry  gear. Then there are the steep, twisty, ungroomed black diamonds such as the Black Mountain Cabin Trail and the Doublehead Ski Trail that are probably better tackled on Tele or AT gear with skins.
When Mother Nature is being uncooperative, Jackson XC almost always has something worth skiing. And when she's being generous, this is a playground you could explore for a week without even beginning to see all of it.