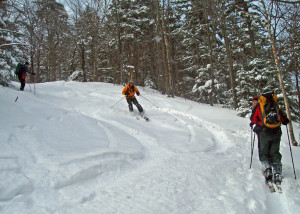 There comes a point in most winters, sometimes earlier, sometimes later, but usually sometime, somewhere, when enough snow has fallen that the whole world becomes a playground for anyone with snowshoes, Nordic backcountry skis, or, if it's steep enough, Tele or AT/Randonee skis with skins. In a good year, that little spruce you see poking through the snow might just be  the top of a four or five-foot tall tree . . .
Since snow depths always vary from place to place, you may have to travel to find the deepest snow. At the particular moment I'm writing this, the Adirondacks has lots of snow and more falling. Other times, it's Vermont, New Hampshire, Maine or Quebec. Wherever you have to go to find deep snow, it's worth it.
Lots of snow means you can get off the packed trails of a cross-country ski area and into the woods to explore on snowshoes or cross-country skis. That's a real adventure for most people. You don't have to go far—a few acres of woods with no other human tracks in it can become a magic place when the world is all white.
The only problem is, you never know when the deep snow is going to arrive and how long it's going to last. So you have to be willing to take advantage of it when it it's there. Sometimes, you just get lucky and have both the snow and the means to explore it safely. I'm pretty comfortable in the backcountry, but I also love going with companions who know more than I do.
A couple of years ago, we happened to be at Trapp Family Lodge in Stowe, Vermont, in the middle of a huge December snowstorm. Trapp's is definitely one of the nicest places in the world to be in a blizzard. In the raging storm, with snow dumping quickly enough to fill in your tracks in minutes, we skied up to Slayton Pasture Cabin, ate a warm lunch, and skied back down through knee-deep powder. Heaven!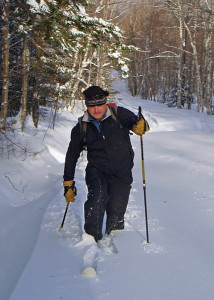 As the storm wound down the next day, I headed out to explore some backcountry skiing north of Stowe with Jan (pronounced Yan) Axtell of Fin & Feather Enterprises. Jan is on the ski patrol at Stowe, and, whenever he can, introduces ordinary folks to the wonders of off-trail backcountry touring. He'll tailor the adventure to your ability level, anything from an easy loop through quiet woodlands to a headlong plunge on Tele gear through the trees on slopes so steep they will scare you spitless.
Ours was, at my request, a "soft" adventure, about five hours of trekking through gorgeous woodlands with the post-blizzard wind howling on the ridges above us. We didn't tackle anything steep. Using wide backcountry skis with fishscale bases, we eased our way along with Jan breaking trail through, at times, waist-deep snow and me plodding along behind.
It was a chance to get completely away from other people, something pretty rare in today's world. If you've never tried backcountry touring, a guided trip like this is an excellent introduction. Jan knew the country, had all the skills to get us in an out safely.
You don't always get that lucky–snow is never guaranteed. Last year,  my sweetheart Marilyn and I were scheduled to do a backcountry ski trek from the top of Gore Mountain in North Creek, New York  to Garnet Hill Lodge XC Center in North River. This is an all-day guided backcountry excursion for intermediate skiers and above.
Unfortunately a hard, warm overnight rain and refreeze took away most of the snow and turned what was left to boilerplate. So we postponed. That's the problem. Deep snow  NEVER lasts long enough.
Backcountry Tele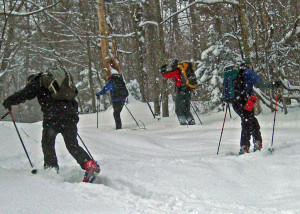 I have to admit I'm a little frustrated. I've spent several years getting good enough on Telemark gear  to be able to go into the backcountry and ski some steeps and trees. I started practicing on groomed ski slopes and, smart guy that I am, took some lessons with great instructors. I'm not great–or even good–yet, but I can survive. And I'm able to put theBlack Diamond STS skins on my Karhu Tele skis and get myself up the hill in fine fashion, even if I still have some less-than-elegant moments coming down
Last winter, a wonderful storm in mid January while we were at the AMC New Hampshire Chapter's Winter Workshop let me actually try backcountry Telemarking.
My group of  two instructors and three students, put skins on our skis and headed up the Alexandria Ski Trail almost to the summit of Cardigan Mountain. Skinning up was hard work, the trail was steep and long, the snow deep, and even relatively lightweight Telemark skis, boots, and skins get heavy. Still, we made it up, ate lunch on an overlook below the exposed summit, and watched the wind tear blue holes in the clouds above.  Absolutely beautiful—and all the more so for having earned it with our own efforts.
It took a couple of hours to skin up and only a few minutes to fly back down in the deep powder. But those few minutes were among the most memorable in a lifetime on skis for me. I'm a confirmed backcountry addict.
The only problem is, we haven't had the snow this winter to make much backcountry exploration possible. At least not in spots I've been able to be . . . But there's still time. March is traditionally the snowiest month in the northeast. And if not, there's always next year!