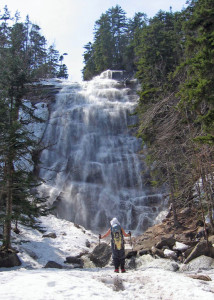 Spring is prime time for visiting waterfalls. The steady melting of the deep snows across the hills of New England has turned streams into torrents, prime viewing if they flow over a beautiful waterfall.
I absolutely love waterfalls. Even little ones speak with tales of restlessness and wanderlust. Bigger ones seem to radiate energy.
If there's a waterfall beside the road, I'll almost always stop for a minute. But I especially love the ones you have to hike to.
Crawford Notch Waterfall Hikes
My sweetheart, Marilyn, and I recently visited northern New Hampshire to samples some of the Crawford Notch Waterfall Hikes in the White Mountain National Forest of New Hampshire. This area is "Waterfall Central." We stayed overnight at the AMC's Highland Center, which is a favorite of ours at any time of year, but particularly enjoyable in early spring.
Even if you are daytripping, stop by the Highland center. The folks at the front desk are usually fanatic hikers. Buy a map or a guidebook if you need one and they'll happily point you to enough waterfall hikes (or any other specific kind of hike) to keep you happily walking.
After skiing the soft snow on the last day of lift-serviced skiing at  Bretton Woods that morning, we decided to start our waterfall adventure with Arethusa Falls, often called the highest single-drop waterfall in New Hampshire (though Dryad Falls in Success, New Hampshire which runs only after heavy rains is apparently higher). We didn't leave the road until noon on a warm and brilliantly sunny Spring day.
Marilyn had never seen Arethusa, and I'd only seen it in the dry season of early autumn, so we were both anxious to see it in full glory.
The Arethusa Falls Trail is about 1.5 miles long to the base of the falls. It climbs pretty steadily but isn't particularly steep or rough, which makes it a great starter hike or dayhike with a family. On this day, however, the best walking was on a crown of snow hard-packed by snowshoers through the winter. Tricky walking.
You have a choice of going directly to Arethusa, or adding a tenth of a mile along Bemis Brook. Take the latter—you get two smaller waterfalls, Bemis Brook and Coliseum, as a bonus for very little extra effort.
Words, and even photographs fail when you try to describe what you see at the end of this hike. Arethusa Falls at this time of year is simply spectacular. The water appears out of nowhere, as if falling from blue sky, fanning out over the rocks like lace draped over a fantasy fortress. Just beautiful.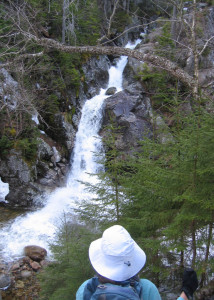 Because of the trail conditions, the hike to Arethusa took more time and much more energy than we'd planned, so we decided to save Ripley Falls (which you can visit with a half-mile walk from the end of the Ripley Falls Road or do as part of a 4-mile loop back to 302 from Arethusa), Kendron Flume (1.3 miles) and Beecher and Pearl Cascades (a half mile from the Highland Center) for another visit.
The next morning, before heading home, we hiked the eight-tenths of a mile to Gibbs Falls on the Crawford Path. Though much smaller than Arethusa, this compact falls was roaring with snowmelt.
Whenever you visit a waterfall, be sure you take time to sit awhile, listen to the voice of the falls–every waterfall looks and sounds different. Don't just snap a photo and leave.
Most years, you've got until mid-June before  the torrents diminish. So take some time to visit a waterfall—even a small one. If you have to walk to it, all the better.
SPRING HIKING SAFETY
It was school vacation week when we hiked to Arethusa Falls, and families were out in force. We saw a lot of adults and kids on that warm, sunny afternoon. And most of them were unprepared for the conditions on the trail and completely without resources if something had gone wrong.
Most of the people we saw were hiking in snow in either jeans or shorts, wearing sneakers and either no socks or cotton. Only one of the family groups we saw had even a tiny daypack with them.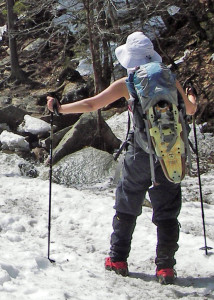 I don't mean to sound alarmist, and I was very glad to see families out enjoying the outdoors together, but I do wish these folks had been a bit more prepared.
Because of the snow, the trail was slippery everywhere, and, if you slipped off the packed crown, you plunged into knee-deep soft snow, sometimes with rocks and running water beneath. Marilyn wore my Kahtoola Microspikes creepers which gave her needed extra traction while I did fine with the aggressive tread on my hiking boots. We both used hiking poles. We also had jackets and pants, in our daypacks, water, food, and we carried snowshoes which we didn't use but would have a few days earlier. I had my emergency kit which goes with me whenever I leave the road.
It wouldn't be hard to imagine a scenario in which one of these unprepared families got into serious trouble. Someone slips, plunges through undermined snow, breaks or badly sprains an ankle, which slows down the whole group. Suddenly it's getting dark, the temperature drops, your clothes are soaked and there's no way to keep warm. Cell phones don't work. You get the picture.
Please, whenever you leave the road, carry the essentials with you.
FINDING WATERFALLS
Apparently, I'm not the only person in the world enamored of waterfalls. There's a fine little book called New England Waterfalls by Greg Parsons and Kate B. Watson which will help you find many of the best ones. They also have a website. Their list of "Best Of New England" is a great starting point for exploring.
Most maps don't mark every waterfall, but The Wilderness Map Company offers high quality,  very detailed maps of popular hiking areas (like Crawford and Franconia Notches) that clearly mark all the major falls.
New Hampshire State Parks protect a lot of the best waterfalls in the state, for a list go here.