Most people tend to think of camping as either "winter" or "summer." Those are just the high points, but there are a lot of great trips to be had in the in-between times. In the winter, you have short days; in the summer, you've got leaves, which block the view, and bugs. Lots of bugs in some places, plus, a lot more hikers, so less privacy.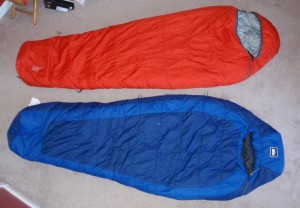 "Shoulder season" is a term from the tourism industry to describe the times when weather and tourist counts are sort of iffy, but it's worth being open. The same term works pretty well to cover early spring and late fall, so get used to seeing it here!
Arguably the most important choice that you'll make to thoroughly enjoy shoulder season camping is your sleeping bag. Temperatures and conditions vary widely; you can go to bed at 60 degrees, and wake up at 10. One minute it can be sunny, the next rainy. How can you possibly plan for  that???
Shoulder Season Synthetic Sleeping Bags
In our experience, the best solution is a bag rated in the +20/25 degree range. With a little effort in unexpected cold, it'll keep you comfortable down to the 10 degree range or colder, but if the weather turns warm and it's 50 all night long, keeping the zipper open will keep you comfortable. We also like synthetics for shoulder season camping; with the likelihood of rain, snow, or major sweat, having that safety net of warmth-when-wet gives synthetic fills a real advantage over down.
Since, for a lot of people, this is a bag that won't get used as much as their summer bag and price counts, we wondered if any of the bargain bags out there are really any good? A quick search showed two very promising choices, both relatively new to the market. The REI +25 Lumen and the L.L. Bean +20 Katahdin both sell at full retail for the bargain price of $139, and weigh within 2 ounces of each other (on our scale, the Lumen comes in at 2 lbs 11 ounces without stuff sack; the Bean at 2 lbs 13 ounces). Can either of them perform well enough to give you an enjoyable shoulder season sleeping experience?
So, we asked for test samples. Out of the box, they're both beauties. The Lumen is a two-tone blue, with the typical REI attention to detail. Included is a handy little zippered pocket so you can find your headlamp or other "necessaries" in the middle of the night, and loops on the bottom side to attach to your sleeping pad if you're a "roller". Fit and finish is what we've come to expect from REI; no loose seams, hanging threads, anything like that. The LL Bean Katahdin is a burnt orange (be careful in fall camping; you might get mistaken for an extra-large maple leaf), with finish quality matching the REI. Both bags have a box toe area for comfort. The one detail that's dramatically different, though, is that the L.L. Bean bag has a draft collar; the Lumen doesn't. At this temperature range, that's something we'd normally expect to see in a bag. But, the Lumen has been through the new EN13537 testing to prove its rating, so it should perform.  There's only one way to find out…into the woods!
We got lucky, having a perfect night to test bags with this temperature rating. At bedtime, the outdoors temperature was 30 degrees; in the morning, it was 20.  A water bottle inside the tent had flecks of ice in the morning, so we clearly had sub-freezing temperatures, but not enough to make a whole bottle freeze solid.  In other words, a typical 25ish degree night!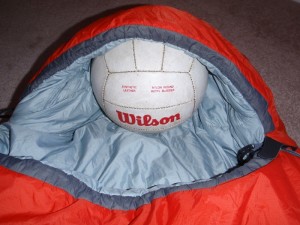 I crawled into the Katahdin and snugged everything down.  The bag fit nicely and felt cozy; however, the hood was a pain in the neck. As "Wilson" clearly shows, the hood is a little shallow; I couldn't easily get it down over my forehead, and when I did, it was hard to get the other end up to my chin. If I fully snugged it down, it worked fine, but it's a detail area that Bean needs to work on. The zipper is another area that was mildly irritating; it had a tendency to get snagged. Not the end of the world, particularly in a bag of this price…if the bag performs. The draft collar, on the other hand, was perfect, wide enough to easily snug down around my neck without making me feel trapped.  Once settled in…asleep I went!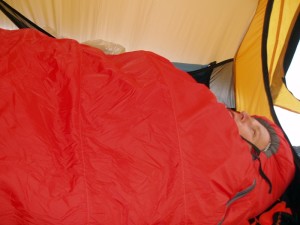 And stayed that way, until Tim woke me up around midnight. He'd crawled into the Lumen, and didn't feel warm, so added more layers of clothing…and still didn't feel warm; 2 hours later, he'd been sleeping very little, so decided it was time to make me miserable, too. We compared notes, then traded bags…we wanted to make sure that it wasn't that he just happened to be sleeping cold for some reason. Into the Lumen I got, and settled in, pulling the excellent hood tight (we've noticed before in the Halo/Radiant test that REI has hood design down to an art), and noticing that the zipper was MUCH easier to use than the Bean version; kudos to REI on that!  Tim cozied into the Katahdin; 15 minutes later, he's comfortably snoring away…and I'm cold.  What in the world is going on here???  I added my down puffy, my down booties, and threw a disposable handwarmer down in the foot area, and was able to reach an equilibrium where I was cool, but at least not shivering.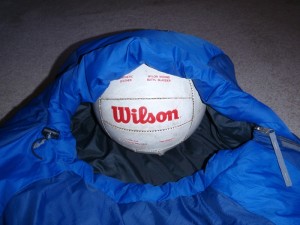 Clearly, the Lumen was not living up to its +25 rating in real world conditions, in spite of the laboratory testing. Could it be something quirky about its Thermowave insulation, a type we weren't able to find anything out about? All we know is that it's a continuous filament insulation, as is the PrimaLoft Infinity that the Katahdin uses. Both use shingle construction to eliminate cold spots, so there shouldn't be a difference there. The only thing that we can both think of is that the EN13537 testing system is possibly flawed, and doesn't take into account the movement of people in real life situations (our full assessment can be found here).  Would the Lumen perform better with the simple addition of a draft collar?  While we can't know without a side-by-side test of one with and one without, our belief is that yes, that's a major problem.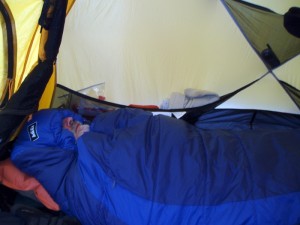 Ulitmately, here's our assessment of the two shoulder season synthetic sleeping bags. The L.L. Bean Katahdin +20 is a flat-out bargain.  It performs to its rated temperature easily, is light and compressible, and better built than  expected for the price. Improvements to the hood and zipper would make it an outstanding bag, regardless of price. The REI Lumen +25? Unfortunately, we can't recommend it for that temperature range. Ergonomically, it wins easily, and, though it's heavy for that category, it might be a winner in a test of +35 bags…but we wouldn't use it ourselves if we had any concerns about the temperature dropping below freezing. Our gut says that it was designed to meet the testing norm…and that the test is flawed, causing the bag to not perform to the stated temperature rating.