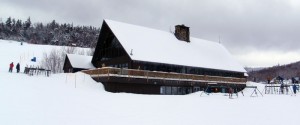 Tucked away in what some might  call a Godforsaken corner in the northern tip of New Hampshire (which others might call "Heaven"), The Balsams Wilderness Ski Area is part of a whole resort complex.  The Balsams itself is one of the old-style "grand hotels", like the Omni Mount Washington Hotel, Eagle Mountain Resort, or Wentworth-By-The-Sea (not to be confused with The Wentworth, a grand hotel on a smaller scale).  And like the other grand hotels, it's a step back in time to a more gracious age to visit there.  The hotel and its staff are welcoming, the food is spectacular (and bountiful enough to make you need more than just skiing to work it off!).  But perhaps the finest part of the hotel is that when you check in, they ask you if you're going to ski…and if you say yes, hand you a ticket good for as long as you're staying there.
The location is definitely part of the attraction; The Balsams used to be known as "the Switzerland of America".  It would be worth the trip from the east through Grafton Notch and Dixville Notch even if The Balsams weren't a wonderful mountain to ski.  And if you were to come from the west, it would be worth driving a few miles past the ski area, turning around, and coming back, just to see the views. through the notches, and of the resort itself  But if all you did was look at the views, and forgot to stop and ski, you'd be missing a treat!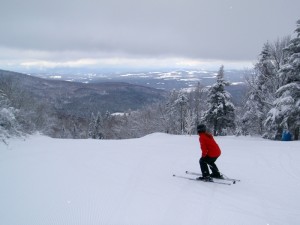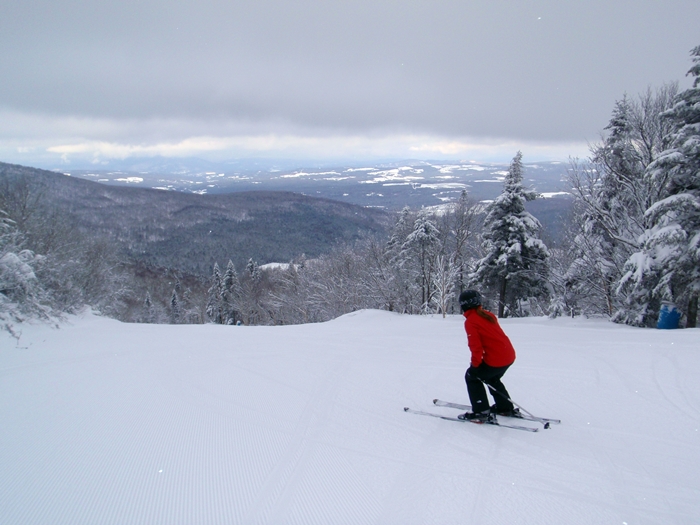 So…exactly why is that a big deal?  Well, The Balsams is one of those "small" mountains that combines charm, fun, challenge, low skier count, and virtually NO run-out at the bottom of the hill to give you more than you'd expect from the statistics.  Speaking of those, let's get them out of the way with.  The area has 16 trails, 5 (official) glades, 1000 feet of vertical, one double and one triple chair that access the summit, and a rope tow for the kids.   Prices are, like the resort, a throwback to an earlier time; weekend and holiday tickets are a whopping $38 for adults.  Terrain is about 1/4 green, 1/4 blue, and the rest is divided between single and double diamonds.  It's definitely old-style New England skiing; there are no straight top-to-bottom cruisers.  Rather, there are trails that wind around the hill, taking advantage of the natural terrain features rather than what a bulldozer has created.
The last two times we've been to the Balsams, we've had powder skiing. Real powder skiing:  groomed trails with deep, soft, smooth, flawless corduroy, ungroomed trails with pillow-soft bumps,  and glades filled with powder.  The Balsams is blessed with what is called locally the "notch effect."  As often happens in mountain notches, swirling winds wring moisture out of the air in the nicest possible way…fluffy snow!  Even with the bizarre weather of the 2009/10 season, there was no thin cover. Even in the areas that had been scraped off in the double diamond runs, no rocks or stumps were showing through.  That's a real confidence builder for me when I want to jump into a glade, or come down the lift line! Knowing that I can choose my turns based on where I want to put an edge in, rather than worrying about my edges being taken off, removes a lot of stress, lets me ski and enjoy more terrain.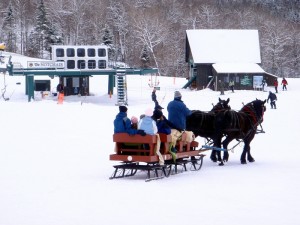 The beauty of The Balsams is that powder conditions there last beyond that first mad dash for first tracks in the morning. The location  definitely helps keep crowds away–this is a long way from any population center! And lack of "big mountain" amenities like detachable quads and the like means fewer skiers and riders make that long trek.  The last time we visited,  we were skiing on a powder Sunday, during school vacation week for both New Hampshire and Vermont, and lift lines were tiny.  And it happened that our visit coincided with a major PSIA recertification clinic, so there were probably 100 instructors out there. Without them around, there wouldn't have been any lines. Luckily, since they were working in groups, they were staying on the widest trails…which left the most fun ones for us to play on!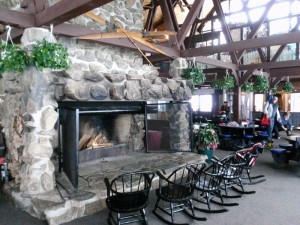 And  play we did, as we always do at The Balsams.  With no lines, no traffic on the slopes, and great conditions, it was simply a matter of catching our breath on the way back up, deciding which fun we wanted before we got to the top, and off we'd go!  Slow chairlifts or not,  a few hours of yo-yoing The Balsams will have you feeling every muscle in your legs.  That's when you head in to the lodge.
Not surprisingly, it's a charming affair, with an open, rustic layout, a monster fireplace, and remarkably good, reasonably priced food.   An hour of relaxation there and it's  time to go out and finish your legs off.  Don't worry about the conditions deteriorating as you enjoy your leisurely lunch;  on mountains with non-detachable lifts, the lower skier counts means that post-lunch conditions will typically still be excellent, as they were for us.  A couple more hours, and you'll be ready to head to a well-earned dinner… and if it's at The Balsams Hotel you'll remember it for a long time!  Day trip or overnight splurge, you simply can't go wrong at this resort.
Update: The Balsams Resort and ski area has been closed for a number of years now, but a new investment group has taken over with big plans for the future–and the capital to make them happen. We may soon be referring to the "new" Balsams as the largest ski resort in the east! Stay tuned!