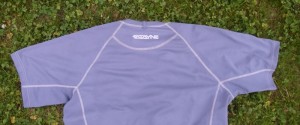 UPDATE: We had reason to touch base with Atayne for another article; an update is at the end of this article. Read on!
Compromises are useful and necessary in most aspects of our lives, but it's often hard to justify them in the products that we use most intensely.  When you're pushing yourself to the limit, you don't want something else to limit you.  So, when we heard about Atayne 100% recycled clothing, we were skeptical…could a locally (Maine) produced product from a tiny company with fabric made in Canada from soda bottles really work?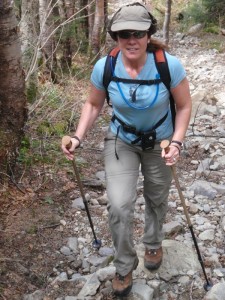 Well, it turns out that it can, and does.  Four of us have been using Atayne shirts for a couple of months now, and we can report that they've been comfortable, wick well, put up with abuse as well as typical technical fabrics, and have a moderately low "stink" factor.  The last can be of great importance on a multi-day trip, particularly when sharing a tent; if your hiking partner starts to smell like a bad grade of limburger, it can definitely affect your enjoyment!  Early polypropylene fabrics were infamous for that; more recent polyester technical fabrics have been MUCH improved.  The Atayne fabric isn't horrible, but isn't fantastic; if you plan a multi-day hike in hot weather, plan on rinsing it out when you can.
So, let's take the shirts apart point-by-point.  First, the fabric:  It's got a lovely "hand" to it, soft and comfortable against the skin, draping easily over body contours.  With a backpack on, there's no sense of chafing under the shoulder straps.  Durability…we don't have years of abuse of the fabric yet, but it's showing no more signs of pulling or abrasion than, for instance, the EMS Techwick that we commonly use.  However, it's NOT a fabric that's designed for heavy use in brambles, thorns, that kind of thing, so don't expect to use it that way without it starting to look like terrycloth.  It's a little heavier weight than the lightest shirts, but to date hasn't felt excessively warm in fast ascents.  If you get it wet out on the trail and hang it up, it won't dry as fast as the lightest fabrics, either…that's a natural consequence of the heavier fabric.  However, it seems to dry well on our bodies, indicating that it does wick very well.
Second, construction:  We have zero quibbles with that…every seam has held together on every shirt.  The flat stitching is comfortable in every way, never making itself felt.  We anticipate that it'll continue to work as long as the fabric does.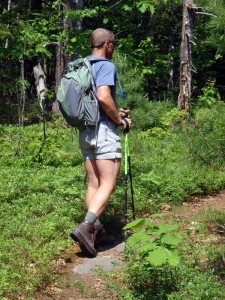 Third, design:  The Atayne shirts use a raglan sleeve, so no seams in funky places on your shoulders.  Also, it means it looks like it fits on more body shapes and styles.  The stitching is done in an offsetting color that shows the construction; depending on your preference, you can like that or not.  We happen to think the shirts look good and are happy to use them in pursuits like cycling from vineyard to vineyard in Quebec's Eastern Townships as well as hammering along a trail far from other humans.  An interesting touch is a double layer of fabric right where it covers the "hump" of the neck.  That's an area that often gets a lot of rubbing from backpacks shifting back and forth, so may significantly improve the life of the shirt.  The only oddball touch is a hanging loop that goes from outside to inside on the shirt; the jury's out on that one.  Our temptation is to say that we'd rather see it entirely on the outside so that the inside is entirely smooth; but, we can't honestly say that it's caused us any irritation, either.  There's nothing about the design of the shirt that indicates a "garage" operation; if we'd been told that it came from any of the big players, we wouldn't have blinked.
Fourth, range of the line.  In a triumph of marketing, the Atayne website has shirts for hiking, cycling, running, paddling, etc, etc.  In fact, they've had 4 shirts.  Two for men, two for women, pick the logo that's on it and you'll have your activity specific design.  Cute idea, but if you pick one that's got a fairly generic design, you can use it for everything.  It's hard to complain too much about that, though; this is a startup company.  We'd love to see a greater product range, particularly a quarter zip t-neck and a quarter-zip long-sleeved t, since those are our regular favorites for hot and cool weather.  I haven't yet Frankensteined my shirt like I did with the GoLite McKenzie, but I may go ahead and do that; it'll increase its useful temperature range.  They've just introduced a "Grind" cycling jersey in men's and women's versions; we haven't seen it yet, so can't comment on the details, but as far as we know, it's the only 100% recycled jersey out there (feel free to let us know that we're wrong!).  However, it does indicate that they're serious about growing the line, which is a positive thing.
Finally, the "ethos."  We make no secret of the fact that, given a chance, we favor companies that are from the same Eastern area that we enjoy; it's simply smart economics to try to support local companies who help us all enjoy the outdoors lifestyle.  That's a plus for Atayne, and when you take into account their "green" credentials, it's a company that we hope will continue to do well, produce a larger range of products, and push other companies to match their environmentalist profile.  We'd encourage you to give them a try!
UPDATE: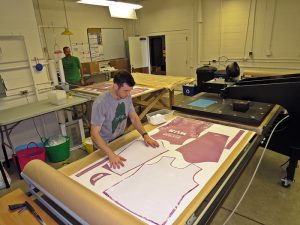 So, since the early days, Atayne has changed. A LOT. For starters, they moved to a new facility at the redeveloped Brunswick Naval Air Station, which gave them a lot more space to work with. And, their sales have soared; they're now well over a $1M/year sales success. Their fabrics have changed, as well; while we still are using and love the old shirts, the new ones are much lighter and breathe better (we're currently using them in a test of the Insect Shield ISYOC program). And, they've expanded their range of products, with bike jerseys for events, or even for all of the National Parks.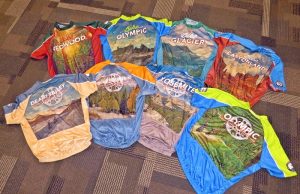 We met with the owner, Jeremy Litchfield, to check out what's new. With the new facility, they've been able to bring more functions in-house, as well. For instance, the wonderful sublimated graphics are now not only completed at their facility, but in fact are PRINTED there. That means they can more easily do limited runs for smaller organizations, with shockingly fast turnaround times (although at the rate that they're growing, that could well change). 
While we try to stay somewhat unbiased about products and companies, we have to admit that we're thrilled to see a small, local, responsible manufacturer do so well. Atayne is still offering great value for the money, but so much more. Our congratulations to Jeremy and his crew, and we look forward to trying new products from them as they continue to grow. If they stick to the same ethos, they'll be good ones!