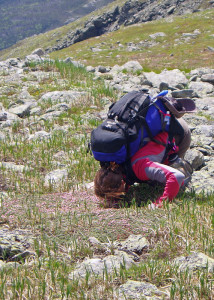 Hey! Have you taken the time to smell the Alpine Azaleas this Spring? Everyone gets all excited about smelling the roses, but let's face it, wildflowers are more fun. And the wildflowers that grow on the top of Mount Washington in New Hampshire—like the Alpine Azalea — are the most fun of all.
Wildflowers are one of the finest excuses ever invented for getting out and walking. To find them, you have to keep your eyes open and be aware of the world around you.
Every trail through patch of woods and fields, every bog, marsh, meadow and pond edge has its own  particular mix of wildflowers, but the plant community that grows on top of the very highest mountains are unique. To find their like, you'd have to travel north to Northern Quebec, Labrador and Newfoundland.
June is prime time for wildflower hiking on Mount Washington. It's when the greatest numbers and greatest variety of plants are in bloom. There's no one magic moment to see everything at its finest. Your best bet is to plan several trips to the summit starting in early June, ending around the 4th of July. That will give you the best shot at seeing all there is to see.
My best-ever encounter with alpine wildflower came near the top of Mount Washington where I spent a couple of nights at the Appalachian Mountain Club's Lakes of the Clouds Hut and one day hiking with a wonderful group of wildflower enthusiasts led by naturalist Nancy Ritger.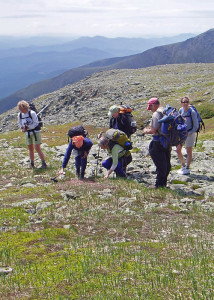 Hiking on my own one day, I couldn't help but notice the showiest of the alpine flowers. Diapensia were everywhere, creating the most beautiful constellations of little white stars on the carpets of green among the sedges and grasses that cling to life on the thin soils of this harsh alpine environment. Equally showy, though less numerous were the bright magenta flowers of the Lapland Rosebay. I also spotted some little pink dots that I couldn't identify.
But I'm amazed at how much I missed. Unless you have the most intense patience (I don't), and the discipline to keep looking at what you don't understand (I'm trying . . .), you are going to miss a lot of what's there to see.
Take those little pink dots . . . Hiking along the aptly named Alpine Garden trail with Nancy Ritger's trained eyes in the lead,  I learned that those little pink dots are Alpine Azaleas, and if you are willing to forego your last shred of dignity and get down on your hands and knees and stick your nose right down in them, they smell wonderful.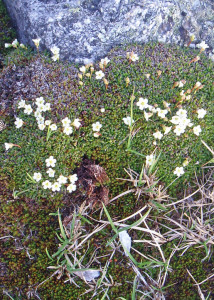 Nancy also pointed out and put names to Mountain Avens, Bigelow's Sedge, Deerhair Sedge, Alpine Bluets (which, unlike their lowland cousins, have beautiful bright yellow centers, Bunchberry, lowbush Blueberry, Crowberry, Bearberry, Mountain Cranberry, False Hellebore, Rhodora and the rarest of the rare, Robbins or Dwarf Cinquefoil, which is a plant that only grows here.
She identified the lichens growing on the rocks, pointed out the differences between spruce and fir in the Krummholz (low-growing trees twisted by the mountain winds) and called our attention to the ferns and other plants growing beneath then.
She alerted us to the calls of Pipits, White Throated Sparrows and Juncos which nest in the alpine zone at this time of the year, and identified a Sharp-shinned Hawk that floated overhead.
Admiring alpine wildflowers means getting yourself to some of the most beautiful scenery on earth, then  tearing your eyes away from the expansive views of open sky and far-away horizons to focus in on the nearby and small. But it's so worth it. Life isn't a spectator sport. Get out and enjoy!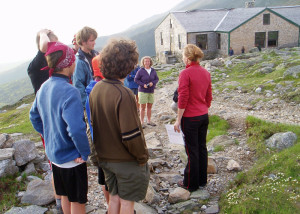 Learn As You Go
The best way to encounter the wildflowers in the alpine zones of Mount Washington (or anywhere else for that matter) is to hike. But if you aren't able to hoof it all the way to the top on your own, you can cheat and drive your car or catch a van ride up the Mount Washington Auto Road.
But, please, hike it if you can! It'll do you good.
The AMC conducts several guided hikes every year. They are a terrific way to stretch both your mind and your legs at the same time. If you're new to alpine hiking, this is a great introduction—your leader will help keep you on the right path and out of trouble and point out all the things you would have missed on your own.
If you do go on your own, all of the AMC huts also have naturalist programs most evenings. These are a good introduction to the environment around the huts, though they are much more limited in scope than the naturalist-lead hikes which can cover many miles through many mountain habitats. But if you happen to be staying at the huts, they will help you learn more during your stay.
If you're hiking alone, be sure to take a  guidebook. There are lots of them out there. For the high White Mountains, the best is the compact AMC Field Guide to New England Alpine Summits by Nancy G. Slack and Allison W. Bell.
I'm also very fond of the book Spring Wildflowers of New England by Marilyn J. Dwelley, published by DownEast. It has detailed drawings instead of photographs and is arranged by the color of the flower, making it very easy to use.
GO CAREFULLY!
If you're going to admire the wildflowers, try not to kill them with love. Be careful to stay on the marked trails and step on rocks whenever possible. (Tim Jones photo)
Mount Washington is a formidable place, especially for an inexperienced hiker. Almost every year, someone dies on its slopes. The weather can change in an instant, and often for the worse. So even if you are driving your own car up the auto road and just going out for a short stroll, be sure to carry some insulation, and rain gear. A map and compass can also save your life if you have them with you and know how to use them when a cloud rolls in and turns the entire summit zone to pea soup.
The other thing to remember while you are on the mountain is that the vegetation there is tough enough to withstand the worst weather in the world, but it isn't tough enough to stand up to human feet. Stay on the trails while you look and, wherever possible, step on rocks, not plants. The lichen on the rocks is generally tougher even than a bootsole.