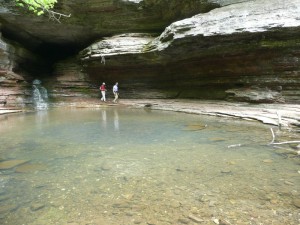 My husband Bob and I are just reaching our middle sixties and we like to make the great outdoors our workout space. It's a lot less constrained, the scenery is stimulating and there's no fee to join! I'm newly retired and Bob had a couple of vacation weeks stored up so we decided to take a spring jaunt. With the fifth great season – Mud Season – coming on strongly in the Northeast, springtime in the Ozark mountains of Arkansas sounded like a good bet.
Arkansas is not on everyone's top ten of must-see states which might rightly make you wonder (in addition to the nice Spring weather and early flowers), what on earth would lure us there?  A fair question!  I'm a mountain-lovin' gal so let's just say I had an old yearn to tromp around those hills and felt drawn to see where a lot of pioneers launched themselves West.  I'd heard it was kinda pretty, too, and I wanted to find out for myself if spring in the Ozarks could live up to the pictures I'd seen in the travel magazines.
Chapter One:  First Impressions of Arkansas and First Hike in 'The Natural State'
We wore our hiking boots on the plane to Little Rock so we'd have more space to pack outdoor gear, and we used back packs for carry-on luggage. A few fellow travelers gave us funny looks but you can get away with pretty much any kind of get-up on airlines these days.  Besides, I didn't really care. The boots were helping me get in the mood to stretch my legs along the trails.
We flew into Little Rock, Arkansas which has a little airport, easy to maneuver and where we found the folks we asked for directions real friendly.  Our rental car was waiting and so were our companion travelers, Peggy and Jonathan, who had arrived on a different flight. To make negotiating the cities easier, we now travel with a TomTom GPS device and leave our map reading anxieties behind. Soon the town names were clicking by us on the exit signs as we headed west on Interstate 40 to a wee village called Bella Vista way way up in the northwest corner of the state where we had arranged a condo exchange. But wait. . . a name on a sign . . . Toad Suck. . . caught our attention. Could that be the name of a place?  Peggy searched the AAA Guide Book in her lap and I riffled through the brochures I'd assembled at the luggage carrousel to check it out. However Jonathan came up first with a dramatic reading from Wikipedia, found on his Blackberry:  "What does 'Toad Suck' mean anyway? Well, the answer is quite simple… Long ago, steamboats traveled the Arkansas River when the water was at the right depth. When it wasn't, the captains and their crew tied up to wait where the Toad Suck Lock and Dam now spans the river. While they waited, they refreshed themselves at the local tavern there, to the dismay of the folks living nearby, who said: "They suck on the bottle 'til they swell up like toads." Hence, the name Toad Suck. The tavern is long gone, but the legend and fun live on at Toad Suck Daze." And this turned out to be just the first of several curiosity inducing names we'd encounter.
Now, with our juices fully stimulated to make more discoveries, we dropped onto a local road that took us a dozen miles south to Mt. Nebo State Park. Arrival day and I was already anticipating our first walk in the woods! Mt. Nebo rises 1,350 feet above the Arkansas River Valley and from the Bench Trail that we strolled along we caught glimpses of the broad river. As the name implies, this trail offered very little change in elevation, it simply circled around Mt. Nebo in a four mile length.  It was overcast and rain threatened.  We zipped up our jackets against a smart breeze and enjoyed freeing our leg muscles cramped by too much plane and car sitting.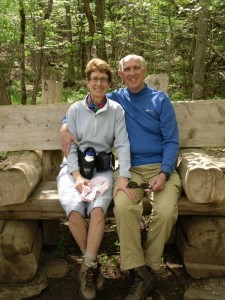 At 5'8″ tall, I'm the shortest in this foursome and I struggle sometimes to keep up the pace that my 6-foot-plus tall companions set! When we arrived back at the car I was panting but glad that we had moved right along and avoided a wet incident.  We drove a half mile further to the Visitor Center on top of the mountain to avail ourselves of the WCs and for Peggy to inquire about the name of a purple wildflower she'd spotted along the path.  We rocked on the porch for a spell and felt the stress of travel and the busy lives we'd left behind seep away and disappear off into the broad green valley and the wide meandering Arkansas River that lay at our feet.
It was now late afternoon and we had 160 miles to go before bed.  We retraced our route to the Interstate and hightailed it due north on the I 540 at the 70 mph speed limit, passing through scattered rain showers and the Boston Mountain range (part of the Ozarks) of rolling green hills that we would later visit up close. Our destination lay a couple dozen miles beyond a small town called Bentonville, the birthplace of Sam Walton and the headquarters of Wal-Mart, the giant discount retailer. It was hard to divine the significance of Wal-Mart from this little black dot on the map.
We checked in at the Bella Vista town center and received the keys and directions to our condo that was located a couple of miles back the way we'd just come. Oh well!  Next door Chen's Chinese Restaurant Buffet beckoned and we headed in for a late dinner.  We devoured the usual chicken dishes varied with broccoli, cashews, or ginger accompanied by white sticky rice and al dente green beans.  We sipped sweet and sour soup. At dessert we discussed our fortunes hidden in the cookies, all washed down with cool water for the total whopping price of $28 for four, not including tip. One thing Arkansas definitely can not brag about is expensive food.
Chapter Two: Eureka!  We Found the Cold Springs!
In the morning we more closely inspected our two bedroom, two bath level-entrance condo. It was spacious all right: a two-sofa living room, a stone fireplace which we hoped we would not need to use, a six-seater dining table, galley kitchen with modern gadgetry and a grill on the deck overlooking a golf course.  Whoo hoo!  This was our idea of camping!
Our first order of business was to food shop, which Peggy and I accomplished tout suite at a nearby market.  Back home, we planned the day's adventure over cereal and cranberry rolls smeared with peanut butter (one of our favorite accompaniments and more about peanuts later), then stashed our hiking boots in the trunk of the Buick along with raincoats and hats.  The thermometer read 55 degrees, a little cooler than we'd hoped for, but the sun was peeking out intermittently with promise of warming up the day. The secondary road to Eureka Springs looked twisty on the map, so I was granted First Class service in the front passenger seat, due to my tendency to motion sickness. Sometimes it's lucky to have a less than perfect body!
We whizzed along over good road, swinging down into valleys then up again to ridge lines where the road would straighten out and linger for a mile or two before the next swoop downwards. I felt that I was finally experiencing the Ozarks first hand, and they were as pretty as the pictures I'd seen.  I was mighty glad to be in the front seat where I could feel well and have an unobstructed view of the verdant valleys, the trees displaying full green leafiness.  The daffodils and tulips were nodding in the breeze in the occasional front yards where the kids were mowing lawns.
We passed through a number of small towns, not more than crossroads really, before we saw the sign for Eureka Springs.  Whoosh, down again we headed on a narrow road into a valley and driver Jonathan took a space in the first parking lot we came to. We slipped a fiver into a little box by our numbered parking square and began walking.  Those broad tall store fronts hiding gabled roofs displayed gifts, antiques, artwork and eating establishments and lent this end of town a western feel.  We ambled along piecing together the history of Eureka Springs from the historic buildings and their markers: Legend tells that the various cold springs in the area were revered by Osage, Chocktaw and other Native Americans for their healing powers; in the 1850s white settlers learned of the spring's qualities and a pioneer doctor experienced a cure he wrote about, spreading the word; some of the wounded Confederate and Union soldiers from nearby Civil War battles were treated at the springs; a covered wagon and tent city grew up of people seeking cures that later developed into a bustling town and tourist destination incorporated in 1880; in 1883 the railroad began bringing six full trainloads of visitors daily; "Mud Street" was renamed Main Street and hotels opened for business, especially the famous Crescent Hotel constructed in 1886, still an attraction; by the turn of the century Eureka Springs was known as a resort community with an elegant Victorian style; today the entire town is on the National Register of Historic Places.
We followed the former Mud Street all the way downhill to its end at the now defunct railroad station, then ascended to the height of the town via a steep street lined with the fabled Victorian manor houses. Bob kept wondering who took care of these gingerbread structures and felt relieved that he wasn't in charge of painting all the fanciful decorations in different colors. Near the top we stopped to taste the waters of Crescent Spring, one of several in the town, pouring from a rock ledge now encased in a stone wall and funneled into a drinking fountain. It was cool with an unremarkable taste.
Our stroll took in a couple of miles before we reached the main business section and the old hotels. Tucked into a corner we found an outdoor cafe with a view and an open table for lunch where we enjoyed fish and chips – not an Arkansas specialty, but tasty nonetheless. Jonathan speculated that probably Einstein had once visited and had his "Eureka Moment" here and that's how the town got its name; I thought that it was because Einstein had invented the Eureka vacuum cleaner here! We giggled at our creative insanity and agreed that fiction can be more fun than the truth!
We decided our warm-up to the main event was over; it was time for a real hike.  We drove 35 minutes south and then west in the general direction of home, stopping at the Hobbs State Park and Conservation Area on Route 12. We viewed a number of exhibits at the nearly new and beautifully architected Visitor Center where I learned about the tricky streams in this state.  Due to the karst (limestone) topography, many streams flow along the surface, then sink underground to remain lost or reappear. This creates caves, sinkholes, faults, crevices and pits and a seasonal ebb and flow to various rivers that gave towns such as Toad Suck meaningful names.
We sought the advice of a ranger for an interesting trail that we could do in about two hours. Because this is Arkansas' largest state park in land area we didn't want to get lost wandering around endlessly! We easily found the trailhead to the recommended Pigeon Roost Trail by retracing our drive for little more than a mile, parked and wrapped our tootsies in hiking boots. We each carried a bottle of water, sunglasses and a hat.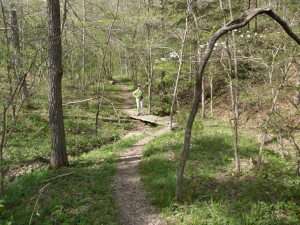 Yum!  What a great trail!  The afternoon sunlight filtered through the canopy of oaks and hickories, dappling our path with splashes of light.  The footing was free of the protruding roots and boulders so common in Vermont, opening slightly downhill to our steady rhythm. I led so I could control the pace and have time to look around at the maples, serviceberry and redbuds making up the understory diversity.  White dogwoods bloomed and reflected the sun, lighting up their chosen spots like Christmas decorations. It was totally quiet and peaceful.  When we reached the edge of one of the small inlets of the enormous Beaver Lake that jut into the park we looked down to the water and a lone fisherman casting from his small boat tied to the shore. We shed jackets and wound them around our waists, took a sip of water and deep breaths of the warm air.
Still on clear footing, we followed our map, making turns at two junctures. At places the trail followed old logging roads where we walked two abreast, chatting amiably, or not.  Peggy was discovering more wild flowers – trilliums and violets – amidst the low bush blueberries that covered large areas of the ridges. We noted that the bark on the dogwoods is made up of little squares, and that there had been some blow downs in the hollers recently. The trail wound up and down and around following the natural contours but it never grew very steep. The map rated it as moderate in difficulty, but we Easterners thought it should be listed in the easy category.  Back at the car we freed our feet from their leather enclosures and wiggled our toes.  No blisters, no bucked shins, just lots of smiles and a sense of accomplishment.
From here it was just a hop, skip and a jump back to Bella Vista, where the inviting condo waited and a London Broil marinating in the refrigerator was ready for the grill.  We were happy campers.