Over the decades of traveling together Peggy, Jonathan, Bob and I have learned to go with the flow of the trip, not to take events like bad weather and flat tires too seriously, and to enjoy all the moments that present themselves along the way. This is how we approached our recent trip to the Ozark region of Arkansas and it helped us find many delightful surprises to enrich our days. In the evening, we tend to write down everyone's impressions of the favorite (or most exciting or unexpected) part of the day in a log along with a few facts and stats about the visited sites. Part 1 of this tale introduced some spring hikes in the Arkansas Ozarks, and Part 2 continues here with more visit-worthy places.
Chapter Three: Devils Den State Park and the Hogeye Mall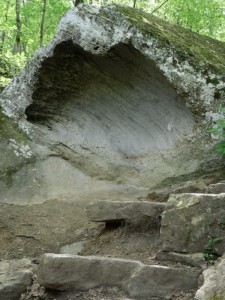 Devil's Den State Park is a 2500 acre tract that lies in the heart of the Boston Mountains, the southernmost region of the Ozarks. This park protects the largest sandstone crevice area in the United States.  We were about to discover first hand the ravines, bluffs, rock shelters and caves that make these mountains so interesting. After an hour's toot south on the I 540 followed by some curvy back roads we arrived at the park mid-morning and stepped into the Visitor Center for orientation and maps.  We found plenty of both. As is our habit, we requested recommendations for favorite hikes which we received in abundance from the extremely helpful park ranger who  overdid the information. She answered our final question for directions to Prairie Grove where we intended to visit afterwards, with a couple of route numbers and the admonition to "make sure to take a hard left at the Hogeye Mall."  Then with uncharacteristic brevity she winked at us and turned to the next person waiting for advice.
We chose the popular 1.5 mile Devil's Den Loop Trail because of the interpretive signs, hoping to learn about this particular region.  We were not disappointed.  The going was easy, if you could keep your eyes on the trail. We were constantly drawn to point out rock formations to each other while we dipped under waterfall trickles that gush only in wet weather. Two great caves formed by the fractured rock, called the Devil's Icebox and the Devil's Den poured forth cool air from their depths.  (They are currently closed to spelunking in an effort to protect the Arkansas bats from the White-nose Syndrome which has not hit this state yet, but is thought to possibly be spread by humans.)
As we walked along I began to form my own interpretation of the origin of the word "Ozark," which comes from the early French explorers who mapped the bends of the Arkansas River and who named the most northern bend as 'Aux Arcs', which means 'to the top arc'.  When non-French speakers pronounced these words they sounded like 'Ozark', and the name stuck and grew to include the whole region surrounding the great river.  But I was seeing lots of arcs in the rock formations, both horizontal and vertical ones, and I enjoyed imagining Aux Arcs to mean all the bows, whether river or rock, that Arkansas had to offer.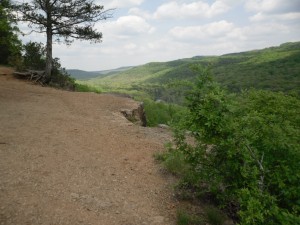 We lunched at a convenient picnic table in the park before driving a brief five minutes, climbing steeply out of the Lee Creek Valley to the Yellow Rock Trail head. Greeting us there was the Civilian Conservation Corps (CCC) pavilion, a square shelter built of native stone and logs in the 1930s, renovated in the 1970s to preserve the Rustic Style architecture and its beauty for future generations.  We snooped around the shelter admiring the stonework and its sturdiness and the view across the valley. Then we began hiking this three mile loop in a relaxed downward direction to our goal, the Yellow Rock Bluff.  It was easy going and the path was clear through a pretty oak-hickory forest.  We made good time and soon found ourselves at the tip of a huge bluff overlooking Lee Creek. We sat down to enjoy a drink and take in the view. It was so pretty, so quiet. The sun was warm and we peeled off a  layer.  I wondered how high the temps could climb during Arkansas summers and was grateful for our springtime visit. With binoculars we spotted a lone hilltop home way down the valley, just a little blip in the crest of the tree line.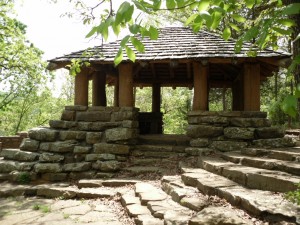 The return hike was a bit more taxing as we had to regain the 350 feet of elevation we had dropped coming down.  Luckily there were no bugs to annoy us.  When we arrived back at the pavilion we stepped inside  the rocky coolness and sat on stone benches to let the heat seep out of our legs and butts. Delightful!
Next, we headed the Buick in the direction of Prairie Grove on the routes outlined for us by the ranger. The countryside reminded us of our trip to Eureka Springs.  Once again in the privileged front seat, I kept my eye open for the mall we had been warned not to miss.  And suddenly, there it was. . . a large gas station with an attached convenience store and a sign as large and wide as those you might see from an interstate highway (slight exaggeration) announcing the Hogeye Mall! It was the only building at the five road intersection. Tee hee!  Hogeye really is the name of a hamlet, and the Hogeye Mall might have been its only store.  It certainly looked that way. The joke was on us. We made the requisite 'elbow left turn' and soon came upon Prairie Grove.
Prairie Grove and Pea Ridge are two Civil War battle sites. The Pea Ridge National Military Park is located close to Bella Vista where we stayed and where you could spend a whole day if this era of history interests you.  Prairie Grove Battlefield State Park is an 838-acre park that marks the last major Civil War engagement in northwest Arkansas which took place in December 1862. Both have battlefield walks and driving tours.  What interested us about Prairie Grove was the historic Ozark village, and in particular the Dogtrot House – a structure I just had to see! I discovered that this type of home construction was common in parts of the rural South because it facilitates air circulation.  It consists of two log cabins (they were called pens at Prairie Grove) built with a breezeway between them but under a common roof.  This home was made of stacked logs and also had a front and back porch that extended along the entire front and rear of the house. Commonly one pen was used for cooking and eating and the other for living and sleeping, and the dogs could easily trot between the two! Clever accommodations made for man and his four-legged companions! Who could've guessed??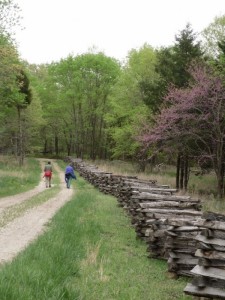 Chapter Four: Ham Steak and Peanuts in Diamond
Because we were staying just 15 miles from the Missouri border we decided to head north to visit that state and the George Washington Carver National Monument . OK, the real reason was the threat of rain and the thought that we could be indoors for at least part of the day.  We got a late morning start and after hiking a steep horse path (we could tell the horse part by the 'apples' left behind) at Huckleberry Ridge State Forest enroute, an aerobically challenging trail, we were ready for lunch.  With no obvious dining prospects presenting themselves along the way, we phoned the GWC Monument to inquire if they had a restaurant on site.  No, they answered, but they could recommend a stop at the Diamond Cafe in downtown Diamond, just a few minutes from the Monument.  We found it, no sweat.
Tidy, clean, organized and run by a husband and wife team of chef and waitperson respectively, we ordered the local special:  ham steak, a choice of two sides from the selection of mac and cheese, baked beans, and corn, accompanied by a salad for $8.00. Something obvious about Alyson's accent tipped us off that she was not a Missouri native. No, they were from Brooklyn, it turned out – thriving transplants having fun running their cafe in out-of-the-way Diamond, a location devoid of choking taxes, stress and über-culinary expectations of  New Yorkers!  We chatted up Alyson and John while enjoying the yummy tasting and generous portions almost spilling over the sides of the plates. When finished eating we had absolutely no room for dessert. . . until the "George Washington Carver" special was explained.  Did I mention that Alyson was also a dynamite saleswoman? She had consulted with the Monument's historical staff, then created her own sweet concoction in her test kitchen in the apartment upstairs where they lived – a chewy brownie filled with penuche fudge.  This dessert had to be tasted to be appreciated, she told us. And not wishing to offend our new friend, we did.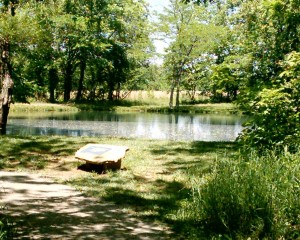 We then waddled to the car and it lurched from our increased weight the few miles west to the GWC National Monument. Here we began our visit with a slow, digestive stroll along the Contemplative Loop Trail.  It was an easy mile- long wander through a tall grass prairie around a pond which we enjoyed without a drop of rain.  When we entered the center and ducked into the theatre to view a film of George Washington Carver's life, we found it whetting our mind-appetites thoroughly. From the exhibits we learned about his birth into a slave family near the end of the Civil War, his great interests in botany and struggle to get an education. He was an accomplished artist and became a great scientist, educator and humanitarian. I remembered him vaguely from my middle school history lessons. In the early 1900s he convinced African American farmers to plant soil-enriching peanuts and soybeans to get out from under King Cotton, the traditional but suffocating mono-agriculture. After that, he went on to discover more than 300 ways to use peanuts in products such as ink, paper, soap, glue, dyes, massage oil, milk and cosmetics. Even Thomas Edison and Henry Ford sought him out for information on industrial uses of these plants. Whoa! There is tons more fascinating material to learn about George Washington Carver, but we thought we'd try to adopt just one admirable habit when we got home: taking pre-breakfast woodland walks!