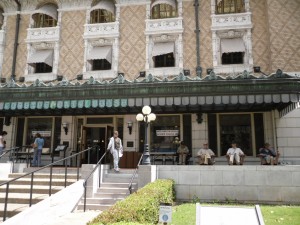 Two places the four of us just had to see before our week-long vacation to the Ozark Mountains in Arkansas was over still awaited us.  One was The Buffalo National River which was reeling us in on a taut line,  and the other was Hot Springs, an urban National Park, where we were eager to "take the waters" just as travelers did in the early 1900s.
If you want to read this Ozarks story in its chonological progression, Part 1 begins with our initial impressions of Arkansas and first  hikes in 'The Natural State"; and Part 2 explains how the Ozarks got their name, finding good eats, a great man who made peanuts famous, and hikes that lay out before you the geology of the Ozarks region and the great Arkansas River.
Chapter Five: Guilt and The Buffalo National River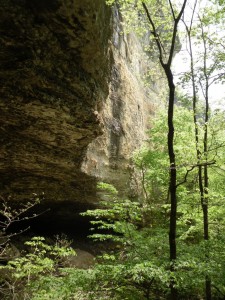 I have a confession: I made a big mistake. Initially the focus of our Arkansas trip was to be the Buffalo National River – a preserve of a free-flowing stream void of dams, an escapee from civilization.  But. . . when I made the condo reservations I hadn't considered distances carefully enough.  Sure, the Buffalo River has tons of hiking trails, canoeable sections, and scenic landscape formations, but the round trip from our lodgings would require more travel time than we could comfortably afford in a day and still be able to hike or paddle.  Aargh!
What to do?  We decided to keep the rooming arrangements and  corral our range of interests to points closer to our base, which didn't turn out badly as you've learned from reading about all the fun hikes and adventures we uncovered.  But still, we were drawn to see this river, and so one day we ventured to the section closest to our vacation home, Lost Valley.
We picked a sunny, warm day and set out early for the Lost Valley Trail.  At the trailhead located within a campground, we parked and suited up for the two mile easy-moderate rated hike. We swung sure-footed along the level trace next to the creek, which was  flowing in sections and dry in others (remember the tricky streams from chapter two?) and soon came upon Eden Falls. It was a pretty spot and we skirted around the edge of the pool to avoid getting wet and to obtain a view of the natural bridge.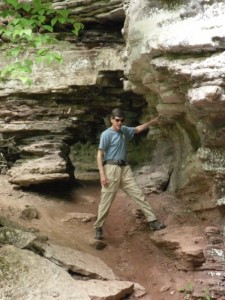 After the brief respite at the falls I pressed my hands to my knees to aid my leg muscles in the high-stepping required for the climb up to the cave. Just a few feet opposite a trail marker we found an Arkansas wonder staring at us. . . a large snake. It was coiled on a flat stone and looked an awful lot like a rattler. We examined this creature from a respectful distance and took his picture.  "Nice boy," we cooed, and slunk away on tippy toes. Thankfully, Mr. R. didn't budge.
After that encounter I was a little unnerved and found myself looking alertly everywhere for dangerous reptiles. But my mind soon got tired of that game and gave it up.
Now eager to enter the cave and find the large room with the 35-foot-tall waterfall inside as mentioned in the notice on the trailhead bulletin board, we climbed on until we reached the opening. We resorted to all-fours to negotiate the slippery rocks.  When our eyes grew accustomed to the darkness we helped each other edge our way inside sharing our single mini-flashlight beam that one of us had luckily brought along in a backpack. That old hauntress Claustrophobia was getting her grip on me as we approached a narrowing that looked cramped and leading to nowhere.  "I think this is far enough," announced Peggy, at the head of the pack, and I breathed a deep sigh of relief.  We turned around and crept back out the 100 feet to the entrance.  Just entering were three teenage boys dressed in shorts and flip-flops swiftly moving forward,  sure-footed and confident.  Peggy and I looked at each other in wonder. "Youth and big flashlights," Peggy announced with a grin.
In the afternoon we explored more of this verdant valley by driving along the Buffalo River to the burg of Ponca. A bit further along, in Compton, after consulting with the post mistress for directions to the trailhead, we added another peaceful two-miler called Hideout Hollow to our growing repertoire of Ozark hikes.  It led to a stream and waterfall cascading over flat sheets of ledge.  It would have been a perfect place to spread out our picnic if we hadn't already eaten at the campgrounds. I was liking these two- and three-mile jaunts to waterfalls, vistas, caves – they held your interest and let you get a feel for the area and its biological diversity before you tired out and stopped caring.
Before exiting Boxley Valley we stopped for a cold drink at one of the rafting outfitters.  It was too early in the season to float the river, but the brochures and maps we picked up made us long for the opportunity. "This would be a great place to come back to in the fall," Jonathan remarked, eyeing the gorgeous pictures in the Buffalo National River Official Map and Guide of canoeists negotiating the river with bluffs towering over them and elk grazing in a meadow surrounded by colorful autumn trees.  "We could rent a cabin right on the river, paddle the rapids, watch the elk come down to water. . ."  There was a hum of agreement from the rest of us.
The Last Chapter: Hikes and Soaks at Hot Springs National Park
A week had passed; time to leave Bella Vista.  We departed in a downpour early on a Saturday morning for Ft. Smith National Historic Site that was on our route south to Hot Springs. When we were ready to stop for lunch, we had reached the fort at Arkansas' western border with Oklahoma and the sun was shining. Fortuitous!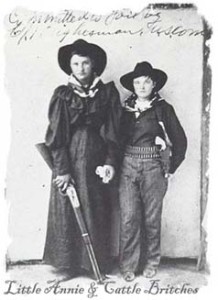 This was the place I had wanted to see where pioneers had launched themselves West and where lawlessness abounded. The first Fort Smith was built in 1817 at the junction of the Poteau and Arkansas rivers; it was later abandoned, re-built, changed. During its last incarnation the fort became the location of the Federal Court for the Western District of Arkansas which handled criminal jurisdiction over the Indian Territory as well as western Arkansas. A famous and fair judge, Isaac C. Parker, presided over the court for 21 years!
My favorite part of the exhibit was the story of Cattle Annie and Little Britches, teenage girls who wore men's pants, rode their horses astride, carried rifles and married into the local bandit gang. During the day they did domestic work in town and by night they rustled horses and traded whiskey with the Indians. They were wanted by The Law. After two years of banditry the young women were finally caught by marshals and sentenced to attend Reform School (jail for women). Their history after that is murky, but probably their lives weren't dull!
Now it was on to Hot Springs where we would spend the next day, Sunday, before returning the rental car and catching our early Monday flights.  But wait!  Peggy had researched a hike for us in the Ouachita National Forest the previous night on the laptop.  Whoo hoo!  The trail was right on our drive to Hot Springs and we found it easily.  A couple of families were enjoying the afternoon sun, playing frisbee on the campground lawn and cooking hot dogs. It had gotten warm. We headed gently uphill on the Big Brushy footpath.
This turned into our longest hike in Arkansas, six miles.  We just kept going and going, adding several miles to the original Big Brushy because we felt so fit and the afternoon was so sunny and breezy. We could see the clouds scudding by overhead through the trees, and we caught glimpses of the surrounding hills from breaks in the canopy.  My companions took advantage of the clear footing by giving their long limbs full stretch. There was a kind of group energy moving us forward through the forest.  When we did stop to munch on apples and granola bars there was some talk about adding yet more length to the hike, but I nixed the idea. I knew I would fall prey to Mr. Low Blood Sugar and his partner, Ms. Lack Energy because I hadn't brought enough food along to stoke my engine.  My companions didn't mind. . . too much. . . and so we reached our car by five o'clock.
For the first time since we'd arrived in Bella Vista we put away the paper map and programmed the hotel address into TomTom (our GPS).  He guided us directly over the 55 miles to the Park Hotel on Fountain Street in just under forty-five minutes. Our hotel rooms were a modest suite, clean and priced very reasonably for our one night stay.  We showered and opted to eat at the hotel restaurant, happy for the convenience and proximity to bed!  However, we didn't say goodnight before our ritual tableside questions were answered and plan-maiking for the next day was completed.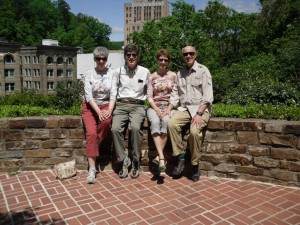 We arose early to bright sunlight and walked the couple of blocks down Bathhouse Row to one of the prominent old bathing places.  The Buckstaff is the only spa that has been in continuous operation since it opened in 1912.  It still provides the elaborate bath ritual in a traditional setting, and we were intent on trying it out! We laid down our $55 each.  Bob and Jonathan were led away to the men's section for treatments while Peggy and I rode the old operator-controlled elevator up to the next floor where we were escorted into a changing room.  We left our modern clothes and shoes in a locker. An attendant draped each of us in a sheet and when we saw one another we giggled at our images: two women in Greek togas!  Then we were whisked away to the treatment routine:  a 20 minute soak in a whirlpool tub with loofah scrub (think claw footed bathtub with an eggbeater swishing the water around near your feet); a ten minute sitzbath that is supposed to relieve low back pain; five minutes in the steam cabinet which I called the 'cooker' because your body was encased in steam but your head was sticking out; 15 minutes for a lie down on a a chaise lounge with towels heated by the hot springs wrapped around your feet, shoulders, and any other places on your body that you requested; five minutes in a needle shower (this was my least favorite because it kinda hurt my skin); and lastly a 20 minute massage!  When finished and dressed I met the gang on the porch outside where I collapsed on a chair and closed my eyes.  Heavenly!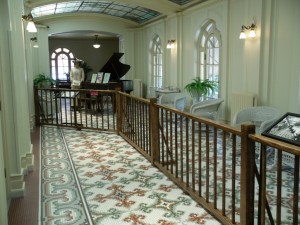 Our next stop was food and lots of it – stacks of pancakes with syrup and fruit. Now we were truly feeling fit and ready to conquer just about anything, so we headed to the, you guessed it, Visitor Center. The Fordyce Bathhouse, restored to its 1915 original splendor, serves as the park's visitor center and museum.  Here you can see the antique equipment we just used, plus what I would call the day spa rooms: fancy changing rooms with a bed and dresser that you could rent for the day, a gymnasium (for the men only), a roof top garden, a beauty shop, a sitting room with grand piano for light entertainment.  In the basement you can see where the Fordyce's hot spring (there are 47 sources altogether in Hot Springs) enters the bathhouse at 140 degrees.  Luckily for all of us the federal government set aside much of this land in 1832 and took active control in 1877. The Hot Springs Reservation became a popular destination for those seeking cures for their ailments with treatments often prescribed by their physicians. When the use of water therapies as a medicinal treatment began to decline in the 1950s and people no longer traveled to a single destination by train, business fell off and the bathhouses closed. In the 1980s the National Park Service began the revival of the vacant bathhouses to their function and original splendor, making them available for lease.  Some have become day spas, one an art museum. Strolling along Bathhouse Row and the brick-lined Grand Promenade on a hill just behind it is a lovely nostalgic trip to "the Golden Age of Bathing when over a million visitors a year immersed themselves in the park's hot waters," according to the park brochure.
Of course at the Visitor Center we also inquired about great trails to hike in the nature part of the park. We decided the Goat Rock Overlook would make a dandy destination. We changed into our hiking boots at the car, still in the hotel lot, and began our ascent on the Dogwood Trail.  We linked and crossed into many different trails on our smooth path, admiring the wild indigo and wild phlox. We were feeling sweaty from the moderate exertion and the hot sun.  It was amazing, the number of folks wandering around on Hot Springs Mountain's 26 miles of trails, but then again it was a beautiful Sunday, so maybe not so surprising.  We particularly enjoyed talking to a group of Daisy Scouts who were enthusiastic about their park clean-up mission. At Goat Rock we sat down on an outcropping to take in the view and cool off in the breeze. We returned by other routes, clocking in another four miles total.
Back at the car we felt a strange mix of exuberance and sadness; this was our last hike in Arkansas – our adventure was over. But what a a fabulous trip it had been.  Any misgivings about interesting hikes or scenery this state could offer had been dashed against the rock bluffs and gorgeous Ozark mountains.  We had met charming people, eaten well and laughed a lot. Our new knowledge of history and geology enriched us.  What remained were two key questions: would we change anything about this trip, and would we ever want to visit Arkansas again? The unanimous answers were nope, and you betcha!