This is an Ode to BOB, one of our favorite traveling companions!
We've traveled with BOB to Cape Cod and Martha's Vineyard, Nova Scotia, done a 4-day tour of Cape Cod from end-to-end, and most recently to the marvelous island of  "BikeTucket."
BOB stands for Beast of Burden, but what it really does is make traveling with your gear on a bike much less of a burden and much more fun.
Most bike tourers use panniers for their luggage but panniers have to be packed carefully for balance and are often hard to get on and off the bike. We prefer the single-wheel Yak trailer from  BOB Gear, which also makes a fancier off-road version with a suspension called the Ibex.
Unlike most trailers which attach with a single long arm and sort of sway along behind your bike, the BOB has a rigid frame which attaches directly to both sides of the rear axle of the bike using a special skewer which comes with the trailer. This sturdy setup keeps the center of gravity low, centered and stable. Behind the rear tire of your bike the load carrier  pivots side to side easily, so the single wheel follows along naturally in the track of your rear bike wheel.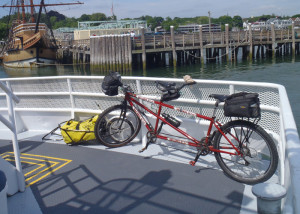 You don't have to worry about packing the BOB trailer carefully since it doesn't affect the balance of the bike at all. In fact, except for the additional weight and length (our BOB-and-tandem is 12 feet long!), you don't even notice it's there.
Once we've reached our lodging, it's a matter of seconds to detach the BOB. Then we can ride the bike wherever we want to explore without any encumbrances.
The BOB can be loaded with anything (I've carried plants and groceries in it). But for touring it has its own completely waterproof dry bag that nestles in the trailer. No matter how hard it rains, or how muddy it gets on the outside, everything inside stays dry and clean. At the end of a long day, we hose the inevitable road grime off the BOB bag when we are cleaning the bike. The bag then comes into our room with us.
The freedom that BOB gives us to travel where we want with our bike is priceless. Bike touring is simply easier and more fun with BOB.
Thanks BOB!