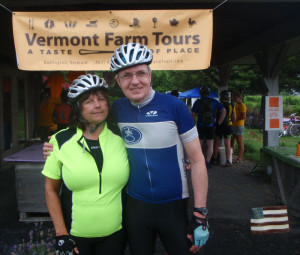 My partner Roger and I have been road biking for 25+ years. Adding variety to our rides keeps us loving the open road. Luckily for us we live in Vermont where biking opportunities are as numerous as, well, cows. Speaking of which—our most-recent adventure was with Vermont Farm Tours. This company offers, guided, culinary excursions  for small groups throughout Vermont. The "Heart of the Islands" tour we went on is unusual for them because it is open to the public and teamed with a local event in the Champlain Islands, the annual Open Farm & Studio Weekend, a two-day focus on the history and culture of Grand Isle County.
The ride started at Snow Farm Vineyard in South Hero Vermont. "Snow Farm" and "Vineyard" when paired into a single name seems an oxymoron, but the winery is situated on an island in the middle of Lake Champlain (the U.S.'s sixth largest lake). The local micro-climate makes Snow Farm's growing season identical to Burgundy, France!
The 10, 24 or 35-mile self-directed loops all included stops at area farms, vineyards, cafés and artist studios. A free massage, roadside assistance and a tasting at Snow Farm Vineyard at the end of the ride made it just that much sweeter. We opted for the longest ride which would take us through South Hero, Grand Isle and North Hero, Vermont. Since we had pre-registered we only had to pick up our packet which included detailed maps with scheduled stops colorfully numbered and described.  Altogether there were 38 possibilities!
The ride began with four miles of dirt on West Shore Road. Since I have a road bike, I was not looking forward to this part. However, before we had even gone half a mile a good omen appeared: an osprey flew across the road with what I thought was a fish in its mouth and landed on a tall pole alongside the road; "the fish" turned out to be  hay being taken to its nest.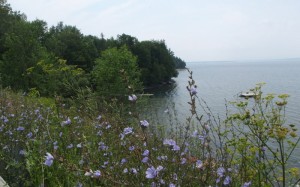 The route for the most part ran along the lake and since these are islands we sometimes biked with water on both sides of the road.  The lightly traveled roads allowed us to look around without worrying about traffic. This was a good thing! We were treated to views of bobbing sail boats and rising cliffs, and, away across the lake, the Adirondacks of New York.
Sometimes, we biked tree lined roads with shaggy-barked maple trees that formed a canopy over us, and past farm fields dotted with freshly baled hay.  We came across a stunning antique round barn complete with slate roof and  cupola and even spied a dinosaur (or was it Champ, the illusive sea monster of the lake?) in someone's yard.
Our first art stop was  Across the Grain Pottery where raku and traditional pots are created by Sherry Corbin.  Hand-thrown bowls that cried out to be touched and covered dishes in unique shapes were set up under two tents, with an offering of chocolate chip cookies and brownies that we couldn't resist. Unfortunately we were too early for the firing of her Raku kiln. Next time!
At our second stop, Jessica Remmey's studio specializing in unique photographs of the natural environment, I bought a note card, liking the perspective of a long line of maple buckets photographed at eye level.
In Grand Isle we passed the dock for the ferry to New York State thinking it would be fun to include the 20-minute ferry ride on one of our next bicycle outings. We were now at mile eight and it had been a long time since breakfast.  We opted to bike directly to "the gut" which would take us onto North Hero via the only drawbridge in Vermont.  Our lunch spot would then be 6 miles up the road.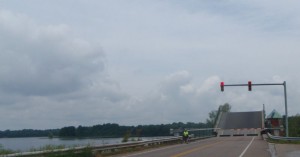 Just on the other side of the bridge, Roger had the first of his two flats of the day. Not to fear, he is a bike mechanic supreme. When he saw that he had not only flatted but had split his tire he quickly ate a Clif bar and used the paper to wrap the tire at the weak point. It would last 10 miles.
By this time I was really hungry and voted for a fast ride to our planned lunch stop, Hero's Welcome General Store. The café and bakery are in one of three century-old buildings offering thousands of items including Vermont products ranging from honey to Adirondack Chairs. We had eaten here before and knew that they offered generous sandwiches with names such as "The Norm" for Norman Rockwell and "The T.J." for Thomas Jefferson. The sandwich fillings hint at the political leanings of the store owners.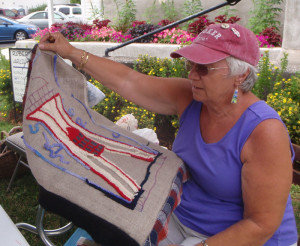 We ate on the steps of the nearby North Hero Community Hall, a beautifully restored white clapboard building. The North Hero Historical Society had set up all-day demonstrations of rug hooking, hand spinning, wreath making, and basket making on the lawn in front of the building. As we ate, a three-man band played fiddle, banjo and guitar.
This was the turn-around spot for our ride but before heading back we detoured to Savage Gardens, a small farm featuring pastured poultry, organic vegetables and fruit, and plants. An old St Bernard slowly rose and greeted us, tail wagging. The smell of basil wafted from a huge bucket of leaf basil that had just been picked by Hugo Gervais, who along with his wife Amanda, own the farm. He told us we were welcome to follow the path that led to their free range chickens and fenced cow pasture. I think he thought we were flatlanders. We didn't tell him that I used to have chickens and that we live in Vermont.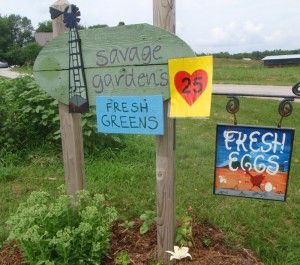 After crossing back to Grand Isle via the drawbridge, the route turned left onto East Shore Road and we encountered our first "hill."  By Vermont standards it was flat, still it was the first time we had to shift down on the mellow terrain of the islands.
Next stop: East Shore Vineyard.  Here we were treated to cold water (a hose to cool off with in the mid-80 temperatures), and a wine tasting. Their vineyard has been in operation since 2000 on land that has been in the family for 40 years. East Shore has won some prestigious awards from Tasters Guild including Double Gold for their 07 Traminette. A Rosé, a Traminette and a Cabernet Franc were offered (with a cracker in between of course). As the server poured our wine she explained that all the grape vines were winter hardy to -35F and, due to their growing popularity as wine producers, East Shore Vineyard is adding an additional acre each year to their six acre harvest.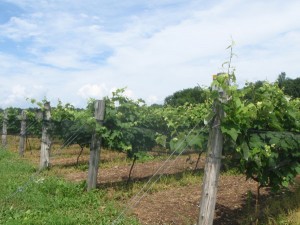 I rated the Traminette as number one, while Roger liked the Rosé.
Luckily for us Roger's second flat came just as we pulled up to the Island Homemade Ice Cream cart. This small company's priorities are taste, fresh, local and organic. We both ordered Black Raspberry, barely talking as we savored both the flavor and the coldness.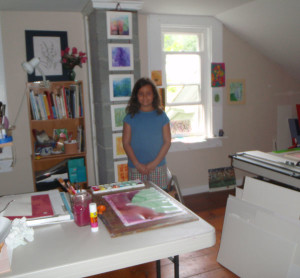 Flat repaired and back on our bikes, our final stop took us to Linda Coffin at the Maples, a watercolor artist with a studio in her home. When we arrived she was giving a tour to another couple, deep in conversation about her technique. We were shown around by Linda's 10-year-old granddaughter.
The heat now was unrelenting and we kept thinking about that impending second wine tasting back at Snow Farm Vineyard. Looking at the map, we cut a mile off the bike ride to get back sooner. What a disappointment: the wine tasting was not free as suggested by the brochure and the promised tarts to be paired with the wine had all been consumed. Instead we climbed on the massage table for that free 20 minute massage.
We just may be back again another year for the biking and the wine tasting, rumor has it that this is now an annual event.
Our next organized bike tour is already on our schedule: The Tour de Taste: A Peddling Picnic out of Fairlee, Vermont.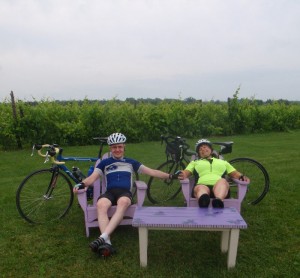 Upcoming Vermont tours:
August 14
HARPOON POINT TO POINT RIDE
25, 50, 115 miles
August 22
PEDAL FOR PAWS-NCAL'S RIDE FOR THE ANIMALS
25, 60, 100 miles.
September 19
LE TOUR DE FARMS–10,25,30 miles