After 5 years of intense, year-round classes for her bachelor's and master's degrees,  my sweetheart Susan was done with studying! No more books and papers spread all over the dining room table, no more alarms going off at 3 A.M. to get an assignment done before class. Truly, an occasion to celebrate!
And not to celebrate with a trip to a museum, or a Broadway show; this required no thinking, no getting dressed up, nothing other than being in the moment. What could possibly be better for that than mountain biking and hiking???
One of the great Eastern mountain biking venues, Vermont's Kingdom Trails, is only a few hours away from us. With 100 miles of trails through gorgeous countryside, there's terrain there for all riders. Susan's relatively new to MTB and this is a perfect place to start.  But…we wanted an extended trip to really let her unwind, and the lodging and dining options in the Northeast Kingdom are a bit limited.
Just across the border in Quebec, however, are the Eastern Townships, a hotbed of great food focused on local ingredients; but what about the mountain biking? It turns out that Mont Gosford, Coaticook Gorge, and SkiBromont all have significant trails available, and are within easy driving distance. And, to top it all off, word came to us that the Trapp Family Lodge in Stowe, VT., had just opened a whole new set of trails…and they're just south of Bromont. Clearly, this was a road trip just waiting to happen!
Kingdom Trails
A few days after graduation, we set off. First stop, Kingdom Trails. Now, Susan's a relative newcomer to mountain biking, which means that poorly maintained or designed trails are a real problem for her; the trail has to have "flow" for her to feel comfortable with it. I'd been to the KT before, so knew that it was a great place for her to start.  With over 100 miles of trails spread across multiple hills and mountains, they've got everything, from wide snowmobile trails to some insanely swoopy trails that accelerate you up and down through gullies. They also have the advantage that they sit on a huge esker, which is a glacial sand deposit; that means that the trails dry quickly and stay in better shape than they would in wetter areas.  And THATt turned out to be a good thing, since of course it was raining when we arrived. Oh, and cold, too, in the mid 40s.  I looked at Susan, but knew what she'd say…one of the things I love about her is her willingness to do really stupid things.  We'd brought raingear, luckily, and it was a great chance for me to test the Red Ledge Free Rein parka that I've been beating up for a few months in truly adverse conditions, so onto the trails we went.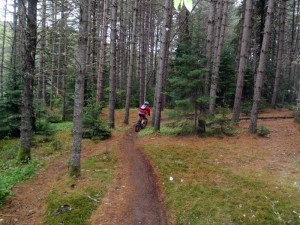 Great decision, it turned out.  The sandy character of the area made the trails much more solid under our tires than would normally be expected in wet Eastern riding. The climb up Darling Hill to get to the trails we were riding is normally just brutal, but in the cold and rain, it allowed us a nice warmup before we hit the woods. There's something silly fun about mountain biking in the rain; you end up wet & muddy instead of sweaty & dusty…in other words, you aren't any dirtier than normal. There's also an intimacy to the woods when it's raining; you look more at things that are closer to you, rather than trying to see the mountain views (which, at the Kingdom Trails, can be spectacular in good weather). The combination of cool weather, rain, and the parka turned out to be perfect; I stayed basically dry all day, with the rain kept out and the jacket breathing well to keep me from getting clammy; a full review will be coming, but the short version is that the Red Ledge performed admirably. While our planned picnic lunch had to go on the back burner, energy bars tasted awfully good halfway through the ride; adverse conditions always make you appreciate the little things a lot more!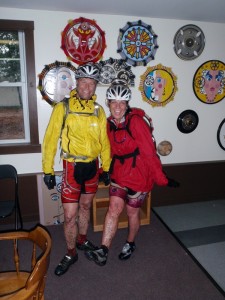 After three hours of riding, though, our energy levels were dropping, and the idea of a hot shower was sounding more appealing, so we headed in.  That's when the Achilles heel of the Kingdom Trails appeared…no showers.  There's a campground a couple of miles up the road where you can normally get a shower for cheap money, but this early in the year they weren't open yet. Note to self…putting a sun shower filled with hot water in the car in the morning MIGHT have been a good idea.  But, we were prepared with towels (never go mountain biking without one!), so a quick buff and change, and we looked respectable enough to head up the road. Amazingly, most of the nastiness on our legs turned out to be bark and the like; very little mud, which speaks yet again to the quality of the trails.
One weakness of Vermont's Northeast Kingdom is a lack of…well, pretty much everything that involves humans.  In this case, it was restaurants to grab a late lunch…small towns don't tend to have any.  But a pleasant surprise awaited us in Island Pond; there's a relatively new restaurant there called "Pond View", and when we saw the specials list including homemade mac & cheese with ham and a side of garlic bread for a whole $7, and shepherd's pie for $8, we had our forks at the ready.  The food was tasty and plentiful; for a post-ride comfort food refueling, we'd highly recommend it.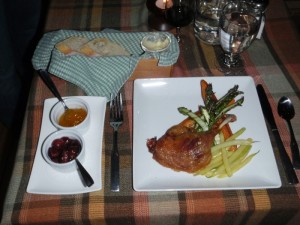 Back on the road, it was time to head for Canada, and the hamlet of Notre-Dame des Bois, which is something along the lines of the last outpost of civilization on the way to our next day's destination of Mont Gosford. A small town like that is the last place you'd expect to find a B&B like Haut Bois Dormant. Finding a room, sure…but not with food like this!  The proprietress, Julie Demers, happens to have been a professional chef before she decided to make a lifestyle change and work out of her home while raising her daughter. With her husband Pascal Chagnon, she produces meals that wouldn't be out of place in a high-end Montreal restaurant. Our 3-course meal was impeccably prepared, beautiful to look at and tasty. Local Lac-Brome duck confit was the centerpiece, with grilled veggies and sweet potato. Like many inns in the Eastern Townships, it's a "BYO;" bring your own wine, making the meal even more affordable. Dessert, again made by Julie, was an incredibly thin puff pastry tart with sliced pears and a drizzle of local maple syrup (even a born Vermonter like myself can admit that Quebec maple syrup is good!). We headed up to a very comfortable bed full and happy; and anticipating breakfast! Which, I'm happy to report, didn't disappoint; a plate of three different versions of French toast was excellent and fun. After eating every single bit of fruit garnish, we bid Julie & Pascal a fond farewell, and headed for the mountain.
Mont Gosford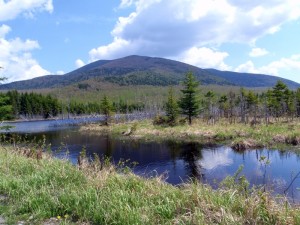 Mont Gosford is tucked into the eastern end of the Eastern Townships; bizarrely enough, it's almost entirely surrounded by the state of Maine. Apparently, when the international boundaries were created, no surveyor wanted to try to get around the thing…it must have been just too much work. And when you get close to it, you understand why. Unlike the ski mountains elsewhere in the province, Gosford is part of the Appalachians. At nearly 4000 feet (1193 meters), it creates quite a presence above you. Luckily for us, we were going to try their new mountain bike trails rather than climbing it.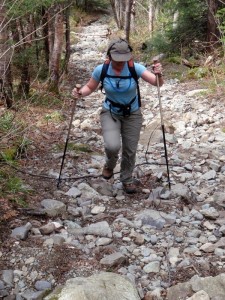 However, fate, or more likely Mother Nature, decided to play tricks on us. Mont Gosford has several peaks, valleys, gullies, you name it…and many of them were still filled with snow at the end of May. That meant snowmelt, and soaking wet mountain bike trails. Taking their cue from places like the Kingdom Trails, they closed the trails to avoid damage. Hmm…well, we carry our trekking poles and hiking boots in the car all the time for a reason! A quick switch of clothing and equipment, and the day turned from mountain biking to mountain hiking, with the bonus of a picnic at the summit.  We'd picked up some local cheese and paté and put them in our cooler for an evening appetizer; instead, they were pressed into service as a decadent lunch, along with some of our usual traveling bag of food. The Osprey Raptor 14 hydration pack that I'd been trying out is larger than the typical MTB pack, and was able to handle our lunch easily. That's actually pretty impressive for an MTB pack; our lunches aren't exactly starvation rations! So, in short order we were headed up the trail. And, I do mean up.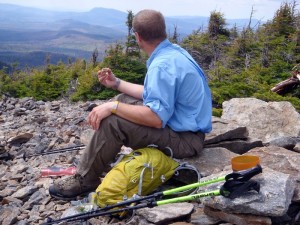 The trail to the summit of Gosford is not a little walk in the woods. It's a generally steep climb with some brook crossings and minor ravines. Even on a relatively cool day, we were sweating like crazy and very glad to have hydration packs. It's easy to underestimate how dehydrated you can get on a climb like that; having that bite valve handy makes it easy to keep up with the water loss. The trail itself is lovely, climbing through patches of flowers, crossing back and forth over a stream from the summit, and always going up. As we approached the top, the trail closed in on us, becoming a narrow track through thick fir trees; but every once in a while, we'd get a "teaser" look at the view that would await us at the summit. And it was worth it; the summit gives you a 360 degree view of mountains (mostly in Maine), range after range disappearing into the distance. Breathtaking, and well worth the climb! We were lucky that our plans had changed…this is a view not to be missed. We sat and enjoyed staring off into the distance while we ate our decadent lunch, knowing that we'd already burned the calories we were taking in, and, hoping that we'd burn enough on the way down to keep us from gaining weight at dinner…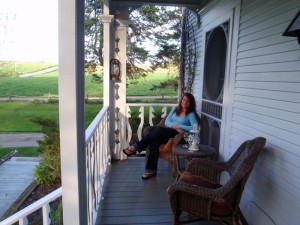 That hope turned  out to be utterly in vain. Our path led to the unlikely-named town of "Moe's River," which has nothing to do with a particular Stooge. It's barely a hamlet; a few houses tucked into a crossroads, surrounded by the large, well-maintained farms that are a hallmark of the Eastern Townships. And, tucked back behind a little grove of trees sits an early-1800s inn by the name of Le Bocage. We pulled in, and were warmly welcomed by chef/proprietor Francois Dubois, who showed us to our room, gave us a quick tour of the inn, then disappeared back into the kitchen to make absolutely sure that we'd get more than our fair share of calories. We, sensing a picnic in our future, headed off to a local winery, Les Coteaux du Tremblay. Quebec has a growing reputation for quality wines, and while we were planning a day of biking and, um, "wining", it seemed unfair to delay our gratification.  Tremblay's proprietor and winemaker were both there, and we stumbled through a discussion of their wines in our atrocious French and their only slightly better English; luckily, their wines are better than our linguistics. In what became a trend later, we found respectable if unexciting reds, decent and pleasant whites, and remarkably good dry rosés. We purchased a couple of bottles of rosé and headed back to Le Bocage.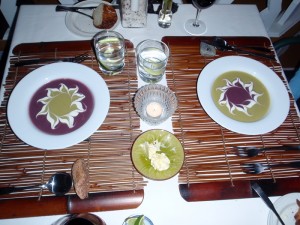 There, Francois had the bottle of white that we'd brought with us chilled and ready (like Haut Bois Dormant, Le Bocage is BYO).  Since we had an hour or so before dinner, we took our glasses and wandered the grounds, relaxing for a bit beside a carefully landscaped pool/fountain. The mood was so relaxed and romantic that we almost hated to come in for dinner…almost. Luckily for us, our laziness never gets in the way of food, or we'd have missed what is arguably the best meal that either of us has ever had. From the spring roll of smoked salmon, flying fish roe, and leek tops to the stuffed quail and roasted ostrich, to the sinful chocolate cake, everything was homemade, impeccably presented, and delicious. Still, nothing topped the soup; mirror-imaged sunflowers of local ingredients (beets, fennel, celery) that we hated to eat, they were so beautiful. Francois' artistry is evident in all his food, but none so much as that dish. Make no mistake; this food would be spectacular in Montreal, New York, or San Francisco…at 2 or 3 times the price. When coupled with the ambience and personal attention, it's impossible to not recommend that every "foodie" head there before their fame, and prices, grow.
Coaticook Gorge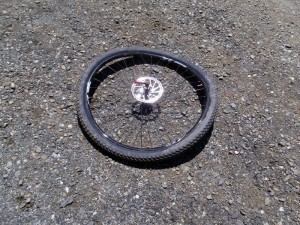 Morning brought another decadent breakfast; more French toast, this time with an obscenely rich caramel butter. Still, we knew we had a challenge ahead of us, so of course we ate everything. Bidding Francois farewell, we headed for Coaticook Gorge, a mountain biking venue that's known for its difficulty. Canada's Velo Mag has said about it that "Mountain Biking is to the Gorge of Coaticook what Ferrari is to Formula 1″…and after riding the trails, we came to the conclusion that there probably couldn't be a less accurate description. Formula 1 and Ferrari are fast; Coaticook is technical. A better description would be "Coaticook is to MTB what the Baja 500 is to auto racing." If you want to ride here, bring your "A" game, a bike with great handling, and a lot of experience. This is NOT mountain biking for beginners; even the easiest trails are highly technical. It wasn't long before I was wishing that I'd brought a bike with gears rather than a singlespeed; it's virtually impossible on those trails to maintain the momentum necessary to make singlespeed fun and successful. Susan, as a talented near-beginner, found herself bewildered by the constant stream of technical challenges. After a couple of hours of frustration, she made the decision to head back to the car, put on her running shoes, and head back to meet me; my goal was to complete the trails before she could get back out of the parking lot. All was going smoothly until a spoke on my front wheel decided to snap. Ugh. I did make it back to the parking lot before she left, however…unfortunately, I was carrying my bike rather than riding it!
Ski Bromont
What to do, what to do…oh wait, we could eat! Hot and tired, we remembered that we'd passed a huge ice cream factory on the way in. What better lunch after a frustrating ride than an ice cream cone? It turns out that the Laiterie de Coaticook has a retail shop, and we gorged ourselves on fresh cheese curd and ice cream made on the spot. Yum! Suddenly, the frustrations of earlier dissolved into a sense of well-being; we'd worked hard, earned a treat, life was good.
Still, I had a major problem. We had 4 days of riding to come, and I had a busted wheel. And not just any wheel, but a 29er; not necessarily the easiest thing to get fixed. We were headed to SkiBromont for the next day's riding; we'd skied there last winter, and knew they had a repair shop, so it made sense to check with them first. On arriving, we handed my wheel over to Philippe Gravel, the manager of SkiBromont's rental & repair shops. Politely, he didn't laugh as he looked at my pathetically twisted rim; he took it from me, patted my shoulder, and said "don't worry, we'll figure something out." He then graciously offered to show us his favorite trails the following morning; we set a time, and headed to our hotel, Le St-Martin Bromont.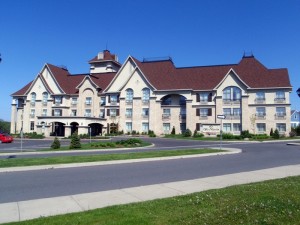 The St-Martin is an impressive  hotel in the boutique shopping district of Bromont. Recently updated and expanded, the rooms are large, impeccably clean, and tasteful; after the crazy day we'd had, it was nice to just collapse and relax. Since we had a few extra hours, we wandered around the shops a bit, then headed for the hotel's hot tub to soak away our tired, sore muscles, knowing that we'd have yet another challenge coming the next day. After a good night's sleep, we partook of the hotel's continental breakfast. Le St-Martin Bromont is certified as a"Bienvenue cyclistes!" accomodation, which adds a twist to the typical hotel breakfast; they actually have some food that meets the needs of cyclists, so we didn't need to head out to find something. Instead of just the usual cereal and pastries, there's hard boiled eggs, cheese, yogurt, and peanut butter for our bagels; easily enough protein to give us a solid base for our day. Breakfast done, it was time to find out whether my wheel was fixed or whether I'd be spending the day reading by the pool.
Fixed it was, thanks to a brillant effort by one of SkiBromont's mechanics.  Spokes for 29er wheels aren't commonly available, so he cut a regular spoke short, then created a twisted loop that he married to the remains of the broken spoke.  A little wobble remained, but not enough to keep me off the bike…and, in fact, once on the bike, I never noticed any problems through the rest of the week. Impressive. Phil was ready and waiting for us along with his girlfriend Marie Allaire. Gulp. Marie is an ex-member of the Quebec provincial MTB team; can you say "out of our league"??? This promised to be a very hard, very fast, very painful ride.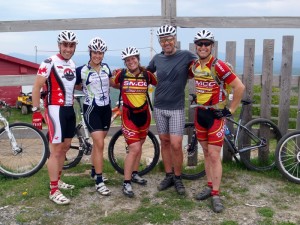 But, it turned out that our hosts were VERY gracious; they rolled along at our pace, pointing out interesting features along the trails, giving us pointers. Marie was particularly helpful for Susan; her technical skills are amazing, and she and Phil are both experienced teachers, helping local youth learn mountain biking. Bromont's trails are a wonderful mix of technical singletrack, smooth doubletrack, and back roads; there's plenty of opportunity to bomb along a twisty section, then regroup and recover on a broad section where we could discuss the trails, the weather, life, lunch, you name it. Bromont's trails are partially maintained by the mountain staff, partially by the community; they're beautifully designed, with great "flow." Flow is the magical quality of a trail that allows a beginner to work their way through the technical features and learn, while allowing a more experienced rider to go faster and faster and still come out grinning. And grin we did; 3 hours later, after lots of singletrack and one VERY long trail up to the summit of the mountain, we were tired, happy, hungry, and thinking about our next trip to Bromont to ride the trails we missed this time!
We could probably have ridden more, but as always, the Eastern Townships' other attractions beckoned. A quick shower, and then off to meet Phil & Marie in the village of Bromont for lunch, seemed more civilized than beating ourselves up more. Lunch at L'Ame du Pain was both tasty and a bargain. It was also particularly entertaining, as we sat outside and watched the crowds go by. Bromont is chocolate heaven; the Musee de Chocolate is a tourist's delight. If we lived in that area, we'd probably be going by there daily, not only for the carvings and history, but to sample the incredible range of chocolate from around the world. If you're a chocoholic, this is an absolute "must." However, on this day, it was a sideshow, as Bromont's Chocolate Festival was in full swing. Imagine an entire town where you walk along the streets and there are people carving chocolate, selling different types of it…and that's just the beginning. The path of chocolate (think Hansel and Gretel and a trail of breadcrumbs) led to a huge exhibition hall that was chock full of vendors of chocolate. To make it even more fun, there were a handful of Quebec wineries displaying their wares as well. More tasting…and this time, it was Quebec's other specialty that appealed to us, dessert wines. They've raised "vin de glaciere" to an art form; this involves freezing the grapes to concentrate the juice, then making rich and decadent sweet wines. We walked out with a bag full of different wines to bring home as Christmas presents; we got to taste them, and took stress off our holiday shopping at the same time! Perfect.
One note: if, like us, you bring back wine as Christmas presents, prepare to pay duty at the border; if you don't declare what you bought, it can be confiscated. Frightening thought!
By now, it was late afternoon and we were still stuffed from our post-lunch snacking. Dinner just wasn't much of an option…but maybe a little snack would be in order. One of the great joys of the Eastern Townships is supermarkets that are loaded with locally produced cheeses, patés, and other delicacies. And the weather was predicted to be warm and sunny all the next day; perfect picnic weather! Since the St-Martin had a refrigerator in the room, we picked up a broad range, including escargots and ready-made garlic butter to cook them in. A few bites of our dinner-to-be, just to tease our palates for the following night, and off to our very comfortable bed.
Now, one of the basic tenets of hard exercise is the "rest day." After 4 hard days, and with two more to come, we needed a day of light activity. What better way to get out and enjoy the day than to hop on our bikes, ride on actual roads, and visit some more of Quebec's wineries? They've developed something called "La Route des Vins", or, obviously, "The Wine Route".  It's even broken down into routes designed specifically for cyclists. Circuit #2 is called "The Birthplace of Quebec Winemaking;" clearly, we might as well start at the beginning! At 31.5 kilometers, it seemed ideal for a light day, and all of the wineries were clustered right at the end of the ride; our visions of weaving along the shoulder after tasting innumerable wines were dispelled. We parked at L'Orpailleur, where a local pointed out to us that since we had mountain bike tires, we could cut off a section of the route that winds through Stanbridge East, and instead take Chemin Godbout, which is a lovely dirt road that climbs up and over a hill between the wineries and Frelighsburg. Low traffic, lovely views, and a long, fast run down to the highway made for a fun start. Now, fair warning; while we were planning for an easy day, we forgot about one of the features that makes the Eastern Township so lovely: hills. Coming out of Frelighsburg, and riding past Lac Selby to Dunham, are long hills. Steep hills. Great exercise. And, a lot of work for our tired legs. By the time we reached Les Trois Clochers, the first winery, we felt that we had definitely earned any decadence that we were going to partake in!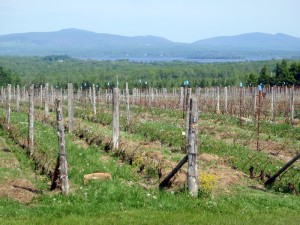 Now, it's hard to describe small tastings of a few wines as totally decadent, particularly the day after a chocolate festival, but after the ride it was pure heaven. For starters, the wines were even better than we'd been expecting. At Les Trois Clochers, Domaine des Cotes d'Ardoise, Les Blancs Coteaux, Gagliano, and finally L'Orpailleur, we were treated to a surprisingly good range of wines. Not only were the dessert wines and rosés delicious, but some of the wineries, particularly Gagliano, are putting significant effort into reds. The results aren't as inspiring as the white and sweet options, but on the other hand it took California decades to make palatable pinot noirs; for an industry that's still young, their achievements are impressive. And, forgetting absolute quality, the atmosphere of tasting in the Eastern Townships is just plain fun. Many of the people we talked to were the actual owners or winemakers for the vineyards; we learned more about the grapes, rootstocks, and methods of making wines in Quebec than we would have imagined possible. The exuberance of the people for their work was more intoxicating than the amount of wine we drank (luckily for us!) As we finished the last tastings, the timing was perfect for a late picnic lunch; we settled back against a stone wall and enjoyed more of the local bread, cheese, and paté. With a warm day, bright sun, beautiful views, and a shady spot…a nap was inevitable. What a perfect way to end our days in the Eastern Townships!
Trapp Family Lodge
We're always sad to leave the Eastern Townships; between the scenery, the food and wine, and the gracious hospitality, it's a wonderfully inviting and relaxing place. But, we had one more stop on our tour; the Trapp Family Lodge in Stowe, VT, had a whole series of new mountain bike trails, and we'd made plans to try those. So, back into the car, refreshed by our nap, and off we went. The drive down from Dunham to Stowe is a spectacular one, with great views and a trip through Smugglers' Notch. Not the ski area, but the actual notch itself. On a map, it's Route 108; in person, it's hard to believe it's a numbered route. Steep, narrow, and winding, it's an impressive and fun trip. On another day, we might have stopped to hike some of the trails in the state park, but with our lazy start, we wanted to get to the TFL and get settled in.
It had been decades, literally, since I'd been to the Trapp Family Lodge. Growing up in Vermont, it was a legendary place, not just because of the connection with "The Sound of Music," but also for the hospitality and old-world style. The old lodge that I'd been to way back when had burned in 1980, so I wondered what had changed. Turns out that it's everything and nothing; while all of the rooms and facilities are different, the sense of style and charm hasn't changed. The von Trapps still own and actively manage the resort (Johannes, Maria & The Baron's son, is still president; his son Sam is vice president and daughter Kristina runs the history tours and helps with customer service, with Sam's lovely new wife Elisa assisting her in that effort), and their stamp is all over it, from the boiled wool jacket on the maitre d'hotel to the meticulous attention and cheerful attitude of every staff member we ran into. We immediately felt welcomed and valued; since we were still dirty and sweaty from riding up north, it was an impressive effort on the staff's part!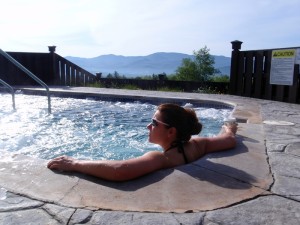 A trip to the fitness center revealed an important feature; an outdoor hot tub!  Yet another opportunity to soak in decadence…life is good. The view looks out toward the Worcester Range, which are some of Vermont's most beautiful peaks. It's hard to beat that combination for relaxation. And, since we were expecting a long workout the next day…well, it's just something we had to do. The hard part was dragging ourselves out before we fell asleep; generally, it's not considered to be a good thing to do that while in water.
The following morning, we headed for the dining room, and learned that old-style Austrian hospitality still exists. The breakfast buffet not only has the typical American foods on it, but a number of old world specialties as well. Everyone was cheerful, helpful, and attentive to getting enough coffee into us to get us prepared to ride.
Now, we were a bit concerned, as we were meeting Sam von Trapp and two of their bike shop employees to ride their regular trails, as well as some new trails they were building. Sam's reputed to be a heck of an athlete. He's young and strong, we're…well, not as young or strong. But, we were lucky, as all of the riders were more excited about showing us the trails than they were about hurting us. With good reason, too; they've built some of the loveliest trails we've ever ridden.
As with the Kingdom Trails and Bromont, "flow" was the keyword; they had paid remarkable attention to smooth entries to bridges, nice transitions, switchbacks that could be ridden on the inside line or outside. Susan was able to relax a little, and the improvement in her riding was remarkable by the time we left; it helped that Elisa joined us partway through, and lent her knowledge of the trails to Susan. The Trapp Family Lodge offers special MTB classes designed just for women, but unfortunately, we weren't there at the right time for Susan to take one…we'll just have to go back!  I was plenty challenged as well, particularly when we left Trapp property and did the "Pipeline Trail," a downhill toward the village of Stowe that's just loaded with fast switchbacks. But, as with the other trails, it was well enough designed that riding back up it, which strenuous, was just as much fun.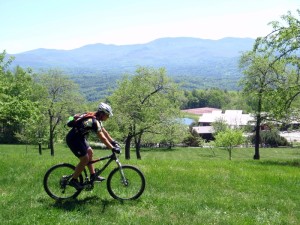 With the hard-core riding out of the way with, we took some time to ride some of the more relaxed trails. Wandering through woods and fields, these are suitable for real beginners, and provide some of the best views available at the resort. A gorgeous late spring day, beautiful scenery, and, of course, a picnic lunch, with more riding afterwards; truly, a great way to enjoy the area. But, the fun didn't end there. This WAS vacation, after all, and riding bikes in the hot sun is work. Thirsty work, at that. However, it happens that  the Trapp Family Lodge had recently opened their own brewery; how convenient is THAT? A crisp, fresh lager, sitting on the deck of the brewpub, looking at mountains and watching other bikers who were still out in the hot sun…that's real vacation at its best.
Alas, all good things must come to an end. We headed home from the trip, with much learned. First, the main goal had been attained; Susan had relaxed, let the strain of all of that studying go…hard physical exercise, good food & wine, and lots of fun had performed their magic on her. Second, we'd tested new trails and found them good; while the Kingdom Trails still are king, the trails at Bromont and Trapp Family Lodge are serious contenders for the throne. Third, we'd been able to enjoy the beauty of the scenery as we traveled around the Eastern Townships and Vermont; there were so many moments, on the bikes and off, that we simply stopped and gazed at a mountain, a lake, a vineyard, flowers, whatever was near us. And fourth, we'd met so many wonderful people; our hosts at the inns, Phil & Marie who graciously gave up their Saturday to show us the mountain, Sam & Elisa who had such enthusiasm for what they were working on and building, and many more. The trails might bring us back…but the hospitality certainly will!