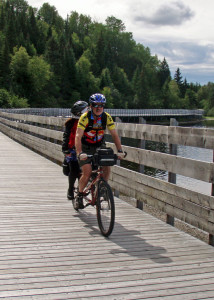 What do you feel when you are about to start a challenging outdoor adventure? Excitement and the thrill of anticipation? For me, the anticipation is definitely a giant piece of the pie. Otherwise, I surely wouldn't undertake the challenge.
But I also have doubts:  "Can I really do this?"… "Does my body have what it takes to perform in this way?"… and, more important: "Can I do this without whining?!"
I bring this up because my husband Tim (Founder and Executive Editor of EasternSlopes.com) and I are heading out for another great adventure. This time it's 5 days on our tandem bicycle cycling inn-to-inn along the Véloroute des Bleuets around Lac St. Jean,  in the Saguenay/Lac St. Jean region two hours north of Quebec City. Tim has made all the arrangements including having our luggage transferred each night by a baggage service so we can ride with a lighter bike.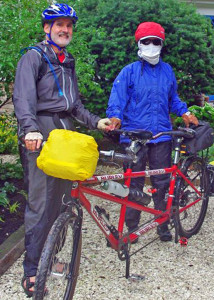 It seems that any time we take a trip with only our tandem for transportation, we're rewarded with torrential downpours. Check out Tim's story on our adventures in Vermont, Nova Scotia and Martha's Vineyard and you'll get the idea. If you're using your bike for transportation, and it rains, you have no other options. Regardless of a minor detail like a monsoon, you have to suck it up and get yourself to the next inn.
Besides, you might be surprised to hear this, but cycling in a downpour can actually be fun. When we ride in the rain, our shrieks of laughter can be heard for miles every time a huge truck goes by. Can you picture it? It sure makes you grateful for the hot shower at the end of the day!
This trip we'll be riding 30-40 miles per day.  If it were all flat, that would be no problem. But if you ride in New England or Canada, you already know  that, with the Cape Cod Rail Trail as a major exception, flat cycling terrain seems like an elusive dream. If you are aware of a great bike trail that's pretty flat, PLEASE write to me. Hills on a tandem are brutal. All of this is not an issue for Tim. I'm the weak link here (sigh).
The Véloroute website entices you with these words: "The Véloroute looped circuit offers an unrivalled cycling experience perfectly suited to the needs of every bike touring enthusiast!" For me this has been the "excitement and looking forward to the thrill" part. I'm still sitting at home on my couch. You can join me on each leg of the trip. Hopefully we never get to the "whining" part. You can also read the Captain's side of this ride.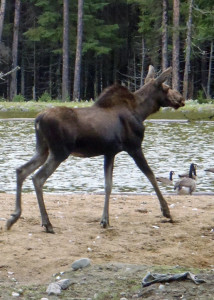 The biggest events of the 8-hour drive were seeing two separate moose. One was a youngster, jogging across the road in northern New Hampshire. The other was a wise old cow, just standing by the highway in Quebec gazing at the passing stream of Labor Day traffic. We also saw a deer, but being from New Hampshire, that was old news to us.
Our destination was the town of Alma, two hours north of Quebec City. After our GPS did a bit of dancing around at the end, we arrived at the newly renovated Hôtel Universel just in time for a nap, hot tub and a fabulous dinner. This was a typical meal in Quebec, where each course comes out slowly, allowing plenty of time to savor each bite, taste each other's food and laugh…a lot.
Who knew turnip potage (soup) with a bit of honey could taste so wonderful? Tim had the striped bass in a chili-coconut rub with a light teriyaki sauce. I splurged on filet mignon in lemon grass sauce, with baby vegetables. Everything was perfectly prepared, with each plate also a feast for the eyes. Yum!
Good-bye Suburu! Tomorrow we get on the bike and the real work starts.
Cycling the Veloroute des Bleuets: Day Two, It's Flat – What A Relief!
This seems as good a time as any to explain the job descriptions on a tandem bike. If you are experienced with tandems, you already know this part. But for anyone who's thinking about trying tandem cycling (a real plus for 2 cyclists with mismatched abilities) or if you're just an interested observer, here's my take on it.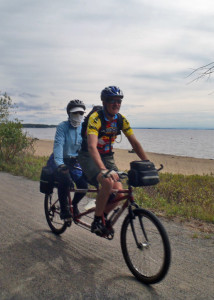 The person in front is the Captain. The Captain's job is to steer, shift, pedal hard and refrain from hitting any cars, curbs, buildings or people. The Captain is also known to make comments to the person on the back of the bike, using phrases such as, "I need more (pedaling power) from you!" or "Why are you fidgeting around?"
The person on the back of the bike is the Stoker (that would be me). The Stoker's job is to check for traffic and communicate to the Captain, signal the turns using standard hand signals and most importantly, pedal. The Stoker can be heard making comments such as, "I AM pedaling hard." or "I'm not fidgeting, I'm taking off my jacket."
The Stoker also has some critical ancillary activities. These include, but are not limited to, checking and critiquing flower gardens, spotting eagles, commenting on beautiful houses and looking in shop windows.
So now you've had the tutorial on the responsibilities. Here's how our first day on the Véloroute went:
Nothing steep! Hooray! Most of it was flat, with some rolling hills and just a couple of minor "challenging" spots. The route is so well marked, with big bicycles painted in white on the road and signs at every intersection so you can't possibly lose your way. Best of all, I had zero inclination to whine. How can you whine when life is so wonderful? What a perfect day!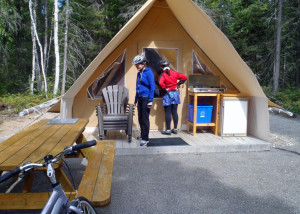 This was our longest day: 63 kilometers (about 39 miles). The Véloroute des Bleuets has a wide variety of things to see as you pedal along. You ride by beautiful fields with rolled hay, expansive plots of low-bush blueberries, lush wooded trails by the side of the Lake, and a park (Parc national de la Pointe Taillon) with campsites, a gorgeous beach, tents for rent that have so many amenities you won't believe you're camping, picnic tables everywhere and incredible views.
Much of the Véloroute is a dedicated bike path that meanders through charming residential neighborhoods or wooded trails along the water and some is a wide shoulder on moderate thoroughfares. (You'll never feel threatened by traffic.) There's so much variety to see and experience that you don't actually want the day's ride to end.
Lysane Fortin, a Véloroute representative, accompanied us on our journey today. She had an interesting time trying to keep up with the double horsepower and single wind resistance, of a tandem. She is a delightful young woman and it was great having her with us. She's not accustomed to riding more than 2 hours per day. She'll feel it tomorrow!
We arrived at our B&B, Aubergite au petit Bonheur (aupetitbonheur@sympatico.ca) in Peribonka, in plenty of time to relax before a sumptuous dinner, cooked by our innkeeper, Marie Boily Thierry. Her clientele is 80% cyclists. Since we're here off-season, the beautiful house that sleeps twelve is ours alone.
Marie provided a crusty sense of humor, a cheery bright yellow bedroom with bath & sitting room…..a wonderful place to rest after a long ride. And lest I forget, she also supplied the best apple crumble and blueberry pie that ever followed a generous and delicious dinner! There's no restaurant in the town of Peribonka so Marie provides the only meal you'll find. You certainly will not be sorry about that!
Cycling the Veloroute des Bleuets: Day Three, And The Rains Came!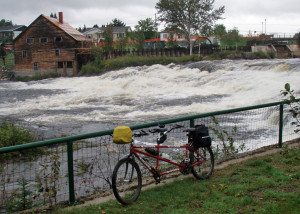 Am I allowed to say, "I told you so"? I'm sitting up in bed at 6:45 a.m. waiting anxiously for our 8 a.m. breakfast and listening to….you guessed it….a torrential downpour!
Any inn-to-inn cyclist must be prepared for this. It can and will happen. First you need to have your attitude in check. You don't pout…this is what is. Your best bet is to look at the bright (no pun intended) side. Once a big truck goes by and sprays you and your bike shoes become succulent sponges, you can't get any wetter. Prepare to laugh every time it happens again.
Next, you need to have rain gear. Warm clothing, a Gortex jacket and rain pants are absolute essentials, as are a helmet cover and gloves. This won't keep you bone dry, but you'll be glad you have these items.  We've talked of getting some type of covering for our bike shoes, a wonderful thought…too bad it hasn't yet come to fruition.
And last, be happy you have no car with you. If you did, it would be so easy to bag it and waste the day reading a book or playing games on your computer (You can do that at home!), wailing about your bad luck that it rained on your vacation. No moaning and groaning! We're looking for adventure, right? More later. Breakfast awaits . . . .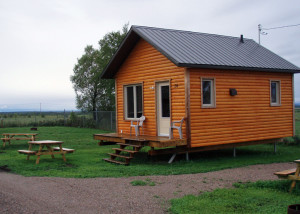 Later . . .
The 53 kilometers (33 miles) today felt longer than the 63 yesterday because it did rain – a lot. And as predicted, we laughed it off and kept pedaling with just one short stop in the tiny village of Sainte-Jeanne-D'Arc. When you have no car, you just go!
We arrived that afternoon in the town of Albanel totally spent, with ice-cold toes and were delighted to find that our room for the night, a "chalet" in the municipal campground, was beyond our wildest expectations. It was a brand new little house about the size of a one-bedroom apartment. We were most interested in the heat and hot water at first, but the full kitchen and the toasted tuna sandwiches made a good thing even better. We had zero intention of going out in the rain again that day. But why bother? We had every convenience we needed.
Cycling the Veloroute des Bleuets, Day Four, Wild Animals Roam Free!
Today's ride (36 kilometers, 22 miles) was a breeze. Cloudy day but no rain, relatively flat terrain and the tandem flew! This got us to Saint Felicien in plenty of time to spend 4 hours at the amazing Zoo Sauvage.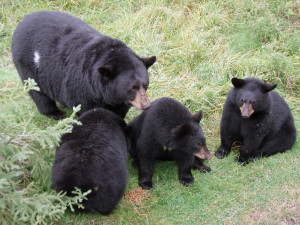 Riding through the natural setting in a caged "train" while wild animals roamed free, almost within touching distance, was truly a unique experience. If you've been to other zoos and think you've seen it all, think again. They describe the Zoo Sauvage as one where "the people are caged and the animals roam free". If there's any way you can visit this incredibly unique zoo, do it.
A word about the language. It's helpful if you have at least a tiny bit of French. My one year of high school French (whatever possessed me to think I needed three years of Latin?!) served me well, even though it was a hundred years ago. I was able to read some signs and communicate in a very basic manner.
One funny episode was when we stopped and asked for directions. I asked where the zoo was ("Ou est le Zoo Sauvage?") but understanding the answer given in rapid-fire French was way beyond my ability. Hand signals worked well in this instance. We all had a good laugh about that!
There's something about having to navigate in a different language (by whatever means you can find) that makes the trip so much more fascinating. Between the two of us, we manage somehow. If the opportunity presented itself to have all of these wonderful adventures, with the same gorgeous setting, in an English-speaking environment, I'd say, "No way!" The language and the culture are an integral part of this experience. If you're the type of person who likes adventure and a manageable challenge, don't worry about not speaking French.
Our hotel, Hôtel du Jardin de Saint-Félicien, provided a spacious room complete with sitting area, even a refrigerator for the hard boiled eggs Tim had prepared at the chalet this morning.
Dinner at the hotel was another culinary experience focused on local cuisine. I had the sautéed walleye and Tim had the braised sausage and pork. The ending indulgence for both of us was blueberry pie (after all, this is the Véloroute des Bleuets so how could we refrain from sampling the local specialty?) with vanilla ice cream (of course!).
Cycling the Veloroute des Bleuets: Day Five, Taller Than Niagara Falls!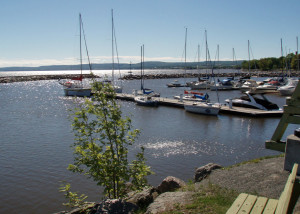 The lake (lac Saint-Jean) was our constant companion today as we meandered (53 kilometers, 33 miles) through charming neighborhoods in Saint Prime and the Native community of Mashteuiatsh with a museum that was still closed as we pedaled by early in the morning. Needless to say, the views here are breath-taking and we really enjoyed them and the crisp, sunny day!
The ride was easy, except for one monster of a hill. In the past we would have gotten off and walked (due to my wimpiness), but somehow "we" have progressed beyond needing to do that. This must have something to do with the previously mentioned "no whining" decision.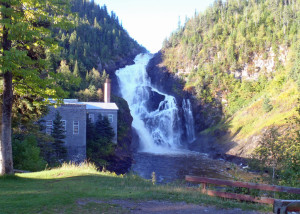 Our destination was the village of Val-Jalbert, where we stayed in one of the newly renovated rooms above a 1920's general store. Val-Jalbert was once a company town, built and opened in the early 1900's. In 1927 the pulp mill that fueled the village was no longer financially viable and the village was abandoned. After 19 million dollars of investment to preserve it, the village is a huge source of pride for the locals and is now open to the public.
The highlight here for me was a magnificent waterfall the guide told us is 72 meters (236 feet), which is taller than Niagara Falls. A mesmerizing sight, not to be missed! At this moment Tim is out climbing the 754 steps to the top of it (and then he has to walk down all of them! Notice I'm resting by chatting with you?). You can also take a cable car to the top for a minimal charge.
Our room above the general store is a delightful mix of old and new…in keeping with the 1900's theme (washbowl sink, walls and woodwork, all modestly white with no frills) but thoroughly modern in terms of comfort and aesthetics (an all-glass shower with several shower heads, a big comfy bed with puffy white comforter).
Cycling the Veloroute des Bleuets: Day Six, A "WOW!"
Another perfect, crisp, sunny day. We're finally a bit tired after pedaling over 240 kilometers in the past days. We were SO ready to stop for lunch when the Microbrasserie du Lac St Jean in the town of Saint Gédéon appeared right alongside our route. The panini sandwiches soothed our hunger. If you ask for a taste of the beer, don't be surprised when they bring out four 6-oz glasses, each of a different kind. We tried them all, but with the road ahead of us, we didn't dare finish them.
Our stop for the night was at Dam-en-Terre, a resort featuring almost every 4-season outdoor activity you can name. September is the perfect time for foreigners to be here. Apparently, this resort has such a draw during the summer that it's booked solid with Canadians many months in advance.
We stayed in a lovely 3rd floor condo with an panoramic lake view, expansive windows and vaulted ceilings. We arrived just in time to shower, and rest a bit before dinner at the Rose et Basilic Restaurant in Alma. In this part of Quebec, if a restaurant is top notch, they call it "a WOW!" This definitely qualifies! Tim had the Indian curry chicken with red peppers and I had poached salmon that couldn't have been any fresher, in an eggplant sauce.
We slept really well this night, our muscles pleasantly humming from all the exercise. There's nothing like exercise to keep you feeling young, vibrant and able to eat magnificent French food without gaining weight. It will take a few days to calm our appetites down when we get home, but it was all worth it.
Au Revoir Véloroute des Bleuets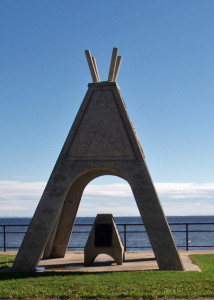 If you're a cyclist of any ability, great or miniscule, treat yourself to inn-to-inn cycling on the Véloroute des Bleuets. You will discover a strength and capability you never thought possible. If you're advanced, just choose inns that are further apart. If you're a novice, try moving short distances from inn-to-inn, or only do a small part of the Véloroute.
An especially nice part of the trip was having our luggage moved each night by the man we came to affectionately call "Monsieur Le-Baggage."  He was reliable and on time every day. It sure feels great to come in from a long day on the bike and be able to dress for dinner.  In this part of Quebec, you don't need to dress up to go out to the upscale restaurants, but if you're like me and want to, having your luggage moved so you have more options sure is sweet!
Julie Deschênes a representative from Tourisme Alma, Lac Saint-Jean told us her office can custom-tailor the length and difficulty of your trip to suit your needs and preferences.
Come do the Véloroute des Bleuets.  You'll experience a European flair at a relatively low cost, without getting on an airplane. You will move your body to keep yourself young, eat some wonderful food, view the breath-taking scenery and totally immerse yourself in a different culture. You will truly have traveled far. On the wall in my office hangs a plaque that says: "Life isn't about waiting out the storm.  It's about learning to dance in the rain."  What about you?  Are you dancing?