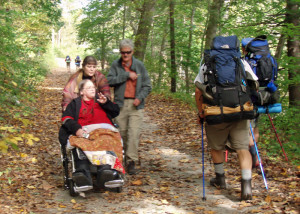 Last January, I received a long email from Peggy Knox, who reads my "Active Outdoors" column in the Waterbury (Connecticut) Republican-American. Her email said, in part:
"I am disabled and the kind of trips you talk about are completely out of the question for me. I'd give anything to be able to walk in the woods, but there is no more walking in the woods or any place else, as my ability to walk was taken from me by arthritis. Your column meant so much to me because there will never be an opportunity to go into the woods any more. Please continue to write about your adventures, so I can have the 'experience' of being in the woods once again."
Well, anyone who reads my columns knows I strongly believe that Active Outdoors adventures are NOT "completely out of the question" for anyone. I've been bicycling with blind people (one an 88-year old WWII veteran and Active Senior). I've also been skiing and biking (in the same day no less) with a couple of quadriplegics who kicked my butt. So I wrote back asking Peggy if she was willing to change her thinking and see what was possible. She said yes, and we started planning.
"Possible" doesn't mean "easy."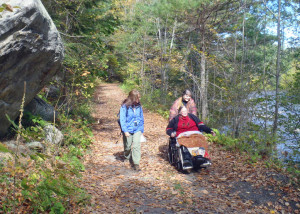 Peggy isn't a wheelchair athlete. She normally relies entirely on a power wheelchair, unstable on uneven ground. So she would have to use a traditional chair pushed by her Personal Care Aid, Dawn Towle (who was a cheerfully good sport about this off-the-wall adventure. Thanks, Dawn!). Marilyn and I would provide additional horsepower when asked.
Peggy also has life-threatening allergies, which meant she couldn't be out in the spring or summer without a respirator. So we chose October, an absolutely lovely time of year to be hiking in Connecticut.
The plan was to do the wheelchair accessible section of the Appalachian Trail in Falls Village. We hoped to be able to do as much as a mile of hiking. Mother Nature, however, had other plans. Torrential rains in preceding days left the ground soggy, the trail had eroded in places and high winds had brought down trees—including one across a bridge on the Accessible section of the trail. So we went looking for another place to hike.
Having fished the Housatonic River in this neighborhood, I remembered a short section where the AT follows an old gravel road along the river. We went looking, asked directions, eventually found it. Peggy got herself out of the car and into her chair and off we went.
It wasn't easy. The road was rough in spots and Peggy's chair (not designed for all-terrain use) seemed to find and stick in every little depression. Dawn pushed, I pushed as needed and we were soon out of sight of the paved road and parked cars.  Peggy was surrounded by woods again!
How far did we go? Far enough. This was an adventure measured in smiles, not miles. We all have to start wherever we are, go to where we can.
Read her story  below and see if you think  Peggy will ever forget her reintroduction to the Active Outdoors lifestyle. I know Marilyn and I won't. I hope Peggy continues to think outside thoughts and continues to explore new ways to get more active now that she knows it's possible.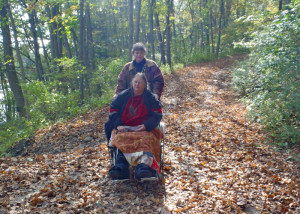 Making the Impossible Possible
By Peggy J. Knox
A couple of years ago, I began to read Tim Jones' weekly Active Outdoors column  in the Waterbury [CT] Republican-American. I had avoided Tim's column, because I thought getting "Active Outdoors" even to just take a walk was no longer possible for me; I've been in a wheelchair since 1998.
Tim's column took me back to when I would walk in the woods with my father, a farmer who knew the folk names of plants. I  especially remembered our walks in November and December, when we would pull up running pine vines to make wreaths to sell so our family could have Christmas.
As I became more and more disabled from arthritis, the memories, although painful at times, meant even more. Tim's writing would make the outdoors seem very real, as if I were there myself.  Sometimes I cried for what was and for what could never be again.
This past winter, I wrote Tim telling him how much his column meant, about my time in the woods with my father, and how it was all just a memory now, because of the wheelchair. Tim's response stunned me: Could he and his sweetheart, Marilyn, take me for a walk in the woods?  They could work around the wheelchair.  In fact, there is a wheelchair accessible trail in Falls Village, CT that was part of the Appalachian Trail and Tim wanted to explore it with me.  My response:  "Yes!"
Sunday, October 3rd, 2010 would be the day. More than a few of my friends questioned if it was such a good idea in general. Others questioned this particular weekend, because we had had several days of downpours and winds during the week that certainly would have an impact on how accessible the trail would be. I'd also had had two falls in the past six months that accelerated my inability to do even the simple tasks we all do every day. As far as I was concerned, nothing would get in my way. The night before, I was so excited, I couldn't sleep. I was the little kid on Christmas Eve who was sure she'd never be able to sleep, because Santa Claus was coming. I didn't sleep most of the night., but finally did just before dawn. I didn't wake up until 11:30 am and we had to be on the road by 12:30 if my personal care assistant, Dawn Towle, and I were going to meet Tim  and Marilyn in Falls Village by 1:30.
From the notes I kept  that day, you get a sense of my excitement: "Why did I tell Dawn to come at 12:30? Thank goodness she's early!  Where are my sunglasses? Respirator mask? Sweater? Better grab my fleece jacket just in case! Did I pack everything–water, snack, meds, a couple of grocery bags in case I see something I want to take home with me? Don't forget my lap quilt! Let's get out of here! "
Dawn, who remained calm during my anxious craziness,  finally had me on the ramp that leads from my apartment. I took in a deep  breath. It's really going to happen!  I apologized to Dawn for barking out orders to her. She told me it was ok. I said "We are really going to do this. Can you feel the magic?"  Dawn just laughed. For the first time in over 30 years,  40 really, I am going for a walk in the woods!
As we drove  to Falls Village, my excitement mounted. When we got to the Historical Society at 1:41, no one was there.  Did they leave when they didn't see us there?  However, within three minutes of our arrival, Tim and Marilyn arrived  with some bad news; the accessible trail was temporarily inaccessible, but he knew of someplace else we could try. However, that place wasn't a go either. So we stopped at Clark's Outdoor Shop on Route 7 in the Housatonic Meadows State Forest. Tim came out, and said there was a spot nearby, actually under Cornwall Bridge. Strange–it never occurred to me that we wouldn't find a trail we could use. Going under the bridge, past St. Bridget's Roman Catholic Church, and down a narrow road, and just a little past a farmhouse with a wire sculpture of a whale's back tail, the road ended and we were at the beginning of a trail leading into the woods.
Tim scouted ahead and came back with,  "It's a go!"  Before we left my home, I made sure, if it got too rough for Dawn to push my chair, that she would ask for help. Although he didn't know I had had that conversation with Dawn before we even left my house, Tim said the same thing to her as she was helping me from the car into my wheelchair.
When I  saw the path, I  knew it wasn't going to be the walk in the park Tim hoped it would be. What is flat to people walking is not flat to wheelchair users. I felt confident, though, that with Dawn, Tim , and Marilyn that things would be handled safely. As soon as we entered the trail, my excitement and sense of wonder took over. The Housatonic River was high and muddy, with white caps where it flowed over rocks. It actually sounded angry.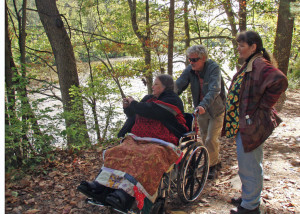 Even though the calendar said October, the weather had been very warm with a lot more  green showing in the leaves than color. There were still a lot of wildflowers blooming along the path. I had spotted a different kind of flower in full bloom, and mentioned it to the others. At first I thought it might be a bachelor button, but that didn't seem possible in the woods; Marilyn identified it a wild specimen. There were a lot of ferns, and dark moss growing on rock. Some of the rocks were huge, and one could see where the ice and water split them, yet the rock remained firmly attached above ground and who knows how far underground it went? The hillside  off the path reminded me of the woods behind our house  where we lived when I was growing up. I kept stopping to taking a deep breath. I don't think I stopped smiling all the time we were in there. In the meantime, Tim, who had taken over most of the pushing, kept saying my wheelchair had a mind of it's own. He dodged holes and stones going  from one side of the trail to another, being careful not to get too close to the river bank. He was learning a very important lesson–level and easy had a whole different meaning when pushing a wheelchair.
Farther along the path we came to a short, steep, hill where the path was eroded. I looked at Tim and said,  "I don't think so."  Tim started to apologize for not being able to go further, but I interrupted him. It may have only been a few steps  as far as he was concerned; it was deep woods for me. It had been 40 years since I had been that far, and I said "Don't forget!  I even thought this was impossible. It is terrific! "
I did choose a few things for my bag to take home: a pine cone; the bachelor button; some of the wildflowers; a fern; and some barberries that Tim said had probably grown from seeds birds had deposited there. Tim pointed out the number of different species of trees in a small area, while I thought of Joyce Kilmer's words,  "I think I shall never see, a poem lovely as a tree…"
As we made our way back, my passionate historian came out. I spotted a remnant of an old stone wall. Nearby, we found three stone foundations from what had to have been an eighteenth or nineteenth century farmstead. I kept musing out loud, "I wonder what the people who lived here looked like? I wonder what their every day life was like?" And to myself, "I wonder what happened to only have the foundations of the farm buildings left?"
When we got back to the car, Tim said there was another place he wanted to check out. I agreed to try, but only after we found a bathroom I could get into (we did). At another spot we parked while Tim did the scouting once again.  He came back, and said that, after his lesson about the difference between flat for people who walk on their own two feet, and flat for people in wheelchairs, he decided that it wasn't feasible. Once again he apologized. And once again, I told him he had nothing to apologize for–he promised a walk in the woods and that's what we had done. There is no way he could know just how much the day meant to me.
Tim always writes " Life isn't a spectator sport. Get outdoors and enjoy!" During our ride home, I asked Dawn if she had enjoyed the afternoon. She told me she really did, and then added if she hadn't had to accompany me, she wouldn't have thought about going outside. There was housework, and laundry that needed doing. Our trip let her rethink doing all work and no play. I do hope there will be another opportunity to spend time with Tim and his sweetheart in the outdoors, but if not with them, I plan to find others who might be willing to help me into the woods or meadows, or to a picnic area as I make new memories to add to those days in the woods with Daddy; all thanks to Marilyn and Tim who were willing to give it a chance!
A couple of weeks later . . .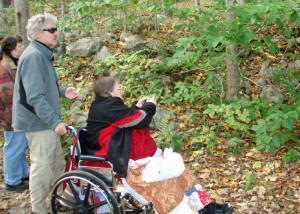 I received this note from Peggy:
"A friend and I spend 2 hours a month together to do whatever I want. I'm hoping to  get out with her and Dawn tomorrow or  Monday for a walk on one of the bike trails that are springing up around here. There's one between Torrington and Winsted . . ."
That sounds a little different than the woman who initially said she would never be able to enjoy the outdoors again, doesn't it? The funny thing is, Marilyn and I had a wonderful time hiking with Peggy. Her joy was infectious, and, as much as we already enjoy hiking, we enjoyed it even more on this trek.
A Challenge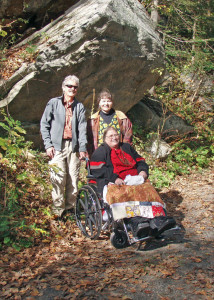 OK, this trek gave me a new appreciation for the particular difficulties of wheelchair hiking, especially with someone who had essentially "given up" on the idea of ever being active outdoors. We didn't have the right equipment or ideal circumstances, but we managed to do it anyway, and thereby proved not only that it could be done, but also that it was worth doing!
So I'm throwing down the gauntlet here. Peggy changed her way of thinking, had a wonderful day outdoors and appears to ready to do it again using her own resources. What she thought wasn't possible, was.  In her case, all it took was a little creative thinking and flexibility on her part, and a couple of people willing to push. Of course, it helped that her goal was as simple as a walk in the woods.
If you live here in the northeast and have any kind of disability or even multiple disabilities, whether it's an illness, injury, age-related infirmity, whatever,  that's keeping you from being active outdoors, send me an email at timjones@easternslopes.com and let's talk about it.
I'm not guaranteeing anything—no doubt there are some problems that are just too great to overcome. But, frankly, I haven't seen one yet. Once someone decides they want to try, they usually succeed. If you've been out with  blind bike riders, and quadriplegic skiers and cyclists, you begin to get the sense that almost anything is possible.
Chances are, if we put our minds to it, we can find some way to get you enjoying the outdoors again. I'm willing to try if you are
!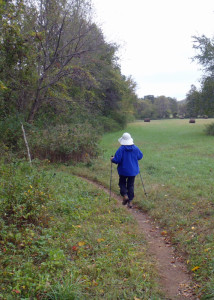 More Connecticut Hiking
Even if you aren't challenged in any way, northwestern Connecticut is simply a wonderful place to be active outdoors in the fall. This is a beautiful corner of the state, especially in October; weekends are busy so plan ahead or go mid-week.
Accordingly, Marilyn and I planned a getaway to the Litchfield Hills. We stayed at the Mountain View Inn, a Victorian delight in Norfolk. The hosts, Dean and Jean Marie Johnson and son Chris and miniature poodle Nicole are about as welcoming as it's possible to be, and you can feel your stress draining away the instant you walk in the door. By the way, there's a superb restaurant/music venue, the Infinity Bistro just a short stroll away. Trust me when I tell you the food and service were superb. I doubt you could get a better meal in New York City for three times the price. We ate there on Sunday night, were disappointed that they were closed on Sunday (though we found Mizza's Pizza down the road, which had simply wonderful Italian entrees.)
The next day it was raining off and on, but Marilyn and I decided to go back to the same section and hike some of what we couldn't reach the day before. For us, used to hiking in the White and Green Mountains, this section of the trail seemed easy, flat and fast, and we covered many miles in no time. At one point we surprised a pair of young deer bedded in the middle of a hayfield. We smiled as we watched them bound off, tails flying.
There were other hikes and walks all around us—including many more miles on the AT than we did. 
We could easily have spent a week exploring just the wonderful walking/hiking options here.
Coincidentally, just as I was leaving for this trip, I received an email from a reader who was hiking all 53.7 miles of the AT in Connecticut, staying at inns along the way. Sounds like fun, stay tuned for more details.
This part of Connecticut also has state parks and state forests galore, so allow yourself plenty of time to explore.