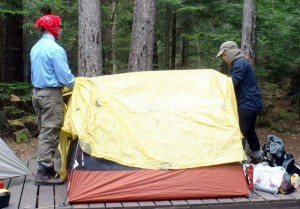 They say only two things in life are inevitable: death and taxes. We'd add a third…bugs. Here in the East, we have water; while Western hikers may be jealous of us not having to carry every precious drop, it creates great breeding grounds for a myriad of species of creeping, crawling, and flying creatures that just love our blood for food. And, while most of them are merely painful and irritating, others are dangerous. Lyme disease, Eastern equine encephalitis, and West Nile disease are probably the three best known (and most dangerous) of the bug-borne illnesses that are increasingly common.
The usual remedies are pretty well known. Long pants, long sleeves, hats, mesh headnets, DEET, citronella, geranium oil, etc…mostly uncomfortable or sticky and nasty. The solution is better than the problem, but not by all that much. Is there anything else out there, other than staying at home (which is often no bargain; we've got plenty of mosquitoes in the back yard), that will alleviate the bug problem and give us "creature comfort"?
For a number of years, Insect Shield has been making a treatment that is applied to fabrics from various companies that then turn them into bug-repellent clothing and accessories. You probably heard, as we did, that early versions didn't last (it was rated at effective for 25 washings, but many claimed it didn't last THAT long), and quickly turned into expensive pieces of general clothing that the bugs bit through or around the same way they did with everything else. Remember how poorly early Gore Tex performed? Same thing with Insect Shield. As of 2006, Insect Shield had changed their manufacturing, the EPA re-tested their products, and found that effectiveness lasted for at least 70 washings; in 2008 products with the new technology came on the market.
That's a serious improvement…if it really works. Laboratories are great, but the field is where we all live, so…testing time for the EasternSlopes.com crew!
We asked two suppliers, ExOfficio and L.L. Bean, for samples of their Insect Shield products. EO supplied us with shirts, bandanas, and pants; Bean coughed up shirts and socks. And, we put them through the wringer. We tested them over and against blackflies, mosquitoes, ticks, gnats. And, we compared  IS treated clothing directly against standard bug-avoidance strategies– bug dope (DEET based, as well as some natural oil based products), plus long-sleeved clothing and long pants.
What did we find out?
Before getting into the effectiveness of the product, let's deal with safety. Permethrin is a by-product of crysanthemums, with very low toxicity for humans (the EPA classifies it as safer than DEET, which itself is a whole lot safer than getting bitten by a deer tick carrying Lyme disease). It is toxic to fish and cats, but that's generally for use as a pesticide, in much larger quantities. But, just in case, don't go swimming in it and don't leave it around for your cat to make a nest of. In the category of risks you can take, this appears to be about as low on the list as you can get.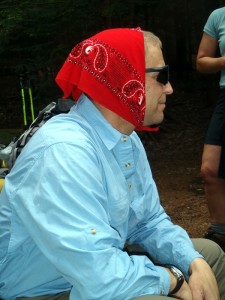 The first thing we tested is whether the technology works or not, period, regardless of longevity, comfort, or other concerns. We are unanimous: YES, IT WORKS! We tried every way we could to see if we were being fooled, over and over, but there wasn't any question…when there were bugs around and we wore IS products, they bugged us less. Our reactions ranged from pleased to incredulous; there were times that the effect was so dramatic, we almost didn't believe it. We went to campsites in May that we normally wouldn't even dare to get near until July for fear of being carried away by the little biters, and were able to enjoy ourselves. Were we convinced? After a month of testing, we doubt that any of us went out the rest of the summer without at least one Insect Shield item with us, regardless of what else we were carrying and testing. It's that good.
Can we confirm the claims of 70 or more washings? No. We're crazy, but not crazy enough to run an item through a washing machine 70 times just to see what happens. We did have items that got washed  up to 20 times and still worked. The 70-washings claim has yet to be proved, but at this point we're willing to say that, even if they didn't perform for the full 70, we'd feel we'd gotten good value.
As we tested its efficacy, we had a chance to address a second concern. It's a bug repellent…will the clothes stink, and will they make US stink (more than we usually do after a hot day's hiking, anyway). Good news: the clothing has no perceptible odor when it's clean.  In all conditions, including sopping wet with sweat, we were unable to smell any chemical odors. Certainly that's better than clothes soaked with DEET-based repellents.  But, in this case, there's NO chemical smell at all, though when you've sweated in it awhile it gets just as ripe as non-IS clothing.
Our third concern was what the fabrics themselves would be like. We found in the past that special treatments can have decidedly negative characteristics, and we were VERY concerned that on a hot summer day, we'd be stuck in a thick, bulky, heavy, HOT shirt in order to keep the bugs at bay. Again, we were pleasantly surprised. The male testers passed an Ex Officio Baja
shirt back and forth over the summer; the material was light, breathed well, and thanks to some excellent detailing by ExOfficio not only worked well but looked good  to use not just for hiking but for outdoor parties and concerts in the park. The women used an L.L. Bean Kennebec shirt, and had identical comments. Yes, in the heat of summer we'd rather have had a short-sleeved, ultralight wicking shirt, but we found that when the bugs came out, it was a relatively easy tradeoff: bugbites and itching vs. a (very) little extra sweat. We'll sweat, thanks.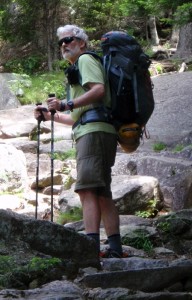 Socks were an area that particularly excited us, especially since this was forecast to be a supremely bad year for ticks. The L.L. Bean Cresta socks worked their magic; while wearing them, we found NO ticks crawling up our legs. The socks were beautifully made of a merino wool blend and as comfortable as any sock; our only quibble is that they're a quite thick; we'd much prefer thinner socks inside summer boots.  But, at $26 for 2 pair, they're a bargain; you could easily pay that much for quality wool socks without the Insect Shield protection. ExOfficio has several different models of sock; while didn't test those, we'd recommend that anyone who needs a thinner sock look into them.
Pants…Tim took the lead on that, testing the Ex Officio Insect Shield Convertibles
. No quibbles there; the product details were as good as on any hiking pants he has ever had. Even with the legs zipped off, the IS effect seemed to keep bugs away from his calves fairly well, particularly when used in combination with the socks; apparently, while we can't smell the permethrin at work, the bugs can.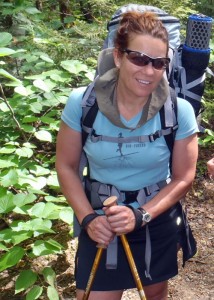 Next, we tried hats. Keeping bugs off our faces and out of our hair is always a major pain in the neck (often literally!). We tried two ExOfficio hats, the Ex Officio Insect Shield with Cape
(in, God help us, "cigar" color; luckily, the smell was better), and the Breez'r Cape. Of all the Insect Shield products that we tried, these were the most controversial; wearing hats in hot summer weather is just plain miserable. EO has done their best to get some ventilation, but ultimately we found that when it got really hot, some of us would rather deal with stinky ol' bug dope. Cooler weather?  They were fantastic (and yes, you can tuck or tie the cape up to get it out of the way). The best part is that the hat was effective at keeping bugs away from the face without covering it; not only did it cut down on landings and biting, it also dramatically reduced the "cloud" effect of dozens of buzzing insects in your field of view.
Now, you'd think that that bonus effect would have helped overcome our heat-induced issues with the hat, and it would have; let's face it, a significant part of the problem with bugs is the irritation of them just being in the way. But, we found another solution that astonished us in its simplicity and effectiveness, and that's the Ex Officio Bugsaway Paisley Bandana. David, in particular, took to it like a duck to water, wearing it as a headband or often as a babushka (causing a number of observers to comment that he's a singularly unattractive woman). We all found that when the bugs weren't too bad, having one in our pocket and just throwing it over our head would cause the little beasties to leave us alone;  at night it made for bug-free trips to the "facilities". A couple of times at the peak of blackfly season (when it's still generally cool out), using the hat plus the bandana over our lower faces made us look like bank robbers, but kept us totally bug-free.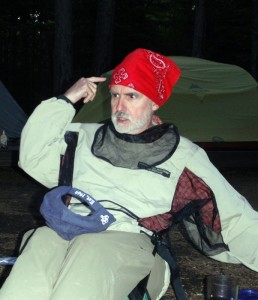 There's a huge range Insect Shield products out there: sleeping bag liners to camp chairs. While we can't endorse them without actual testing, we CAN say that we have yet to try an IS  treated product that doesn't have some value in making the bugs less obnoxious; we'd be willing to give pretty much anything a try (particularly from a retailer that is good about returns). It's not often that we can so wholeheartedly endorse a range of products, but the fact is that in our experience Insect Shield technology works, and they've been careful to partner with some excellent companies that produce gear that's well-built and functional. For information on other companies that make IS products, go to the partners section of their website; if you can't find a company out of that group that makes something you like, we'll be surprised! And, we'll see you out on the trails when other people are staying home because the bugs are too bad…yes, you can enjoy hiking during blackfly season!
Insect Shield Update, September 09, 2015
More than 5 years after we started our initial testing, we are still using some of the same Insect Shield products from that original test, and after many wearings and washings they still work. Case in point: EasternSlopes.com editors David Shedd and Tim Jones, spent an early-September night camped on an island along the coast of Maine, where the IS clothing helped keep some particularly vicious salt-marsh mosquitoes at bay.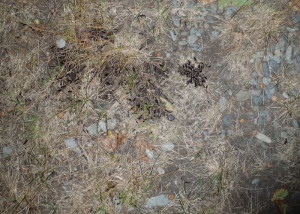 More interesting, however was the fact that, once the sun went down, the campsite was overrun by thousands upon thousands of very large, very creepy European earwigs [note the bit about population explosions in periods of hot, humid weather]. Fresh local sweetcorn had been on the dinner menu and the corncobs set on the ground (to be carried off the island with other trash in the morning) were literally covered with a writhing mass of black earwigs. Ditto for a spot where a little white wine had spilled.
Elsewhere around the campsite, you couldn't step without stepping on several earwigs. It was positively eerie in an Alfred Hitchcock movie sort of way. Except, thankfully, the earwigs had no interest at all in humans other than as something else to crawl on while they explored for food. Had they attacked with purpose, we'd have been forced to retreat to the ocean. Instead, not surprisingly, we retreated instead to our carefully-checked bug proof solo tents shortly after dark.
There were still a few earwigs around as we packed up camp in the early morning light. Upon arriving home, Tim decided to carefully check every piece of clothing and gear before taking it into the house. He found two hitchhikers in his clothing dry bag. One, which had hidden in the sleeve of his paddling jacket, tried to quickly scuttle away (the ugly little buggers are fast!) but was unceremoniously squashed.
The second earwig, however, had chosen to hide in an Insect Shield shirt. After several hours in direct contact with the permethrin-treated shirt, this earwig was alive—just barely. When it hit the ground it could only wriggle feebly until mercifully dispatched.
Now this is purely anecdotal, and based on only one observation, so we aren't drawing any general conclusions. But the difference in behavior between the two insects couldn't have been more pronounced and we can't help but wonder if the Insect Shield clothing was the factor, even though the shirt is several years old, well worn and washed many times. We'd love to hear of any similar experiences you might have had with IS clothing; please email us or share them in the comments section below.