As a former Mount Washington Valley local and a longtime Wildcat Mountain enthusiast, I have to admit that, like others who love this mountain, I felt some trepidation regarding the the acquisition of our beloved Cat by multi-resort conglomerate Peak Resorts. Would this change of ownership detract from Wildcat's essence, grit and originality? To see for ourselves, my ski partner Raelyn and I  traveled to Wildcat for some early season turns. We went with an open mind and a plan to pick the brain of Wildcat's marketing director, Thomas Prindle.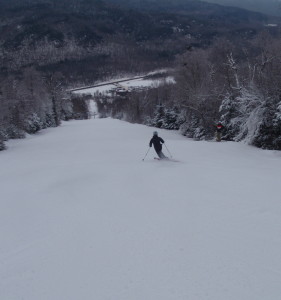 Entering the lodge we realized immediately that this was still the same Wildcat we knew from years past: simple, friendly, beautiful . . . just as we had left it. I wasn't sure if Thomas would have time to get outside, but being a true ski fanatic himself, he jumped at the chance to take a few runs, and talk about the acquisition and what it would mean to Wildcat. After strapping on the boards, we headed to the high speed summit quad, and under a bright blue sky had a chance to discuss Wildcat's future.
Thomas was clearly excited about the possibilities and potential for improvement under the new management team, and explained that, while Peak Resorts is a conglomerate, they are still very much a "family run" business, with several generations of the family involved in the ski industry. According to Thomas, Peak's philosophy for Wildcat this year would be to take a "wait and see approach" before deciding on any potential improvements. That was music to our ears, as it meant that they were willing to listen to the Wildcat community before making any changes. In many acquisitions this is simply not the case.
The first run from the summit was classic Wildcat. After the very fast ride to the top aboard the summit quad, you are immediately greeted by some of the best views in the Northeast(stunning all year 'round, as was found out at the Wildman Biathlon). If you have never skied Wildcat, you need to come for the views alone. The trail system at Wildcat is fantastic, and can be fun for all levels of skiers. Beginners to experts, anyone can find top to bottom runs that are sure to please. The mountain was still in early- season form. as the snow guns have been busy laying down a base. It was clear that 8 to 10 inches of natural snow  will quickly open most of the terrain. All in all conditions were very nice for mid December, and by Christmas week after the Sunday/Monday storm, Wildcat should be excellent!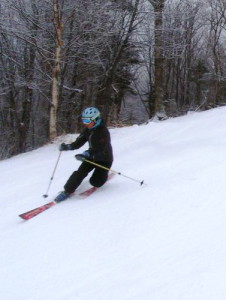 On our second lift ride, we asked Thomas about some of the ski deals that Wildcat had run in the past. While many of these have ceased to exist, (remember centimeter days?!?) there are some great opportunities for bargains. Check out  the "Vertical Value" card. This card, which can be purchased for $79, provides the card holder with significant discounts. If you ski on a holiday, you receive 10% off the lift ticket price; on a non-holiday weekend, 25% off; and a non- holiday midweek ticket can be purchased for 50% of retail. This is a great deal. Forget waiting for "Two For One Wednesdays"; now Wildcat is half price, every midweek day.
Thomas also explained perhaps one of the most exciting benefits of the acquisition by Peak Resorts, namely the ability to use your lift ticket at either Attitash or Wildcat. Or both . . .
To test this out, we left at lunch and, 25 minutes later, were at the Attitash ticket window.  For this season it's necessary to go to the lodge and exchange tickets. The Attitash personnel were very pleasant, and quickly exchanged our Wildcat tickets without a hitch. Next year the bar code readers will be able to recognize tickets purchased at either mountain, making the process seamless.
While Wildcat feels remote and basic, Attitash is long on creature comforts. The lodge at Attitash is very modern with food/drink aplenty in and around the resort. The skiing is pretty solid as well. Not having the elevation advantage of Wildcat, Attitash has  an incredible snowmaking system, and is able to blanket the mountain in short order when the cold weather hits.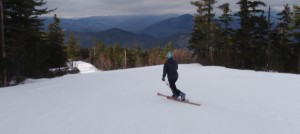 We headed up the summit chair. While the trails from the top had some firm snow in the typical high traffic areas, softer snow was abundant along the edges. On this day, Attitash had clearly suffered a bit from the warm up of the previous weeks, but the snow makers were armed and ready, and the forecast for a cold week ahead, and a blizzard after Christmas looked to change their fortunes quickly, just in time for the holiday week.
Attitash has a little bit of everything for the family of skiers. Wide cruising runs, steep, turny, and narrow trails for the experts, and by mid season some really top notch bump skiing off Bear Peak. What Attitash does probably better than anyone in the valley is its terrain park. Jumpers, grinders and jibbers flock to Attitash to test their mettle, and some were  getting it done this December day. If you want to see some good young(no fear!) skiers and boarders,hang around the park at Attitash for a few minutes. These kids can fly.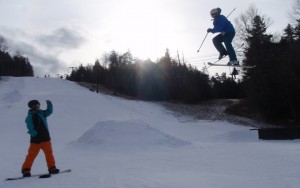 While our quads could not support too many Telemark turns on our first day of the season, we did make some worthy runs, and are looking forward to our next day at Attitash.
Overall I was very happy with the pre-Christmas conditions at both Wildcat and Attitash. Personally, I'm also looking forward to watching Wildcat develop under new management and with the financial backing the mountain has long deserved.