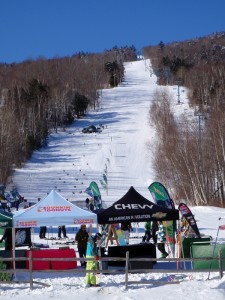 Rumford, Maine, is perhaps the least likely spot you'd expect to find a world-class cross-country ski venue.  A mill town, Rumford is decidedly "gritty" and blue collar; there's none of the high-end food & lodging that surrounds the Jackson XC venue in NH.  But…Rumford happens to be home to the Black Mountain of Maine ski area.  Black Mountain is generally known more as a downhill ski area, but it also boasts an extensive network of cross country trails.  And, it's the home of  the Chisholm Ski Club, which has been around for over a century.  Chisholm has produced Olympians and hosted world championships in the past, as well as numerous other events.
That history alone would make it possible for Black Mountain to be a magnet for quality XC events, but their acquisition in 2003 by the Maine Winter Sports Center guaranteed it.  MWSC's goal is to revitalize rural communities through the skiing lifestyle; it seems inevitable that they would complete an upgrade of the facilities last year, and host the 2011 US Cross Country Nationals in January, and hopes to bring the event back to Black Mountain for 2012.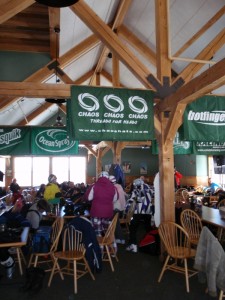 When the weather's really cold, XC tends to appeal more than alpine; no time freezing up on a lift!  So, given the arctic front that moved into the area over the weekend, we were ready to get in some nice, warming exercise.  Early morning, off to Black Mountain.  On the way in, we found the Route 2 Diner on, yes, Route 2 in Rumford (1359 Route 2, if you're aiming there by GPS).  As always, we used the anticipation of morning of exercise as an excuse to "fuel" (read: "gorge") ourselves on truly outstanding food.  We've tried about every diner we've run across in the name of scientific experimentation, and can't honestly say we've found a better one than this (one caveat: the coffee is mediocre and the homefries only lukewarm).  The menu is about as varied as we've ever seen; perhaps XC isn't the only high end thing in the area.
Arriving at Black Mountain, we were greeted by a lot of activity; we'd chosen a day when they were hosting the Mountain Dew Vertical Challenge.  Music was playing, food and drinks were being passed out, and there was a thoroughly festive atmosphere.  So much for our idea of a sleepy rural area!  We went into the base lodge, a lovely building, got our tickets, and headed out to get our exercise before we got hooked into eating anything more.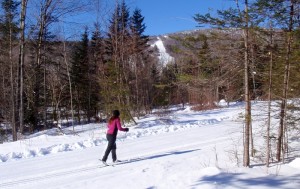 Turns out we couldn't have picked a better day.  While cold, it was stunningly clear, and the cold meant fewer skiers out on freshly groomed trails.  The soft snow was ideal, given that Susan was nursing a kneecap with a hairline fracture (thanks to a skating accident at the Hulbert Center's Winter Skills Day).  With a justifiable fear of falling, she found that the gentle terrain and beautifully manicured trails near the lodge allowed her to relax and just plain have fun.  And, frankly, she was the lucky one; she managed to avoid having to try the infamous "High School Hill."  That beast starts gradually, builds to a pitch that just allowed me to keep moving with a skating stride…and then, about 100 yards from the top, having sapped my energy, kicked it up a notch, becoming just short of ridiculously steep.  Forget skating; time for pure herringbone, and a lot of sweat, regardless of the near zero temperatures.  Painful, yes…but it's a gorgeous trail, and the downhill run on the back side made up for the pain.  At the bottom, Susan was waiting with a big grin on her face; she'd watched me climb, and appeared to have thoroughly enjoyed watching me get slower and slower and slower…
High School Hill isn't the only difficult section of the trails, though.  What we found was that the trails crisscross around the mountainside, allowing for some smooth cruising and some fast up-and-downs.  The hallmark of the trails is that virtually all of them run through open hardwoods; on a blue-sky day like we had, it's about as beautiful a set of trails as we've ever seen.  The design of the trails allows for some very fast downhill corners, but with wide run-out areas, giving none of the feeling of panic that often happens in XC skiing (Corners?  Without metal edges?? HELP!!!).
Before we knew it, we'd been out there for over 2 hours, and while we hadn't tried ALL of the trails, we decided that, with Susan's knee, discretion was the better part of valor.  So, we'll need to go back to see the ones we missed.  Such a shame . . .
Bottom line, Black Mountain of Maine has a cross-country venue that is well-designed, beautifully maintained, and inexpensive (adult tickets are $8 full day/$6 half day, and juniors and seniors get in for $6/$4).  It's a little off the beaten path, but, based on our experience, it's well worth the trip.