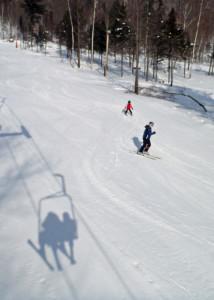 I really, really enjoyed Black Sunday recently. I'll bet you would, too.
"Black Sunday," in this case, does not refer to some team losing a football game. Instead, I'm talking about downhill skiing at Black Mountain Of Maine (hereafter referred to as BMOM) in Rumford, Maine on a cold Sunday morning in January. It's not often I get to ski an area in the northeast that I've never been to before, but this was my first time at BMOM. It won't be my last. I'm truly sorry I waited so long to give it a try. Black Mountain of Maine (BMOM) is one of those off-the-radar gems that deserves a lot more attention than it gets.
Senior Editor David Shedd had tried the cross-country skiing at BMOM with his fiance Susan the day before and had come back enthused about the whole setup.  Following his advice, we stopped at the Route 2 Diner in Rumford for a huge breakfast before heading to the slopes.  Well worth the stop–the menu is far more eclectic than you would expect in a mill-town diner. We had to try three times to get hot homefries but otherwise service and food were excellent.
Anyone who has read my newspaper column for awhile knows how much I love Black Mountain in Jackson, N.H. It's my favorite escape when the wind blows me off Wildcat, and easily placed among my "Forgotten Favorite Ski Hills." The EasternSlopes.com editorial crew even made it up there for their 75th Birthday party last season.
BMOM is surprisingly similar. It, too, faces mostly south so you get a lot of sun and are often sheltered from the coldest winds. North winds sometimes blow snow onto the slopes instead of into the trees.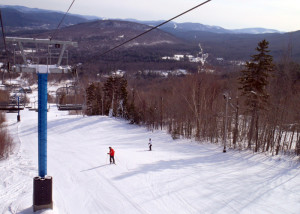 BMOM, too, relies on older, slower lifts which means the prices are lower (2010-11 prices: $29 for a full day adult lift ticket, $25 for kids!, night skiing is $10, and all tickets include access to their nordic trails), there are fewer people on the trails, and everything is more relaxed. They've got a beautiful base lodge with a cafeteria that doesn't try to rob you.
Lots of areas brag about being family-friendly, but BMOM goes beyond that to truly family-focused. The trail system filters down to that single base area, so, if you have kids, you can always find them — eventually.  It's the kind of place where everyone is keeping an eye on all the kids, keeping them safe and happy.  Not surprising since the mountain is owned by the Maine Winter Sports Center, an organization dedicated entirely to creating healthy family outdoor opportunities in winter.
With 1100 feet of vertical, the runs are long enough to be fun, not so long that you have to make two or three rest stops. Be honest now, when was the lat time you skied more than 1100 vertical feet without taking a break?
On this bitter cold Sunday morning with the sun shining brightly enough to warm you at least a little, there just weren't many people on the slopes. There were times I was the only rider on the summit chairlift. Can you imagine having an entire slope to yourself at a bigger area?
The entire separate beginner area and the main intermediate run off the summit were both immaculately groomed with soft packed powder. Marilyn loved them and skied hard until the cold got her. The narrower, twisting black diamonds weren't quite so well-tended, and the natural snow trails weren't tended at all—which was fine with me. I skied every trail on the mountain at least twice, charging hard until the tip of my nose and both thumbs lost feeling in the cold. I quit reluctantly and vowed to make it back again soon.
BMOM is only open Friday-Sunday, so it's the perfect place to escape the weekend crowds. If you are planning a Monday getaway to Sunday River (40 minutes away), drive up on Sunday and ski BMOM. Or try it for a long weekend, or even a holiday week—I think you and your family will really like it.