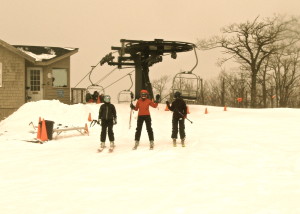 No Friends on a Powder Day!!! I love to be able to use that phrase because even though you don't mean it (usually) it means that Mother Nature has delivered the goods. What a great start to 2011 we have had in the Northeast! We seem to be in a cycle of weekly dumps, and I took the opportunity to visit one of my favorite resorts in NH, Mount Sunapee, during the latest dump.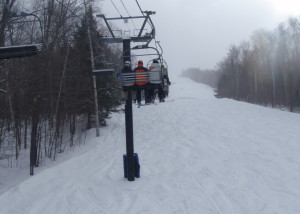 Sunapee always seems to do well with  snowfall. I had season passes here while in grad school, and was always impressed with the snow quality. When other areas of the state were getting rain or nothing, Sunapee always seemed to be squeezing a few inches of snow out of the air . Wednesday, February 2  brought a huge winter weather system and the snowfall was fabulous!
Days like this are an absolute dream on any type of snow sliding device, but I have been using Telemark skis for close to 2 decades and I live for these days. There is nothing like dropping into a Telemark turn in new powder, gliding slowly through a long arc. Being lower to the ground in a Tele turn seems to increase the sensation of centrifugal forces. It could be due to the lower center of gravity, or it may just be my imagination, but I feel the turn in a way that I never did while alpine skiing. It also has added years to my ski "career", as the dynamic position needed in Telemark turns has strengthened my legs and protected my knees.
If you would like to try telemark skiing without investing in the gear, both New England Telemark and North Atlantic Telemark host festivals throughout the winter, and are an excellent way to try the sport or improve your Tele technique.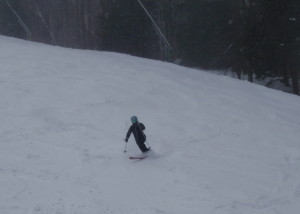 We arrived at Sunapee at 9 am after a slow and challenging drive. The parking lot was half full, but the line of traffic to the mountain was steady, with local and non-local snow junkies anticipating a day of joy in a foot of new snow. Here in the Northeast, our snow often comes with a blast of wind, and because of this the summit lifts were on hold, and would continue to be on hold throughout the day. If you were lucky enough to have Thursday off as well, you would have had another incredible day from the summit. Untouched powder in the Sunbowl area of Sunapee is beyond fun. I am jealous of those who were able to partake. If you have never been here, the views from Sunapee's summit are excellent, especially  toward Lake Sunapee itself.
Regardless of the lift situation, the skiing off the front side of the mountain was incredible. On days like today the snow is so good that it really doesn't matter if you have access to 50 trails or 5… You will still have a great time. Sunapee has some very fun runs off the front side, that often go unnoticed on days when the summit lifts are running. Trails like Upper and Lower Flying Goose, Chase ledges, and Lynx are excellent advanced/expert trails. If you like moguls, Flying Goose is a great challenge and sports a consistent pitch of quality bumps that will make your quads scream in agony and ecstasy simultaneously! With 10+ inches of new snow, it was stellar today.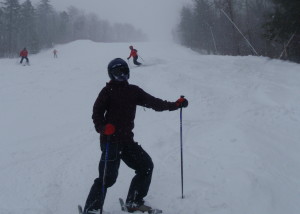 Sunapee also has one of the best terrain parks in the state.  At least half of the crowd on his day was in the terrain park, making the most of the soft landings. The beginner areas were also open and busy; Sunapee has a completely separate area for the novice skier and rider that makes learning inviting.
After a long day of powder farming our group chose to relax in the pub, and enjoy a drink and pub fare while watching the diehards try to get in there final turns of the day. We relived some of the laughs from the day before loading up for the return home. Here's hoping that this cycle of snow continues through the winter!