My skis, poles, and outdoor clothing for the workshops at the Hulbert Oudoor Center's Winter Skills Weekend were already loaded in my car when my friend Barbara Thomke arrived at 6:45 AM for our trip. Barbara, as usual, suggested we add another toy—snowshoes– "just in case" we had the opportunity to use them. Barbara's ability to make "just in case" happen is a pretty sure thing so I threw my snowshoes and adjustable poles in, too.
We expected to be early for our workshop–"Introduction to Backcountry Skiing"–but our first adventure turned out to be navigating the snowy rural route to Hulbert, which is located on the shores of Lake Morey in Fairlee, Vermont.  After a slippery drive, we arrived at the center just in time to discover the "Backcountry Skiing" workshop we had planned on taking had been canceled.  Despite today's snow, the past week's thaw had taken a toll on the trails. We were disappointed but knew that there would be plenty of fun available.
If you haven't ever heard of the Hulbert Outdoor Center you are in for a treat. Their main purpose, as a program of the Aloha Foundation, is to enable individuals to enrich their lives and their communities through experiential outdoor programs. This week-end with its 'Winterfest," "Winter Skills Day" and "Skate-A-Thon" is just one of the many offerings by the center and the nearby Lake Morey Resort where we were staying the night.
Since we now had the morning open, we took the time to introduce ourselves to the other Eastern Slopes writers in attendance.  Tim and David were busy setting up a tipi for their workshop on "Lightweight Winter Camping," Marilyn and Susan were relaxing by the fireplace, and Edie and Warner were getting ready for their "Exploration: Fun and Winter Skills for the Whole Family" workshop. It already felt like we knew everyone from their writing on the website but it was nice to actually meet them. After checking out the tipi and its wood stove, we all agreed to meet back there for wine and hors d'ouevres after the day's activities. Leave it to the EasternSlopes.com crew to make even a quiet evening a chance for outdoor fun!
Barbara and I wandered over to the Lake Morey Resort, just down the road from Hulbert, to check into our room and check out the Lake Morey Skate-a-thon that promised Nordic skating on the four mile ice track on the lake. The annual "Skate-a-Thon" around the Lake Morey skating trail benefits the Upper Valley Trails Alliance and offers skate rentals, lunch and warm drinks, which are included in donation fees ranging from $10-$25.   UVTA supports many of the Vermont/New Hampshire trail organizations and has a vision of connecting communities through trails and active lifestyles.  One of their missions is the upkeep of a "trail finder link," a great source of finding places to ski, snowshoe, walk or hike this area.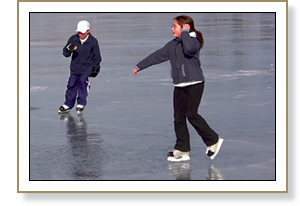 From the Inn we could see that the lake was a busy place: people were Nordic skating, a family was playing hockey, and in the distance a few ice fishermen were trying their luck.
We were fitted with ski boots and Nordic skates and headed out the door  onto the lake. Nordic skating is not your "usual" way of ice skating but involves more of the skate motion of rollerblading or skating on skis.  Barbara's  written about our experience in detail here.
After skating and a quick change to dry clothes (you do work up a sweat!) it was time to head back to Hulbert for our afternoon workshop on "Emergency Skills."  I'll let Barbara tell you about that, too.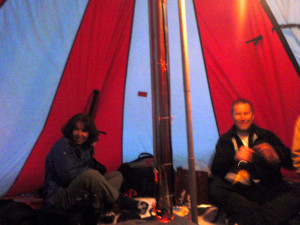 We were cold by the time the 3-hour workshop was finished and  met up with the rest of the Eastern slopes clan at Tim's "big tipi." We both were wondering how we were going to be able to stay outside for a few more hours. Not to worry, the tipi was toasty warm, in fact the flaps had to be opened to let in some cool air!
We were a lively group–Tim kept the stove stoked with wood, David readied his Pot Stickers for the skillet, Edie was unwrapping her marinated shrimp, and Marilyn and Susan were opening the wine.
Tim passed around some grilled venison from his  and David's last hunting trip while Barbara offered cheese and crackers. I had already contributed my chocolate chip, oatmeal, coconut, walnut cookies to lunch, so I just waited for the wine and food.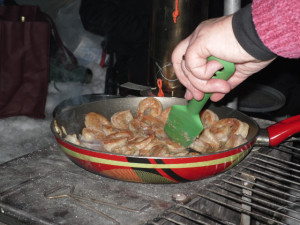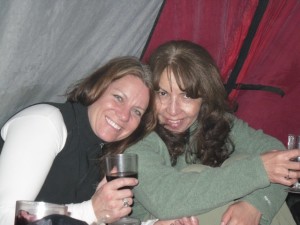 We ended up having such a good time that Marilyn and Susan invited us all to stay for a dinner of homemade stew and fresh green salad. Not that we needed any more food! Whoever said winter camping would be a cold experience with only freeze dried food and gorp for dessert was wrong!  Of course when we were ready for bed Barbara and I were glad we had our warm room at the Lake Morey Resort to go back to. We never did get to use those snowshoes that we brought but we did take a walk under the stars before heading to bed that night.
Barbara and I were up before dawn the next day ready to explore the resort's x-country ski trails.  I was surprised at how rural the trails felt, not at all seeming like we were on a golf course.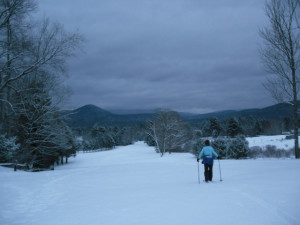 After an hour's ski we were ready for breakfast.  The smell from the kitchen of the Inn was heavenly and we were grateful that our food arrived quickly. I had french toast with cinnamon and sausage links while Barbara had an omelette. We  also shared a fruit plate which was so large that we saved some for the ride home. From our table we could see the Nordic skate trail being groomed for that day's skaters. Unfortunately our week-end was ending with breakfast. We did make one more stop at the tipi to say good-bye to our Eastern Slopes buddies, then headed for home after yet another opportunity to enjoy the outdoors.