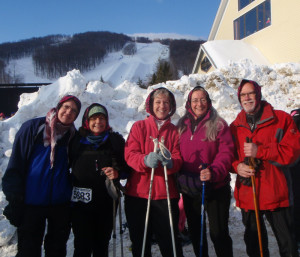 Our day started very early—up by 4am and on the road by 5  to make the 3-hour drive to the Vermont 2011 Tubb's Romp to Stomp snowshoe series that benefits the Susan G. Komen Race for the Cure. This year's romp took place at the Stratton Mountain Ski Resort in southern Vermont and included a "Lil Romp," a 3k snowshoe race, and two tours of 3k and 5k.
True outdoor enthusiasts who love to do anything in the snow, Roger and I were not fazed by the long drive, even with snow on the roads. Besides, our team, "The Babushka Sisters" would be counting on us to show up. Three members of the team are Slovak (Pat, Karen and Patty), thus the name. The other 2 (Paul and Roger) aren't Slovak ( or girls) but, in the name of a good cause, we let them be honorary Babushkas for the day.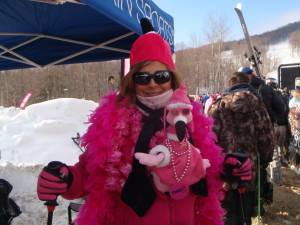 The car thermometer said 19 degrees when we arrived at the Sun Bowl base lodge at Stratton Mountain. Despite the name, the sun wasn't shining. However, compared to the below-zero temps and high winds of last year's event, it felt practically balmy. We had come prepared for any weather: wicking base layers; hats, gloves, and neck warmers; insulation layers and windproof outer shells and of course, our babushkas.
The place was hopping and the color pink was in full display. Dressing up or wearing pink are not requirements but let me tell you there was ample silliness on display in both color and costumes. We checked in, got our numbers in no time thanks to the organization of the Tubb's Staff and the many cheerful volunteers.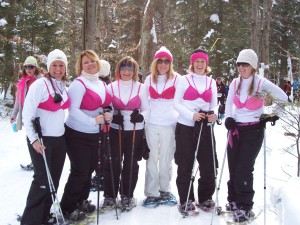 The seriousness of the cause was also evident in the many breast cancer survivors who were romping today, and by the myriad of participants who were doing the event in memory of someone who had not survived this horrible disease. Our group alone wore 6 names in honor of women we knew.
With 879 of us at the start line (a 2% increase in participants over the 2010 event) the energy was palpable!
The 5k trail was along one of the more moderate ski trails. It had just enough hills to make a few people step to the side of the group to catch their breath.  Cheers, laughter, horn blowing and the stomp of 879 snowshoes meant this wasn't a quiet walk in the woods.  Mothers carried children when they grew tired, people exchanged picture taking, and dogs on leashes behaved.
Most of the costumes stayed intact except for some pink "hair" that got caught in a tree branch and one pink bra that came undone along the way!  The group moved along as one, slow and steady—this was not a race.  Everyone finished in good time and good humor.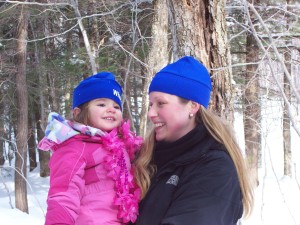 Now the awards would begin and there were many: awards for participating, awards for racing, awards for fundraising….and the real award of having done something meaningful over a disease you can't control.
If you want to contribute to the fight against breast cancer we'd be happy to see you in 2012 at the next Romp. If you can walk, you can do it!  And if you don't have snowshoes no problem. Tubbs will be there lending out their latest models free of charge for the event.
If you choose not to actively participate, please donate to a friend who is Romping.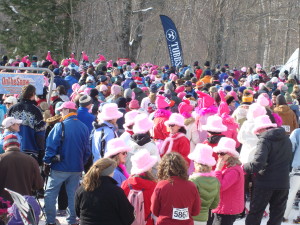 Hooray to all of this year's participants!:
The amount of money raised to date at this one event: $80,473.32 Final figures won't be in until March.
The largest amount raised by an individual: $5930.
The largest amount raised by a team: $12,267.87.
Now The Relaxing . . .
The Babushka team broke up after the awards ceremony with Karen promising that she would sew five bright pink babushkas and matching pink aprons lined with lace for next year's event. Patty, Paul and Karen headed to nearby Manchester, Vermont to have lunch and check out the upscale outlet Stores before heading home. There is a lot to do in this area besides Romp.  Manchester is known for its designer outlet stores, an unusual commodity in Vermont.  There are 4 downhill ski areas, a number of Nordic ski centers, galleries, great restaurants and the largest independent book store in Vermont—Northshire Bookstore all within a  30 minute drive.
Roger and I were staying at the Landgrove Inn for the night and decided to make a stop at the Southern Vermont Arts Center in Manchester to see their annual Winter Member's Exhibition before checking in at the Inn. The long driveway to the Southern Vermont Art Center was an art exhibit of its own; the natural beauty of the birch trees lining the road and the various sculptures placed in the meadows of this former estate all caught my attention on either side.
The juried member's exhibit turned out to be much larger than we expected filling ten galleries with paintings, photographs, sculpture and mixed media pieces.  We took our time looking through all the galleries and seeing if we were in agreement on our top 3 entries.
Twenty minutes after leaving the Art Center we arrived at the Landgrove Inn at and met co-owner Maureen Checchia. Landgrove Inn is an authentic 1810 farmhouse set in an unspoiled mountain valley outside a tiny Vermont village. I couldn't help but contrast it with the busy-ness of Stratton Mountain Resort and the Manchester area. What a welcome change! There were no malls, no condos, just thirty-five acres of quiet to explore.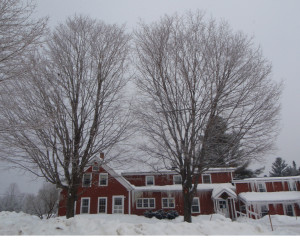 Maureen showed us around, told us some of the history of the inn and encouraged us to relax, eat from the pot of chili that was on in the den for guests or indulge ourselves with the chocolate chip cookies and tea that are always available.  Having been up before dawn, I was ready for a shower and a nap before dinner—of course, Rip Van Winkle Roger agreed.
At 5:00 we wandered back to the rustic bar and lounge area of the Inn where a buffet of wine and hors d'oeuvres were being set up for an après ski group.  Before I could even order a glass of wine at the bar one of the members of the group invited us to join them at the buffet. Sue, a long time member, was setting out 5 Italian cheeses for sampling that she promised I would enjoy. She told me that their group, the Valley Ski Club of Connecticut, had been coming to the inn each January for over 35 years. When they had first started coming here, the inn was only an après ski place where separate dorm rooms for "girls" and "boys" housed the group. In fact, at that time, they didn't have to drive—there was a ski train that took them into Manchester from which they would be bussed up to the inn in two busses—one for them and one for their equipment.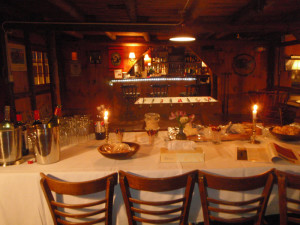 Maureen had told me that 80% of their business was returning guests and this certainly fit for the club. They had reserved 13 of the 18 rooms at the inn for this week-end. Tom, the other half of the Landgrove Inn owner duo, was concerned we would find the presence of so many skiers in one place disquieting. I only found it fascinating. Many of these people had been skiing together for the life of the group. Ruth, an original member of the club, told me that some of the members no longer skied because of age or physical ability but had switched to hiking or snowshoeing as their bodies had changed. Talk about active seniors!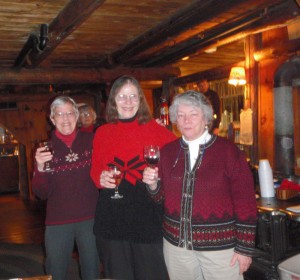 I continued to ask questions of the group while Roger simply sat in a rocking chair before the fire with a beer in hand. When I joined him I noticed that the wood ceiling above was carved with names and dates. Tom told me that in the days before Maureen and his time at the inn the ski guests took to carving their names in the wooden ceiling with a hot poker from the wood stove. He would like to insulate the ceiling and cover up the "graffiti" but most of his guests think it would take away from the charm of the room.
There was an intergenerational foosball game going on among the guests, a number of whom had just recently met. Truly this room offered a convivial and friendly atmosphere that encouraged mingling yet offered enough space to be on your own if desired. I had a hard time removing myself from the glow of the wood stove and the warmth of the company but our dinner reservation beckoned.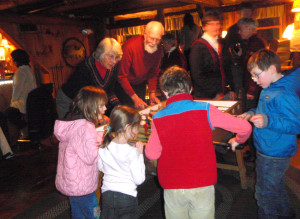 The dining room has cozy tables for two or four, and expandable seating for large parties. Their menu offers a variety of appetizers and entrees as well as homemade soups and daily specials. Roger and I both had salads with house dressings–his a balsamic vinegar, mine a garlic based dressing.  I chose the crispy duck in cherry sauce with sides of rice pilaf and fresh green beans done al dente for my entrée. Roger ordered one of the evening's specials: Pork Mediterranean– medallions of pork in a tomato, capers, olive and artichoke mix. Unfortunately we didn't have room for dessert although I would have loved to sample the apple crisp, the cranberry cheese tart AND the brownie sundae! We went to bed early with a vision of tomorrow's ski on the Inn's 10 k of trails beckoning.
After a full breakfast of French toast, poached eggs and sausage we changed into ski clothes and met Carl Eric–as he likes to be called–at the ski center which is attached to the inn. Carl Eric, 69, has been running his satellite ski business, housed at the inn, for 15 years. He rents skis and snowshoes if you don't have your own, and grooms and tracks the inn's 10k of trails. Skiing is by donation. He is also a registered ski instructor if you need a lesson. Curt lived in Sweden until age 7 when he and his family moved to the states. I think he must be responsible for the recipe for the "glog" that is available at the inn to warm you after a ski!
The trails are tracked for classic skiing and there are plenty of choices for the beginner to the advanced skier. The inn's 10k of trails connect to the National Forest trails which are maintained by a local ski club. The Catamount Trail (a 300 mile backcountry trail that runs the length of Vermont) shares a part of these 10k, too. Since we had our 3 hour trip back to northern Vermont ahead of us, we decided to sample only the inn trails.
The flat to undulating trails have no big hills to climb or descend.  Most Nordic ski areas in Vermont are either all up or all down and this is a welcome change, a great place to enjoy an even tempo or practice technique. Open views of meadows, barns and the small town of Landgrove offer the quintessential beauty of Vermont as you ski. After about 1 1/2 hours of skiing, we reluctantly took off our boots and said our goodbyes.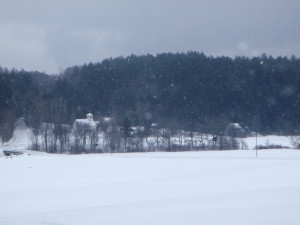 The week-end was perfect with two days of exercise, good food, good company and the pure joy of having participated in an activity to better the world. I would encourage anyone who wants a relaxing yet active Vermont experience to put a team together for the Romp to Stomp and then bring yourself over to the Landgrove  Inn for your own après snowshoe celebration. I wish I had brought the rest of the Babushksa Sisters along!