When we learned that Eastern Slopes top dogs Tim Jones and our son David Shedd were going to hold a seminar on winter camping equipment and techniques at the Hulbert Outdoor Center for their Winter Skills Day, we decided to join in the fun, and find ourselves a little outdoor adventure. The Hulbert Outdoor Center is a non-profit organization located on Lake Morey in Fairlee, Vermont. The Center runs summer camps for children; outdoor programs for adults; serves as a conference center for various organizations; and holds a big WinterFest for the community each year. It turned out to be a perfect opportunity for a winter adventure
Intrigued by the list of outdoor activities, as well as the opportunity to watch Tim and David in action, we set out on a dreary morning with very light snow falling and enough snow on the roads to make them slushy and treacherous. Although we managed  the trip without mishap, the road conditions stretched what is normally a little over an hour of travel time to a full hour and a half.
After arriving in one piece, we met the rest of the Eastern Slopes crew: Tim and his wife, Marilyn; David and his fiancee Susan; and fellow Eastern Slopes adventurers Barbara Tomke and Patricia Lyon-Surrey. There were a number of events to choose from, such as Nordic skating; dogsled rides; a Winter Emergency Skills workshop that our Eastern Slopes' female contingent – Marilyn, Susan, Barbara, and Pat – selected; and the one that we chose – Family Outdoor Skills. This was billed as a snowshoe hike with instructions in various outdoor skills, such as building a fire in wintertime.
This event was led by Brendan Madden, the Director of the Hulbert Outdoor Center, an outdoorsman of wide experience. But, as Robert Burns so aptly put it, "The best laid plans of mice and men…"  Actually, there were two problems. First, the roughly six inches of snow on the ground (inordinately little for Vermont in January!) wasn't enough for comfortable snowshoeing. Second the treacherous driving conditions had evidently cut attendance, and we were the only people brave (or foolish) enough to show up for Brendan's presentation.
However, Brendan was  willing to do the hike with just us, and we set forth on "The Snowshoe Hike That Wasn't!"
We decided to hike on the same trail originally planned, sans snowshoes, though we wisely armed ourselves with our trusty Leki trekking poles. And so we set out at roughly a right angle to Lake Morey on a wide trail that led steadily uphill, on gentle to occasionally moderate slopes. We spent some time getting acquainted with Brendan, and vice versa. We learned, for example, that he had come to this country from Ireland when he was 12 years old, although his speech shows not a trace of the Auld Sod.
After learning that Warner was also an experienced outdoorsman who had spent a number of years doing winter forestry work on snowshoes, Brendan decided that we didn't need lessons in such basic skills as fire building. Instead, we discussed outdoor education, and various ways of interesting youngsters in outdoor activities.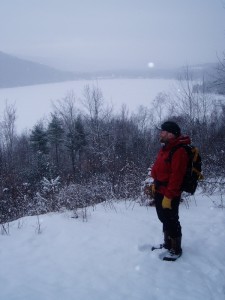 We set a very leisurely pace, pausing often to talk, examine animal tracks, or discussing the forest that the trail passed through. For quite a distance, the woods were fairly open hardwoods that, because of the relatively poor quality of the timber, gave evidence of having been "high-graded" a good many years ago. In forestry language, high-grading means cutting the best timber trees and leaving the inferior ones: it's roughly the equivalent of pulling young vegetables from a garden and leaving the weeds.
As we continued upward, we saw more and more white pines, some quite large,  interspersed with the hardwoods. Here and there were small patches that were mostly pine. These patches had probably sprung up in forest clearings, or perhaps in the remnants of old pasture that were still open at that time. The tracks of gray squirrels, cottontail rabbits, and coyotes that we occasionally crossed lent added interest to our trek, and we discussed the habits of various wildlife species with Brendan.
At one point we found a lone red pine – a splendid specimen, very tall and straight as an arrow – right beside the trail, its reddish bark in stark contrast to the nearly black bark of the neighboring white pines. This species of pine is also called Norway pine, a name that leads many people to believe it was imported from Scandinavia. Actually, it was given that name for Norway, Maine, where it was found in abundance, and it is definitely a native species. We speculated on how that one lone red pine came to grow there when we hadn't seen  another one anywhere on our hike. Could a passing bird have dropped a seed there? We had no way of knowing, although that seemed a reasonable explanation.
Although the snow depth made walking relatively easy, the snow had hardened in and around the sometimes-numerous human footprints. These frozen footprints could easily throw one off balance, so we especially appreciated our  trekking poles for the added stability they provided.
After hiking a considerable distance, Brendan offered us a choice. We were at about the halfway point, he said, so we could either turn around and go back the way we had come or proceed onward to complete the loop. If we chose the latter, there was a nice scenic lookout over Lake Morey just a short distance off the trail. We promptly decided that we'd rather go forward to see some new country and the view from the scenic overlook.
The overlook proved to be well worth the short hike off the trail. Although a very light snow was falling, obscuring more distant scenes, we had a lovely view of much of Lake Morey, with skiers, skaters, and fishermen sprinkled across the ice. We lingered there for a few minutes, enjoying the scenery, and then headed back to the main trail.
Very soon the trail began to grow narrower and steeper as it descended toward the lake. As the steepness and narrowness continued to increase, we found our trekking poles a huge help in keeping us from slipping and sliding in many precarious spots. We also found ourselves passing through some very different forest types – a dark grove of large hemlocks, sometimes mixed with mature red maples. We also spied  wooden structures that clearly housed springs coming out of the steep hillside; these springs undoubtedly supplied water to one or more of the summer cottages lining the lake shore.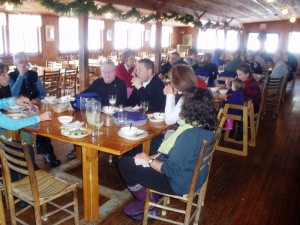 Soon we emerged into a large field, with a view of (of all things!) a charming miniature medieval castle.  Brendan told us this had originally been erected for a theatrical event and was left for the amusement of the summer campers, who could climb around in it to their hearts' content. We, on the other hand, turned sharply right and descended to the road and back to the Hulbert Center where a hearty and welcome lunch  awaited us.
The Snowshoe Hike That Wasn't had been a really fun adventure. We enjoyed seeing new country in Brendan's knowledgeable and genial company, and getting a fair dose of exercise to boot. The Hulbert Winter Skills Day and WinterFest are annual events. Make plans to be there next year. Maybe there will be enough snow for the sequel: "The Snowshoe Hike That Was." Hope we see you there.