When it comes to activities and fun, I can be impulsive at times, really impulsive. About five minutes after receiving the suggestion to cover the "MVP Health Care Frigid Infliction,"  10-hours of adventure racing at Bolton Valley in Vermont, I told my editor, "Sure. I would love to do it! Can I compete while I cover it?"
I really love this job because I am rarely told "No." Within a few days I was signed up for the race and had wrangled my good friend, Jim, into being my partner. (It didn't take a lot of work. He can be as foolish and impulsive as me at times.) We were both excited. As outdoor enthusiasts and avid runner/hikers we felt we had the stamina to complete the race. The question was: Did we have the skills to actually compete against experienced adventure athletes?
Lack of skill has never stopped us from trying anything before. .  . .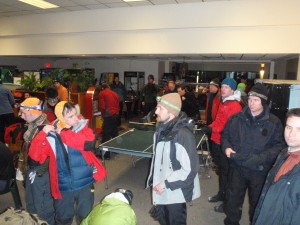 The Frigid Infliction is put on by the Green Mountain Adventure Racing Association (GMARA). We would compete in mutiple events, snowshoeing, cross-country skiing, postholing (hiking through deep snow without snowshoes), and a Tyrolean traverse (pulling oneself across a suspended rope) all while navigating by map and compass. Teams of two or three individuals (coed or not) compete in divisions. The risk in having a two-person team is that if one of us could not continue, we'd be out of the race because at least two team members had to complete the course. Jim and I were already placing bets as to which one of us would drop out, but I was pleased to read on the GMARA website that the race was well suited to beginner adventure racers. I hoped I would not have to increase my life insurance policy.
The race registration was on Friday night at Bolton Valley Nordic Center, and we drove the two hours up I-89 through impressively deep snow; 14 inches was sticking to the trees as we navigated up the access road to Bolton.
Friday night's registration included an equipment check, last-minute compass and navigation training, and some pre-race information. The race would start promptly at 5:00 Saturday morning and teams were instructed to arrive a half hour earlier to receive maps and more instructions. The mandatory gear list was laid out for us, and safety was obviously the order of the day. If you became lost or hurt, you needed to be prepared to be in the woods for a while until help arrived. And since all teams were required to carry the same safety items, no one team would have a weight advantage.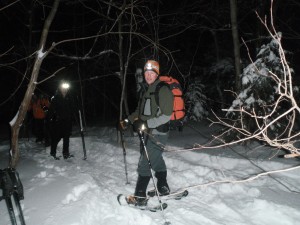 We had a comfortable room at Bolton's slopeside Hotel, but we hardly saw the room. So-called "morning" (3:45, yikes!) came much too early. But the competitive juices kicked in, and we were wide awake and ready to race by the time we arrived at the Nordic Center to receive pre-race instructions. Not having done an adventure race before, I had no idea that there would be so little time to review the map prior to starting. Topographical maps and Bolton Valley Nordic Center maps were handed out with race instructions. At this point competitors were given about 10 minutes to develop a plan.
For the first leg, we would compete on snowshoes to find three check points designated on our maps in any order. Jim and I quickly decided to climb to the highest checkpoint first, so that we could move quickly downhill to the next two after locating the first.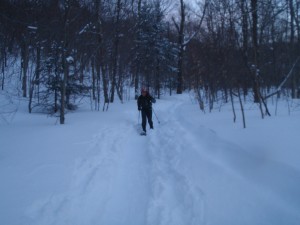 After the mass start, the pack quickly broke into three groups. A third of our group had a similar game plan. While out of practice with compass navigation, I knew enough to get us into the right area, then compared the topos of the Nordic Center to help us generalize the location of the checkpoint. Teams with strong compass skills had a distinct advantage in the dark: using observable topography was challenging at best. But as long as you can get close, being observant can help you find the checkpoint.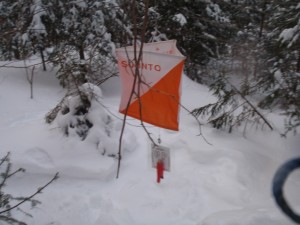 Much of the traveling took place on Nordic Center trails, though finding the checkpoints would require off-trail navigation. When we felt we were in the right general location, we dove into the woods, and up a hill to eventually locate the first checkpoint. At each of these checkpoints there is an orange "box" flag suspended from a tree. Each has a unique hole punch tool to mark check cards and these are examined by race officials at the finish to determine what checkpoints were found. After checkpoint one, we sped off to the second and third. Running with snowshoes is not too difficult if you are a runner to begin with, and this worked to our advantage. While the second point took time to find, the third was easy as it was in a creekbed. After the three, we high-tailed it back to the start and the first of five transitions.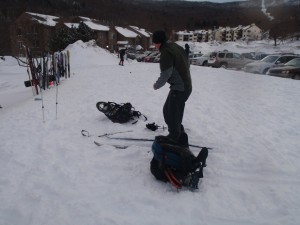 After lashing our snowshoes to our backpacks, we set out on cross-country skis to find three more checkpoints. Two hours had passed, and we were doing surprisingly well.
The next three points had to be found in order, and they would be just off of the cross-country trail system. Comparing topo to trail map made compass work almost unnecessary for this leg. However, these points were a greater distance apart, and we would need to make good course decisions to speed our team along. Again we reached the first point quickly, then prepared to race downhill and across some challenging ski trails to the second point. Cross country skiing on steep and tight terrain can be tough, but add a 25-pound pack to the mix, and it can be VERY challenging. Jim had warned me before the race that skiing would be his Achilles heel. But he showed a lot of grit and determination by repeatedly getting up and dusting himself off after numerous face plants (thank goodness for the 14 inches of new powder!) Made for some great laughs, though.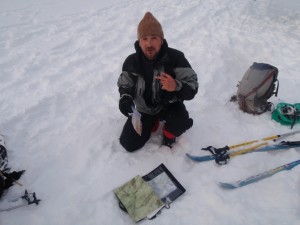 While we were able to find our three points, we had lost some ground to iced-up bindings and a decision to try an untracked "shortcut" to the third point. Breaking trail can be exhausting, even when you share the task with other teams; by ourselves, it really slowed us down.
During the ski leg we saw much of the Bolton Valley Nordic Center's expansive and varied trail system. They offer groomed terrain for skate skiers and narrow winding trails for backcountry enthusiasts. I found myself wishing we had more time to just explore.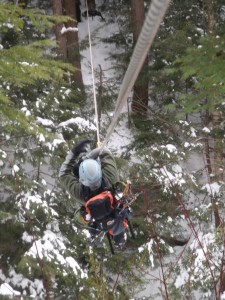 The next transition put us back on snowshoes for the route to  the Tyrolean traverse (a rope strung tightly across a gulley). Required equipment included a climbing harness and two carabiners for each racer. Using the harness and carabiners, you clip yourself onto the rope, and pull yourself across upside down, with your pack on. This is easy to start, but after you reach the lowest point, you begin pulling uphill, which is a workout. The distance was relatively short, and both Jim and I were across in no time.
The next portion of the race was "postholing."  Try walking through deep snow with no snowshoes and you get the idea. At times you stay on top, and at times you "post hole" when you break through up to your knees or even thighs. This is where it helped to be back in the pack—we had plenty of teams in front of us to make the travel easier. However, this is also the point in the race where fatigue had begun to set in, and even a simple task can seem difficult.
Once we collected markers from the next three checkpoints, we again transitioned to snowshoes to find the final five checkpoints. Now, time was the issue; we had to finish by 3 p.m, and a costly navigation mistake forced us to miss the last two checkpoints and make a beeline to the last transition area.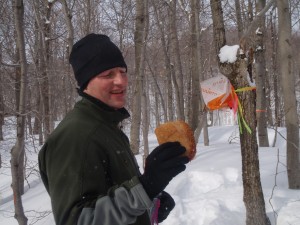 When we encountered other teams it was obvious that everyone was fatigued. After nine hours of practically non-stop exercise, my legs were heavy. For the last, long, uphill slog to the finish, Jim opted for snowshoes , while I hopped on my skis. There was no real feeling of "racing" at this point, just a need to finish. A lot of teams were bunched together. We would have no idea how many checkpoints our competitors had found until after the race. We would just have to hope that our combination of checkpoints and time on the course would give us a respectable finish. But truthfully, just finishing would give us plenty of self respect!
We crossed the line at just over 10 hours, and quickly realized that even walking to the car would be a challenge. Thankfully, a hot shower, a hot tub and a small bar awaited in the Nordic Center.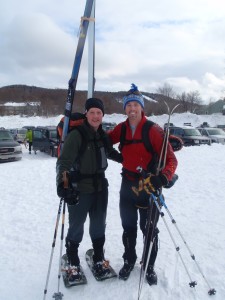 It's true, this race can be completed by beginners in generally good physical condition. But Jim half jokingly told me not to bother calling in the next six weeks about any adventure races or he'd hang up on me. I think it was the lactic acid talking. Personally I wasn't sure I would be able to walk for the next six weeks!
Despite the good-natured grumbling though, we both know we'll be back for next year's challenge. We'd like to extend a big thanks to GMARA for an exceptional job putting this race together, and to Bolton Valley, whose wondeful terrain and trail system made for a perfect location.
Editor's Note: What Brett is too modest to tell you is that Team EasternSlopes.com finished fourth out of 10 teams in their division with an adjusted time of 10:10:18. Congratulations Brett and Jim! For complete results of this race, go here