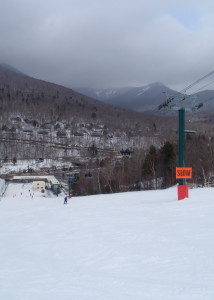 I admit it. I'm a bit of a ski snob, tending toward resorts with few amenities like Saddleback, Cannon, and Mad River Glen; hardcore, classic New England mountains. I've always thought them to be more "pure" to the sport. But after skiing Loon Mountain recently, I have reassessed my opinion.
With so many lodging options so close to Route 93, and a trail system sure to please a wide variety of skiers and snowboarders, Loon is a prime weekend destination when "resort" is more important than "gnarly."
Personally, I had passed by Loon Mountain many times, usually en route to hiking or climbing locations on the far side of the Kancamagus highway, or heading toward other ski areas in New Hampshire and Vermont.  In my vast ignorance, I had always dismissed Loon as too busy, with too many condos and lodging options too close to Route 93. OK, I was wrong.
I was initially convinced to try skiing Loon Mountain on a recent weekend (actually, I was dragged kicking and screaming)  by my ski partner Raelyn, who worked there in her college years and knows the mountain as only a former patroller and instructor can. We visited Loon with a small group of her students.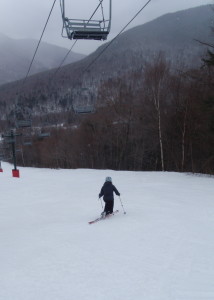 When you pull into the parking lot, Loon presents a very large base complex. This naturally raised my purist hackles: More amenities = more people, right? I quickly found, though, that Loon handles crowds very well with two base areas and a lift system that disperses large numbers of skiers and riders. While the weather forecast likely kept the numbers down this particular weekend, there were still substantial numbers of skiers and riders on the slopes, but it never felt crowded. The main parking lots were filled when we arrived, yet the line for the Gondola was short and moving quickly, so we beelined for the summit.
Loon's Gondola provides a comfortable and fast ride to the summit for groups of four. Once at the top we clamped into our Tele skis, and set off down Flying Fox for a warmup. The temperature was hovering in the low 30s under thick cloud cover, so the top of the mountain was firm. This was New England's frozen granular and packed granular at its best. Only us hardy folk from the Northeast know about skiing these conditions!
But, by mid-mountain, the temperature had moderated enough to provide a loose and even slushy granular surface. (what many old timers call "creamed corn") Thankfully, as the day progressed, the top softened nicely — and best of all, stayed soft through Sunday as well! Fine spring conditions.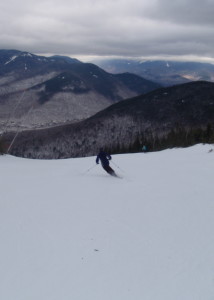 Loon has an excellent blend of beginner, intermediate, and expert terrain. Many of the trails are quintessential New England; relatively narrow and winding. As the snow softened, we were able to get on some expert terrain such as Angel Street and Flume. These runs are steep and provide a challenge even to seasoned skiers and riders.
I was very impressed with the layout of the runs. There are very few "crossing" trails except in the typical locations near the lodges. Loon spreads the crowds out between three distinct peaks:  North Peak, Loon Peak, and South Peak, which faces downtown Lincoln and can be seen from the strip. We focused on North Peak and Loon Peak, and the trails above the Governor Adams Lodge. Saturday afternoon and Sunday offered perfect loose granular for exceptional conditions.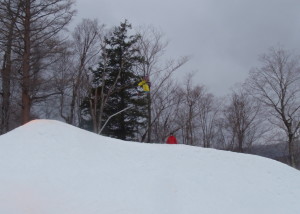 We swung into the primary terrain park for a run to check out the features and the local talent. Loon's main terrain park is large and so are the jumps. There are plenty of grind rails and table tops to entertain all of the jibbers and daredevils in the family. There is also a large half pipe right above the main lodge. A group of young kids were throwing some big tricks while we watched, and they appeared to have two coaches with them. Future X Games stars in the making? Quite possibly.
As much as I was impressed with Loon's ability to distribute skiers on the hill, I was also impressed with the mountain's ability to distribute those same skiers at lunch time, or when they just needed a break. Four lodges grace the mountain and provide ample space to relax or eat lunch. We ate at the "mid mountain" Camp III on Saturday and and at the summit lodge on Sunday, and could picture the decks full on a warm and sunny day. Since we had neither warmth nor sun, we stayed inside to eat, but we were all very thankful that the rain in the forecast never materialized. It would have been great to sit outside for lunch! While cloud cover obscurred the neighboring mountaintops, Loon provides fantastic views from all aspects of the mountain when the skies are clear.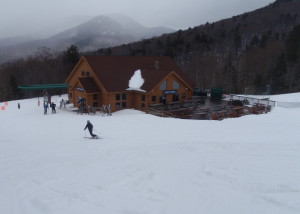 I am happy that I was finally convinced to try this excellent mountain, and honestly am disappointed in myself for waiting this long. I will be back soon (maybe on one of our soon-to-arrive, 60-degree spring ski days!) to harvest the creamed corn and spend a few afternoon hours on the Camp III deck soaking in the sunshine and the fun.