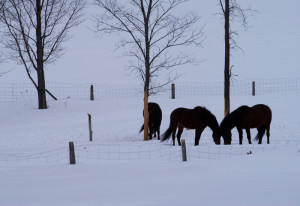 Multi-talented Patricia Lyon-Surrey, who regularly contributes stories and photos to EasternSlopes.com has a one-woman show of her photographic images running through April 14 at Green Goddess Cafe in the Lower Village in Stowe, Vermont. The show features 20 of Pat's art-quality images from her travels in and beyond Vermont.
It doesn't take all day to ski your thighs to quivering masses of lifeless jelly on the abundant Spring corn snow at Stowe Mountain Resort. This exhibition is a perfect way to wind down and recover after a beer in the sunshine on the deck and before your soak in the hot tub.
Insiders' tip: if you are riding the early-opening Mansfield Quad, Lord often softens before other trails on that side of the hill. And, once the lifts start turning on Spruce Peak it's corn-central–get there early before the strong sun on these south-facing slopes turns them to slush!