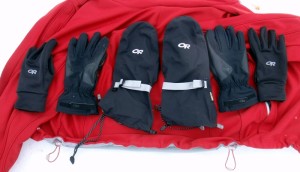 We're a big fan of 3-piece glove/mitt systems for most outdoor pursuits.  Having an overmitt that provides maximum protection, yet comes off easily to give us greater dexterity, is a major help when setting up a winter camp, or when trying to take photos in the field. Having a thin liner glove as the third piece of the system allows for better moisture control and wicking, and lets us keep our hands away from direct contact with metal, snow, whatever, when we need even better tactile feel than the second layer gives us.  Plus, playing around with the combination allows us to fine tune for different temperatures.
However, there are usually a few different prices to pay. One, literally, is price; 3-piece systems tend to be relatively expensive, for obvious reasons.  Another is loss of dexterity when the whole mess is put together. Put several gloves inside each other, and you can usually expect it'll get bulky and hard to grab with, compared with a single warm mitten. And, finally, a lot of glove systems are really hard to get on/off when you're sweating and they're moist inside.
Enter the Outdoor Research Latitude Mitts & PL100 Liners
Sometimes, though, things all come together as if the cosmos intended it all along.  And, combining Outdoor Research's "Latitude" 2-piece combo with their PL100 liner glove feels like one of those cosmic coincidences. First things first…it's hard to know that the Latitude is a 2-piece, because OR simply markets it as an "ultralight shell." You have to read down farther to find out that it's a shell AND a glove. Dumb marketing for a great product.  When OR calls the shell an ultralight, though, they aren't kidding; it feels about as thick as a piece of wax paper. But don't kid yourself; it's not weak or flimsy. The material is tough, the palm is grippy, and it's full featured: Strap across the back of the wrist to tighten it on, that you can operate with a mitten on the other hand?  Check. An "idiot cord" to keep the mittens attached to you when you take them off so you don't drop them off the ski lift? Check (For the record, I don't think I'm an idiot, but I use them all the time; too easy to have a wind take them miles away when you  put them down, since they're so light!). OR's excellent Duo-Cord gauntlet closure, that allows you to pull one tab to tighten them, one to loosen? Check. Pre-curved, so the palm doesn't bunch up when you grab something? Check.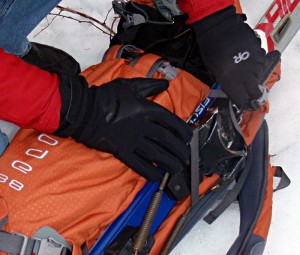 So, the mitten has the right stuff…how about the glove?  Well, let's just say that they're my current go-to glove for driving, working in the garage, etc.  True to OR's obsessive-compulsive nature, they're a surprisingly elaborate affair, with an inner fleece layer and an outer shell that's grippy on the palm and fingers, slippery on the back.  Warmth is moderate; they're 100 weight fleece inside the thin shell.  But, they're surprisingly waterproof, making it possible to clean snow off the car with them and stay dry, and that makes them feel warmer than a glove that lets moisture in. And grip they have, in spades, along with seams that are nearly invisible to the fingers, giving great feel. They're a great work glove, period. After a season of abuse, they're showing some small signs of wear here and there, but still in great shape overall. That's one of Outdoor Research's claims to fame; if you need to trust something when you're climbing a 20,000 footer, you know that their construction is impeccable.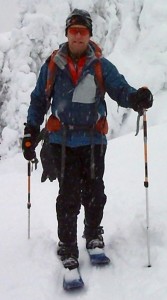 So far, so good; great features, great feel, great fit. But, only moderate warmth. At 20 degrees F, that's fine, but as the temps crawl down closer to zero, they just aren't warm enough.  That's where the PL100 liner comes in.  Made of OR's 100 weight "Radiant Fleece", they're a smooth, silky-feeling, close fitting liner. A little thicker than the lightest liner gloves, they're a LOT warmer, and surprisingly wind resistant. And, the fabric breathes well, making them easy to get on and off, and keeping them warm when you're working hard; dry hands are warm(er) hands.
One characteristic of good liner gloves is that they're slippery, helping them to conform to the gloves they're sliding into; however, that creates its own problem. When you need maximum dexterity and strip down to the liner, you suddenly don't have any significant grip; things slide out of your fingers.  Most liners offer an "all or nothing" approach; no grip at all, or the entire finger/palm area has added grip, effectively turning it from a liner glove to a standalone, since it won't fit easily into another glove. OR's solution is simple and surprisingly functional…put a bit of silicone on the first joint area of the thumb and forefinger.  It's a smart compromise; the liner still slides easily in and out of the Latitudes, but if you have to pick a quarter off the ground, you can (hey, I'm of Scottish descent; picking up loose change is a religion!).
The added warmth of the PL100 dramatically increases the utility of the Latitude combination; while backcountry skiing on the Gaspe peninsula at a windy 0 degrees F., my hands remained comfortable. Even with multiple stops to take off the overmitt to shoot photos and video, my hands never came close to "real pain" ; a few arm windmills, and they were warm again.  For most of the photo shooting, I was able to leave both pairs of gloves on, yet still operate the small controls on my Olympus camera; that was both a surprise and a huge help to keep me warm (and waste less time…no fumbling to keep the gloves where they belonged while I got my shots, then get gloves on, mittens on…you get the picture).
Flaws?  Really, only a couple. No, they're not an expedition mitt; if you're going to be fooling around at -35, you're likely smart enough to know that you need a LOT more insulation than these offer. However, they can easily be adapted to handle colder weather.  Pick up a relatively inexpensive, oversized mitt (oversized, as in if you wear a large, buy an XL) with decent insulation (even cheapies use Thinsulate these days). Take off the thin OR overmitt, stick on the thick one…voila!  Not waterproof, but generally if it's that cold you're less worried about waterproof; we're talking about staying warm as you sit in camp, or have lunch on a long, cold snowshoeing trek.  That's a cheap solution that gives you almost infinite combinations to meet most conditions, and doesn't add tons of weight.  Or, as a ski patrolman at Cranmore said to us as we rode up a lift together, "I have those same mitts, and I got some thick fleece mittens to put inside; I've never been cold in them yet!"  Options abound…use your imagination to get the combination that's just right for you.
The only other flaw, as mentioned earlier, is the price of the system. The two-piece Latitude system rings up at $120; the PL100 adds another $26. Include tax or shipping, you're looking at $150, a not-inconsiderable chunk of change. But, when you're out snowshoeing at 10 degrees and slip in a creek crossing, would you rather have saved $50 on a lesser system, or know that the hand you just plunged into 34 degree water up to the wrist isn't going to get soaked, then turn to a block of ice? There are areas that we're more likely to cut corners, as they won't compromise our safety (a good example is gaiters; OR's are the industry standard, but if you need to save money somewhere, LL Bean's "Winter Walkers" do the trick admirably, allowing you to better allocate your funds elsewhere).
Now, here's a tip; we've just gotten word that OR is discontinuing this model, and replacing it next winter with a nod to their heritage, the Mt. Baker Modular (the original Mt. Baker was a landmark product for OR "in the day").  The new setup will have more insulation in the liner glove, but will also cost about $20 more. I expect we'll love those, but in the meantime, there may be retailers wanting to move these out, so keep your eyes open for bargains!  With luck, you could save enough to cover the cost of insulated overshells and have the best of ALL worlds.